Le Klint is famous all over the world for their classic and timeless design, which looks well in every home. At DPH Trading we have the complete selection of the classic and always modern Le Klint lamps and lampshades. It is Danish Design at it is best!
The wonderful table lamps from Le Klint are often, but not always, designed for the pleated lamp shades that Le Klint is known for. There are exceptions, however, like the modern and tightly designed Mutatio, Viper and the completely new Carronade lamp, which all stand out with a unique expression, which breaks with the handfolded lampshades and shows that Le Klint is also a company that developes beyond the well-tested ground.
Beyond that there is the interesting Caché lamp that is innovative, but at the same time have an edge of handfolded pleated lampshades in it that connects it back to the origines.
At DPH Trading we have a large selection of both classic Le Klint lamps and the new modern lamps at reasonable prices.
The classic Le Klint lamps

The classic table lamps from Le Klint have always been very popular and due to their timeless design they are suitable in any home. Le Klint has used various materials for the production of the lamps; brass, chromium and glass.

Le Klint table lamps in brass

Over time, the popularity of brass in interior design has gone up and down. Some years ago brass was seen everywhere in the interior design, while the recent years it has been silver that has been more used. We now see that brass is on its way back into interior design and therefore the Le Klint brass lamps fit into the interior design today as well as it did 50 years ago. The design and style remains the same and quite contemporary.

Le Klint 306 Table lamp in brass and chrome

One of the very popular lamps is Le Klint lamp 306, which is available in brass, black and chrome. The special thing about this lamp is that it can be used as a table lamp as well as wall lamp because it can be reversed. The lamp was designed by Kaare Klint in 1945.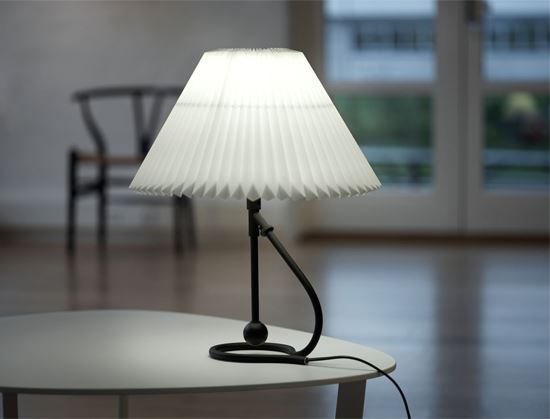 Le Klint 307 brass table lamp

Another popular brass lamp is Le Klint model 307, which is a very simple lamp. The lamp was designed by Esben Klint in 1948 and is thus one of the eldest lamps still in production.

Le Klint 328 Telescope lamp in brass

Le Klint model 328 was designed by Aage Petersen in 1949. It is very similar to Le Klint 307 table lamp. It can be adjusted in height so that it can be set between 67 to 87 cm. This allows you to get the light placed in just the right height for whatever purpose it is used for.

Le Klint 338 Telescope brass table lamp

This model was also designed by Aage Petersen in 1949. The difference between this lamp and the above mentioned is primarily the way to adjust them. Model 328 is adjustable in height by raising it up or down, while 338 is adjustable in width. If the lamp is standing on a desk, you can drag the light closer, if you need to read or you can push it back if you are in a meeting.

Le Klint 375 and 377 brass table lamp

Le Klint table lamps 375 and 377 are the same lamp, just in different sizes. The series was designed by Plilip Bro Ludvigsen and also includes a wall lamp, so you can have all lamps in the same series.

Le Klint 344 brass table lamp

In 1961 Gunnar Billmann-Petersen designed model 344 for Le Klint. The lamp is the most robust and bombastic lamp in the Le Klint line.

Le Klint 352 table lamp in brass and black

Le Klint lamp 352 combine brass and black beautifully. The foot and the base of the lamp is black with a border of brass in between. The lamp was designed by Aage Petersen in 1970 and is adjustable from 62 to 88 cm in height.

Le Klint table lamps in chrome and aluminium

Chrome and aluminium fits perfectly into the current trend of decoration. Silver fits into many interiors and since Le Klint lamps also are some of the most classic and timeless lamps you can get, they are an excellent example of your new lamps.

Le Klint 341 table lamp in chrome

The lampshade that is on this lamp, is available both as a pendant and shade of floor lamp and table lamp. Poul Christiansen designed the Sinus Line series in 2001 and is has become one of the most popular lamps from Le Klint. Sinus Line makes it possible to have the same light both as a pendant in the ceiling and desk lamp or coffee table lamp.

Le Klint 376 and 378 table lamps in aluminium

This table lamp is available in two sizes, in both chrome and brass. It is described above as model 375 and 377 in brass.

Le Klint table lamps in glass

Glass has always been a favourite material for lamps and has been used by many Danish designers and design factories, such as Holmegaard, Le Klint, Poul Henningsen and Louis Poulsen. Le Klint has mostly used opal white glass, but has also produced a few lamps in clear green and blue glass.

Le Klint 311 table lamp in glass

Model 311 from Le Klint was designed by Esben Klint in 1949 and is one of the first glass table lamps from Le Klint. The lamp has a solid base with good weight and a simple, straight column up to the lampshade.

Le Klint 314 table lamp in glass

Le Klint lamp model 314 is a classic spherical glass lamp in white glass. The lamp was designed by Andreas Hansen in 1996. The lamp is only 27 cm, a good table lamp on the windowsill or a book shelf lamp.
See our entire selection from Le Klint here!