Le Klint wall lamps represent timeless and modern design and you will find them in many Danish homes. Tradition and quality is very important to Le Klint. That is the reason why the lamps are still folded by hand at the factory here in Odense, Denmark.
Le Klint wall lamps

The classic Le Klint wall lamps have in many cases been in production for many years and is still as sought after today as when they were first published. Meanwhile Le Klint is good at renewing their sortiment and they regularly make new "classics" with respect for the proud tradition of both design and craftsmanship. A Le Klint Wall Lamp is an obvious wall lamp in the living room as they provide a great light and are design classics.

Le Klint wall lamps

It goes by many names and this wall lamps from Le Klint is called sax lamp, scissors lamp, wood lamps and just wall lamp. These wall lamps were designed by Erik Hansen in 1952 and are available in two sizes with the shade respectively turned up and turned down. There are different types of wood used for the production of the lamps which gives each an unique expression. The wall lamps have for many years been produced in beech and light oak. A few years ago walnut also became a part of the range for their wall lamps of wood and latest the smallest wooden wall lamps (model 324 and model 335) also appeared in white and black lacquered wood. As a relatively new thing, model 335 is also available with a lampshade from the popular Snowdrop series, which includes both pendants, table lamps and floor lamps.

Combined Le Klint wall lamps and table lamps

Another popular wall lamp from Le Klint is model 306 which has been produced in brass, polished chrome and matt chrome. Today the lamp is only manufactured in brass and the lamps in chrome are only sold for as long as the stocks last. The lamp is unique because of its function as table lamp as well as wall lamp. The lamp base can be tilted turning the lamp from a beautiful table lamp into a just as stylish wall lamp next to the reading chair. Whether the lamp is used as a table lamp or wall lamp it is beautiful and you cannot see that it can be used as table lamp as well as wall lamp. This is just one of the characteristics by Le Klint wall lamps - there is always thought of the tiniest detail and nothing is left to chance. Le Klint Wall Light Model 306 was designed by Kaare Klint in 1945.

Other Le Klint wall lamps

Model 208 and Model 209 was designed by Tage Klint in 1987 and have the same appearance as Le Klint pendant lamps. Obviously this makes a perfect opportunity to use the same lamp both in the ceiling in the bedroom and as wall lamp in the hall.
See our entire selection from Le Klint here!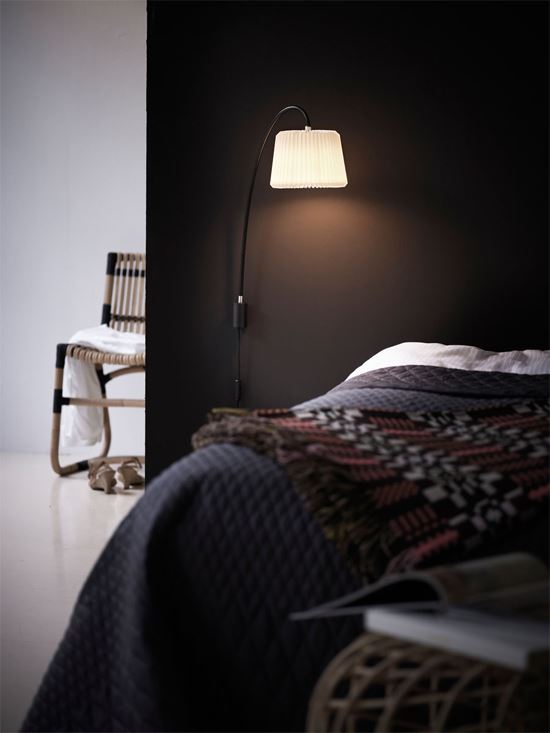 Among the wall lamps from Le Klint the wellknown saxlamp takes a prominent place. This easily reconisable lamp sets itself beautifully in the home with its unique look. It is adjustable in the distance it has from the wall, so it is practical as a reading lamp above a comfortable chair or the sofa. The possibility of adjusting the placing of the light is something that is repeated in the Viper, Mutatio and Carronade wall lamps. In all of these it is possible to adjust the direction of the light to where you want it. They are thus well-suited as bed lamps, where they can replace the classic table lamp on the nightstand.