On this page we have a complete overview of all the pieces of B&G services that we have and have had in stock. You can seek out just the pieces that you need at affordable prices to make your dinner or coffee service complete.
Bing & Grondahl Coffee Service and Dinner Service
Bing & Grondahl has through the years produced a huge number of different services of which the most wellknown is the seagull service designed by Fanny Garde. This service is viewed as the national service of Denmark and has been produced in huge numbers through the many years of its production. The dinnerware is wellknown for its style with a light blue background with the iconic seagull in the sky. The form of the dinnerware itself is the most common from Bing & Grondahl with the very maritime look, where the edges are decorated with fishscales and there are small seahorses as handles.
Among the other services we find Empire that uses the same base form as the seagull service. The service is easy to recognize due to its fine garlands that rings the center of the part, where a small flower is painted in the same style as the garland. Empire was launced at a time, when the empire style was very popular in Europe and the service was made as part of this trend. Many pieces have been added to the service through the years and it is almost always possible to find a new on that you have not seen before.
Royal Copenhagen has had great success with its blue fluted service. But not only Royal Copenhagen has used this pattern. Bing & Grondahl had its blue painted service that used the blue fluted pattern, but the shape was the same as the seagull service.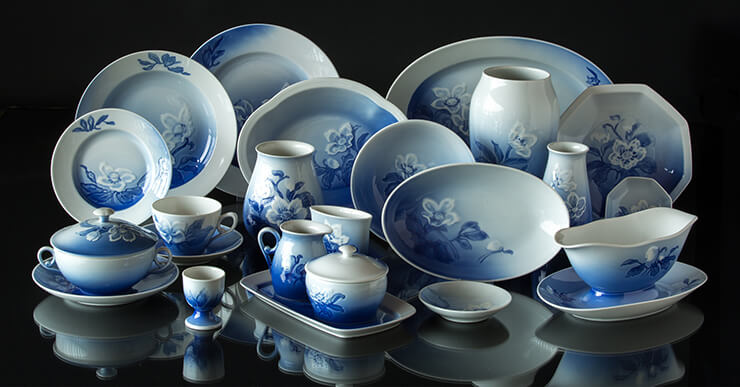 Bing & Grondahl have also used other shapes than the one we know from the seagull service. The Christmas rose service has its own shape, where the Christmas rose is part of the shape. The service was put in production in 1936 and with its deep blue paint it fits in with Bing & Grondahls Christmas plate.
Al production of dinnerware from Bing & Grondahl has now ended and can only be bought second hand.
Bing & Grondahl have produced many coffee and dinner services, but the most wellknown are the Seagull and Christmas rose services, which have both been very popular. Especially the seagull service has been a great hit through the years.