Royal Copenhagen have made many dishes and bowls that can be used in many different ways.
Royal Copenhagen Dishes and Bowls
Royal Copenhagen has produced a number of different dishes and bowls of many different types. In the large end we have the different bowls that among others were produced on occasion of the bicentennary of US independence. These are the largest in this category from Royal Copenhagen.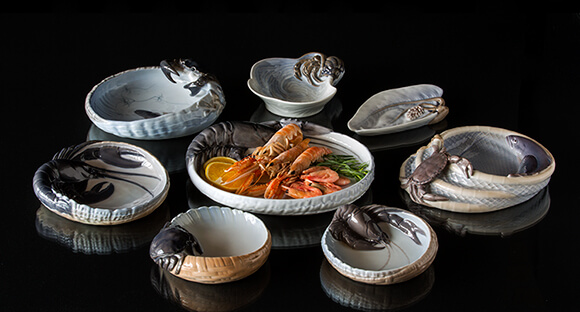 In the more amusing and decorated end we have the crab dishes and crayfish dishes that have a nice shape and lots of room for the seafood or maybe a bit of sushi. There are many different possibilities and the dishes are perfect for those, who have a passion for the sea.
Royal Copenhagen has issued many dishes and trays through the years. Among the easily recognisable are the dishes with crabs and crayfish that have been very popular in the homes of the Danes. These dishes are fantastic for serving fish courses and especially with the great popularity of sushi, they can be a good alternative plate for serving it. Due to the high edges and uneven shape the crayfish and crab dishes offer great opportunity for having the sushi in on end and the soy sauce and wasabi etc. in the deeper end of the dish. And if you serve in the large crab dish you can have the chopsticks in the claws of the crab. This would make for a nice touch of class.
Besides this there are the many small square and rectangular dishes with motifs of sights in Denmark, which would also set themselves well as an alternative plate for serving small dishes that can be set on the individual plates and thus make a very unique and interesting service, which looks like nothing else. And as these small dishes are cheap to obtain, it is even doable in an economically favorable way.
Royal Copenhagen has also made a series of sweet little dishes with motifs from Danish sights. They span from the old town in Aarhus across the Cathedral of Odense to the Marble Bridge in Copenhagen.