Below please find another set of photos, that hopefully will give you some tips and ideas for your own personal style in your home. - Most of the items shown, can be found in our assortment. We hope you will find some inspiration and ideas, and like what you see.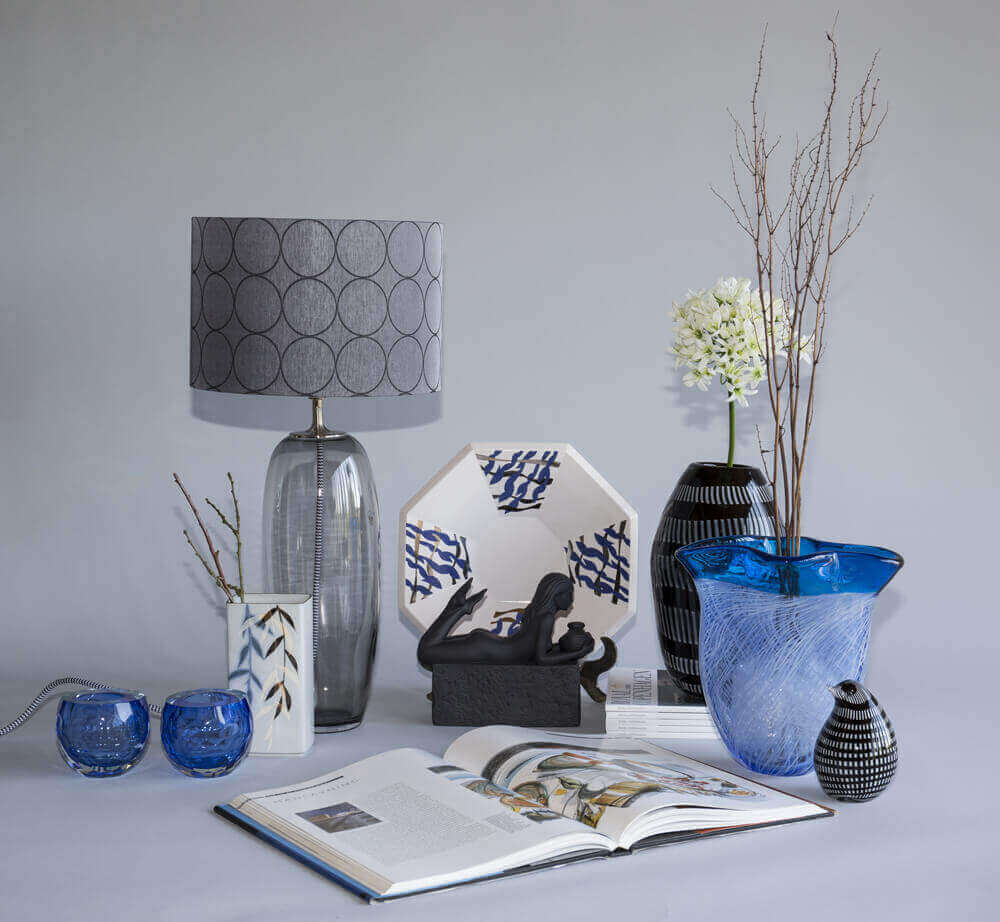 On the picture above you see a mix of old and new things. - Shown is the Holmegaard Grace tablelamp (with a grey lampshade) along with blue mouthblown glass votives from DPH. Old retro dish from Søholm and retro vase from Royal Copenhagen.
A black and white mouth blown glass vase along with a cute round glass penguin matching the colours and shape of the vase.
The blue colours of the dish and vase are underlined by the blue votives and the large blue vase with wavy edges.
In the center of the photo is one of the popular Zodiac figurines in black biscuit.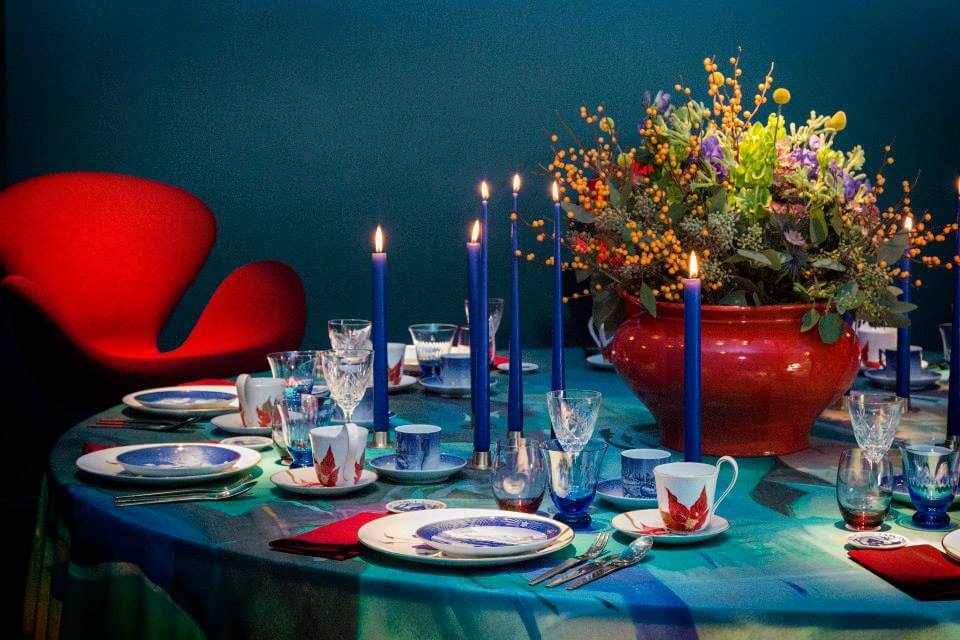 Royal Copenhagen Christmas Table. You see the new Royal Copenhagen Flora Tableware, and the Royal Copenhagen Christmas plates, as well as Bing & Grondahl Christmas plates. Also you see the Royal Copenhagen Xmas cups, as well the small annual Christmas plaquette from RC.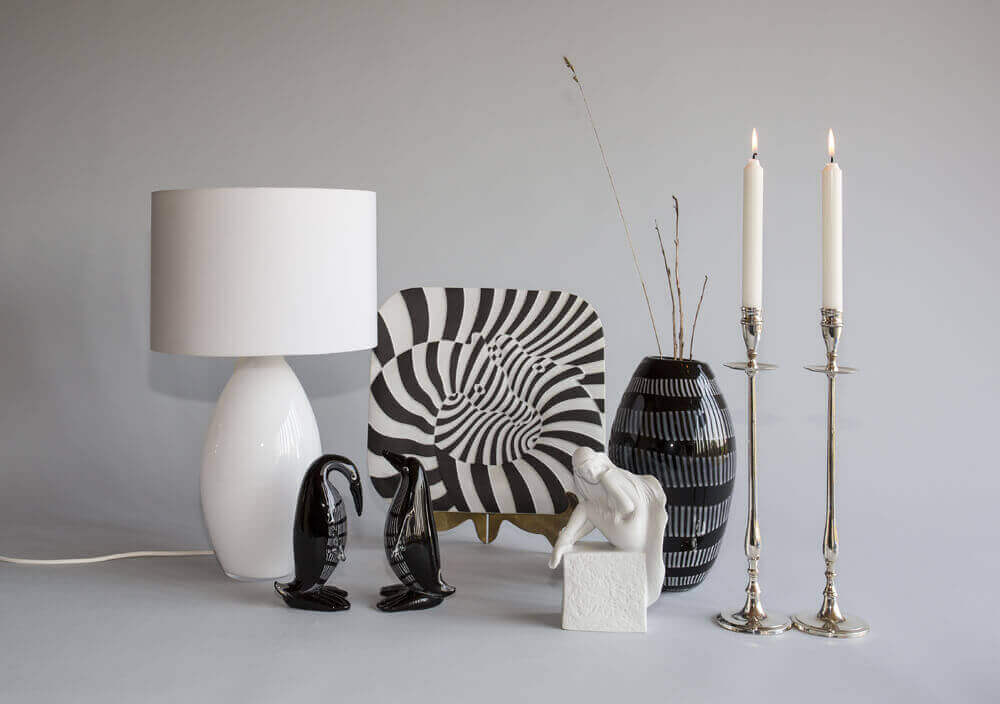 This composition is made aroune the Rosenthal Annual Artist Plate in porcelain with zebra motif (1977). The large plate is put in a plate stand and goes welle with the glas figurines and the white Zodiac figurine from Royal Copenhagen.
The white Holmegaard Cocoon lamp with the simple white cylindrical shade goes well with the other things. The silver candleholders frames the composition and gives it all an exclusive look.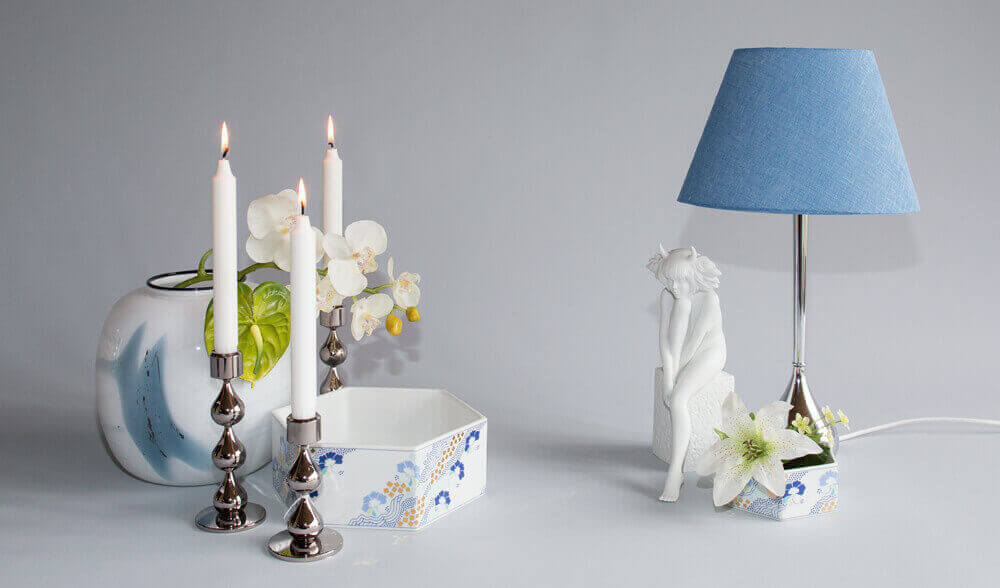 The gold drop candleholders are known by many, but not a lot are aware that Asmussen Design also made the popular candle holders in tin. The drop candle holders are still very popular and fit in both the modern and the classical home decor. The candle holders are here shown along side the Asmussen Unic lamp in tin with oval lamp shade matching the retro bowls from Royal Copenhagen. The glas vase in the back is an old Holmegaard Sakura vase with blue stripes.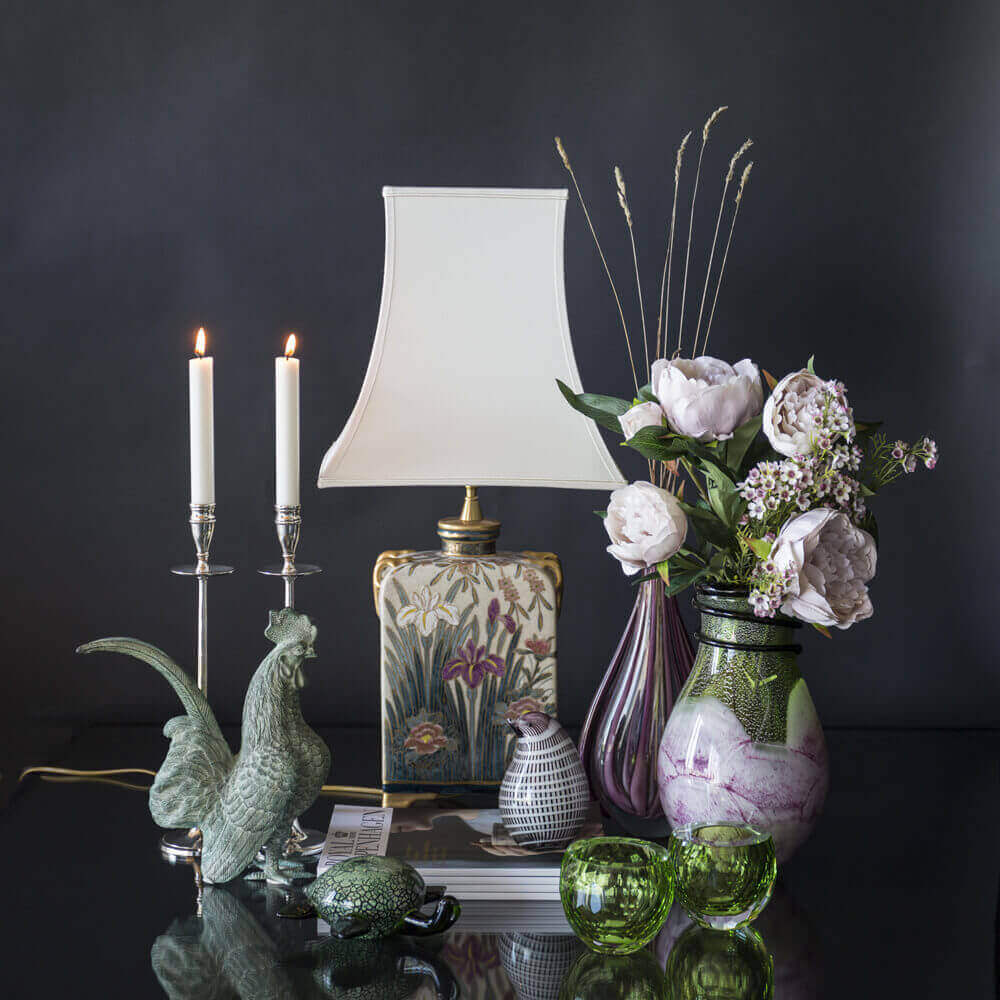 Beautiful composition in green and rose colours. The Japanese Kutani lamp is here put along green and rose accessories. A bronze rooster, a small glass turtle, the white and black penguin and vases with green and rose colours. In front you see the green votives in mouth blown glass.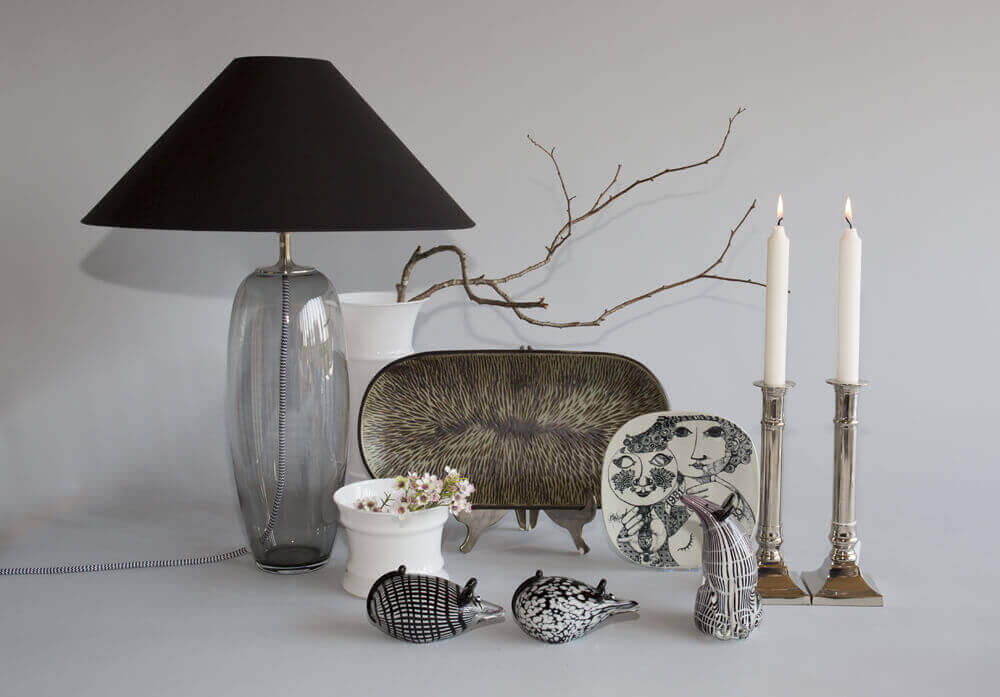 Again here is the Grace lamp in a composition with the MB vase, Holmegaard flowerpot and Bjørn Wiinblad plate shown alongside some silver candleholders and a mouth blown glass figurine.
Here is a Chinese lacquer chair, Wiinblad plates, vases. - Classic cream coloured table lamp with gold, and matching jar with lid. Black Chinese console with gold ornaments. Use some magazines to make your style even more trendy.
Holmegaard / Rosendahl glass vases in red and lime, large silver candle holders, Rosenthal artist plate from the 70ties with the rainbow, Royal Copenhagen's annual mug. On the wall you see the very old Bing & Grondahl Christmas plates. - Again, here a few books are used to pep up the style and make it more trendy ..
Large silver candleholders with candles, silver tray with red wine, and a pair of crystal red wine glasses. A beautiful old silver goblet with fresh flowers, a Lene Bjerre table lamp, with a bordeaux lamp shade matching the flowers and candles. - All placed on a black Chinese console. On the wall 2 plates from the 70s. - Queen Margrethe II's crowning and King Frederik's memorial plate.
Here is basically the same set-up but with Hutchenreuter, Ole Vinther plates on the wall. - Use your imagination. Look in your old drawers.., a little new and something old can give a beautiful classic design.
Add a little colour to the interior, by using the classic lamp with blue fruit, Holmegaard bowls, (Cocoon purple bowls), round mahogany table, and a nice lounge chair with patterned cream-colored fabric. Wiinblad Aladdin Month plates on a small plate stand and a nice big floor vase blue with fruits.
Classic gold table lamp with round thai silk lamp shade, an old Royal Copenhagen overglaze jubilee mug, fresh flowers in glass vase, tea light of polished stones. Large bowl from Royal Copenhagen. - On the wall Bing & Grondahl marine plates from the series Windjammer.
Black console with Chinese lacquer chair. On the console can be seen our large mouth blown glass vases, Asmussen (Hamlet Design) brass drop candlesticks, a black Royal Copenhagen frog with a golden crown, old Holmegaard annual cups - On the wall a large colorful plate from Rørstrand
Lounge chair in cream-colored patterned fabric, a round mahogony side table with a classic blue table lamp and a large matching vase with fruits in blue and golden nuances. Wiinblad plate from the Aladdin series. Cocoon bowls from Holmegaard, and on the wall old Royal Copenhagen Christmas plates.
A mix of oriental furniture, beautiful Chinese jewel box, Italian console, classic lamps, and old Bing & Grondahl children figurines
Small Chinese lamp with purple lamp shade, brass candlesticks, a mouth blown glass sculpture, Treble Cleff. Glass vase with fresh flowers (use tall vases for tulips, as shown, to avoid the tulips falling.) To the left a plate on plate stand from the series, "The Ugly Duckling" by Grande Copenhagen, all motifs in this series are inspired by the fairy tales of Hans Christian Andersen. - Use books and fashion magazines to emphasize the contemporary and trendy look.
Here is an example of a comfort corner in the living room, consisting of a nice armchair, a Chinese table lamp with gold ears, a hexagonal pagoda lampshade, mixed with beautiful Knud Kühn elephants in stoneware from the Royal Porcelain Manufacturer
Here is a little lamp in cream colour with off white oval lampshade, an off white vase with gold feet. - On the black table there is a small Chinese jewellery box with small drawers (a chest). On top of the jewellery box are two old Bing & Grondahl children figurines, Sea children designed by Ebbe Sadolin and Svend Jespersen. On the wall a Hans Christian Andersen plate, also from Bing & Grondahl, produced in 1975.
Here is the composition a little different, a larger cream coloured lamp on gold base, along with matching jar and vase. For breaking its very nice and shiny look, we have placed an old Royal Copenhagen stoneware horse, designed by Knud Kühn. - Which gives the whole set-up a personal touch.
Again here you see one of the beautiful classical oblong table lamps with oval lamp shade. - Here along with an older Girl on rock figurine from Royal Copenhagen, and to emphasize the blue and innocent, an antique Bing & Grondahl plate featuring the girl on the rocks, can be seen . - One of so many beautiful old memorial plaques from Bing & Grondahl....
Wiinblad glass plates on the wall, a Wiinblad dish in green nuances from Rosenthal, a small vase from Rosenthal (designed by Wiinblad), and an off white lamp, and a Chinese flowerpot with gold squares. - Simple and beautiful ..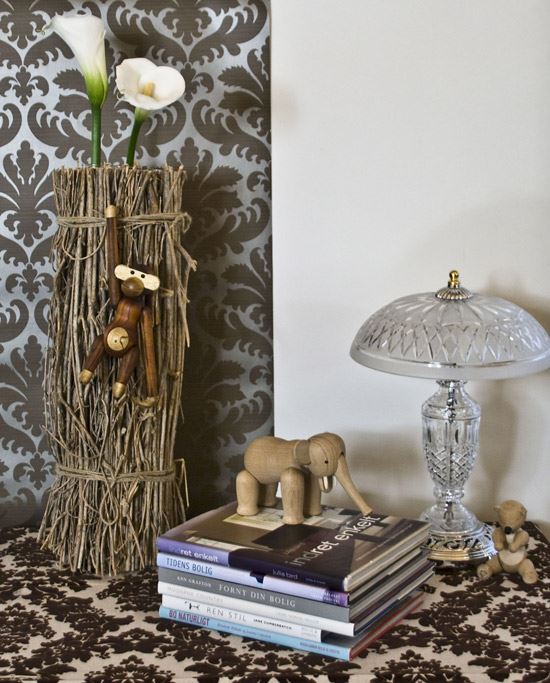 Here is Kay Bojesen wooden toys, both the monkey, the elephant and the little wooden bear, here placed together with a classic crystal table lamp. The cute trendy wooden figurines gives the set up a completely different new and trendy look
Nancy Gerber is the owner of the company, Bolig Trend. Nancy has many years of professional experience in interior design and styling.

The examples shown are made by Nancy Gerber, where she has been allowed to go on a tour of our shop, showroom and warehouse, which contains both new and old things, she mixes and set the latest trends.