Wall decoration can be an art in itself and there are many possibilities for decorating walls. There are the traditional pictures for walls, paintings are probably what most people think of when decorating a wall. A wall of paintings can be very decorative. You can also decorate with wallstickers, or paint the walls in different colors. And of course, then there are the plates! You may not think about it right away, but the plates have a lot of possibilities for wall decoration that goes far beyond just hanging them in a row in the living room. No, the plates can give the room a completely different life than you can with the paintings.
Plates are easy to clean.
There is a good reason that the plates have been used as wall decoration for generations. In addition to the fact that plates put in new and smart ways have become trendy, the plates also have the huge advantage that the dust they collect can easily be washed off and often your plates can be thrown in the dishwasher and they are like new again! Just without dust mites and dirt.
Make a nice and cheap wall decoration!
With the plates you have the opportunity to put them together for a wall decoration according to your ideas. It does not matter what the motives on the plates are, as you can simply go for the colors and put them together to suit them. The very best thing is that you have the opportunity to buy many plates at a really cheap price, so your wall decoration does not have to be expensive at all. You can make it look unique without spending a fortune!
For instance you can buy Desiree Hans Christian Andersen Christmas plates with motifs from his fairy tales at no cost. Additionally you can find many old Bing & Grondahl Christmas plates, Royal Copenhagen Christmas plates and many different mother's day plates at very low cost. And for a large wall decoration you do not need more the 2nd quality. Some plates that will also do well in a wall decoration are the different memorial plates and Seltmann Swedish landscape plates.
Plates can be hung in a myriad of different patterns. Below you can see some interesting options for how to hang them in new and alternative ways.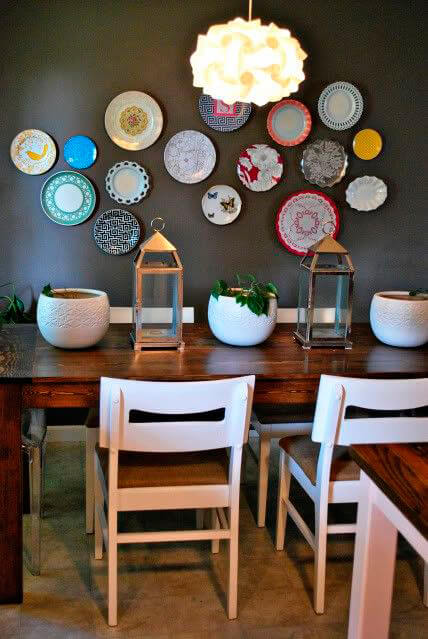 Here many plates in bright colours have been hung on a dark wall and thus brings colour to the room.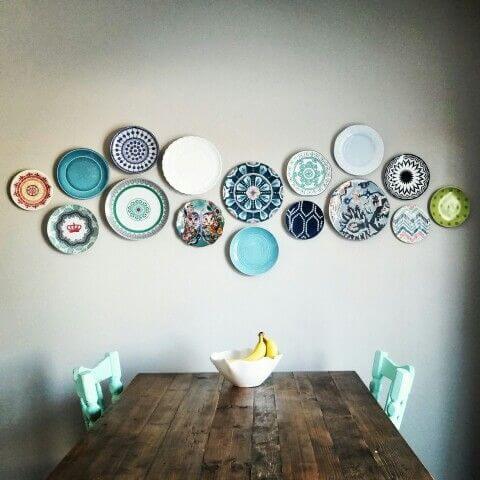 A row of plates in many colours and patterns have been set at the end of the rustic kitchen table.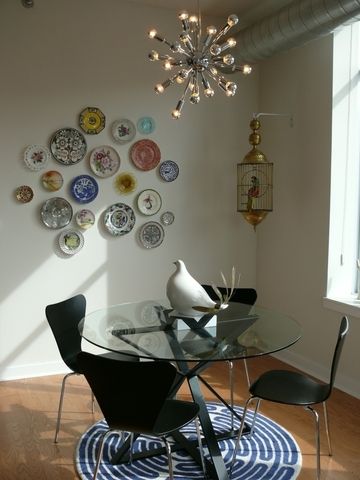 Here the plates give some colour and pattern to the modern home.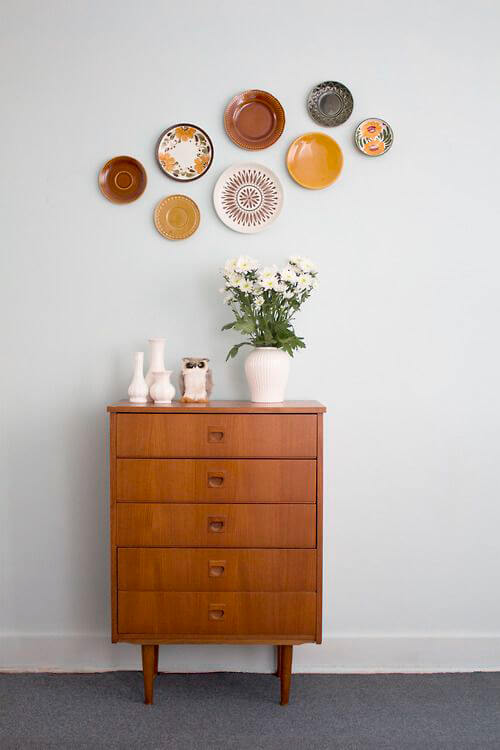 Plates can also match in colour with the furniture. Here the plates have been chosen in colours that fit together with this beautiful teak tree drawer.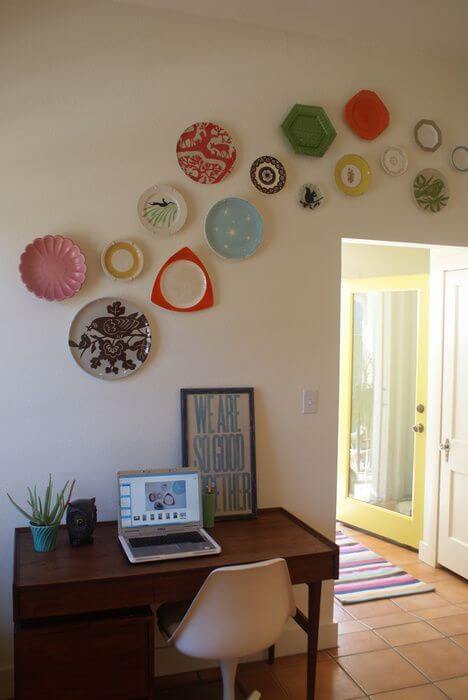 You can spice up the office a bit with plates in many colours and fun motifs that crawl along the wall in a funny way.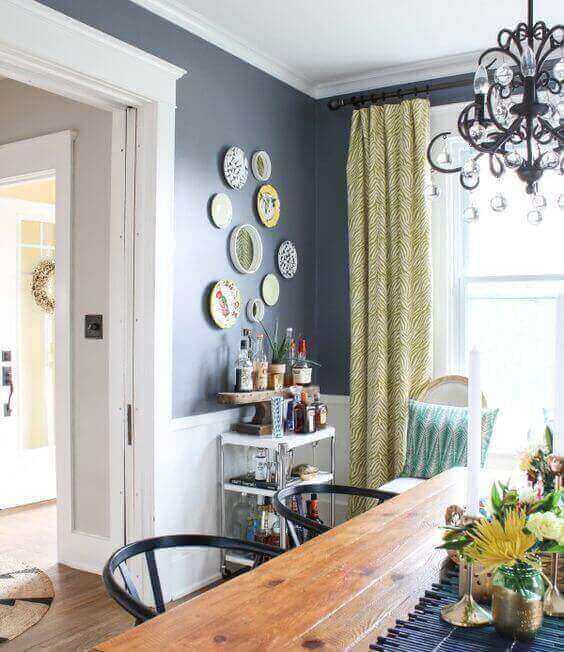 The plates can also be used to give something extra in the corner of the living room, where they can give a break on the surface of the wall.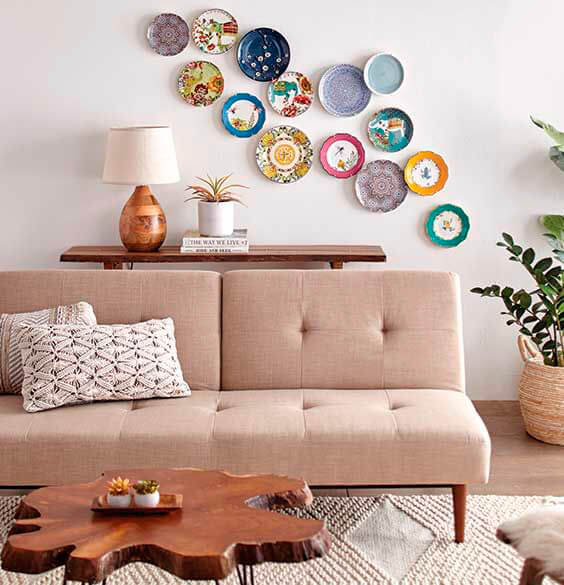 Here we have many colourful plates hung in a row behind the sofa, where they are in contrast to the beige sofa and the brown nuances in the living room.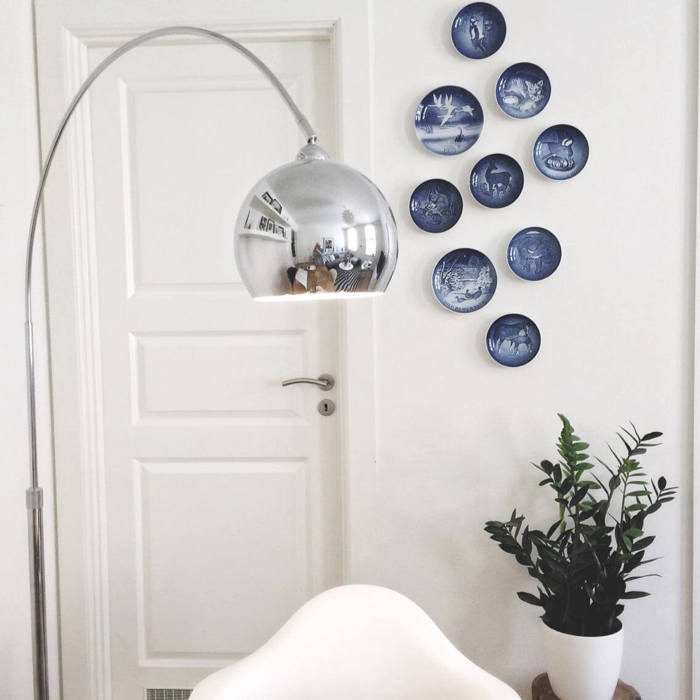 Finally, we see a collection of Mother's Day Plates and Christmas Plates that hang at the door in contrast to the otherwise very streamlined white space.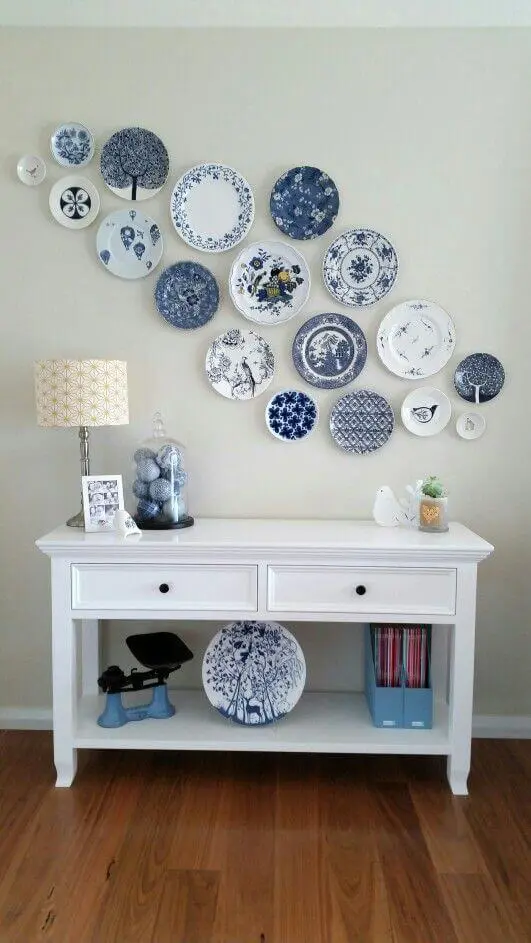 Make it all fit together with both matching colours and style. Here we see a mixture of different sizes and types of plates. What makes them alike is that they are all blue painted. They are set together with blue painted balls and a plate that stands on the bookcase. It is a fine composition that makes the old plates look elegant and modern.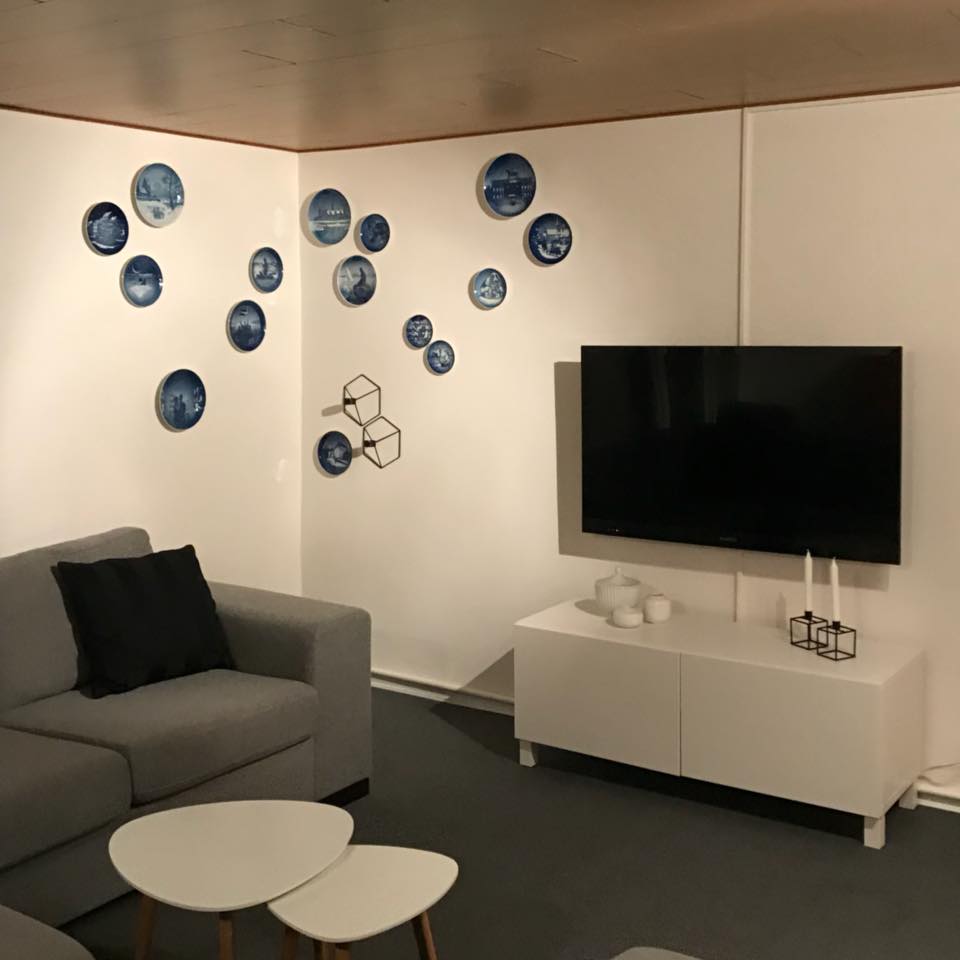 Here is a mix of different Christmas plates, anniversary plates, etc. - Different sizes of plates have been used, where the theme is that each plate is selected from the fact that it means something special. The plates are set up in an asymmetrical manner at first sight, but on closer inspection, there is symmetry in the setup. When you want to make such a "random setup" it is important to get the balance between the big and small plates and the spaces between the plates right. It can be very hard to see if it looks good before it is up. With some cardboard slices in the same sizes, you can glue them on the wall and move them around until you have just the right pattern. - That way you can make it look random in a cool way ... and not use the hammer and nails before you know the exact pattern.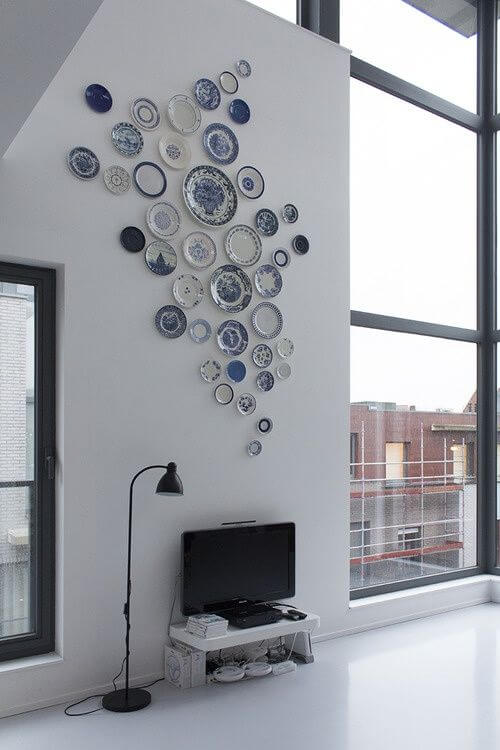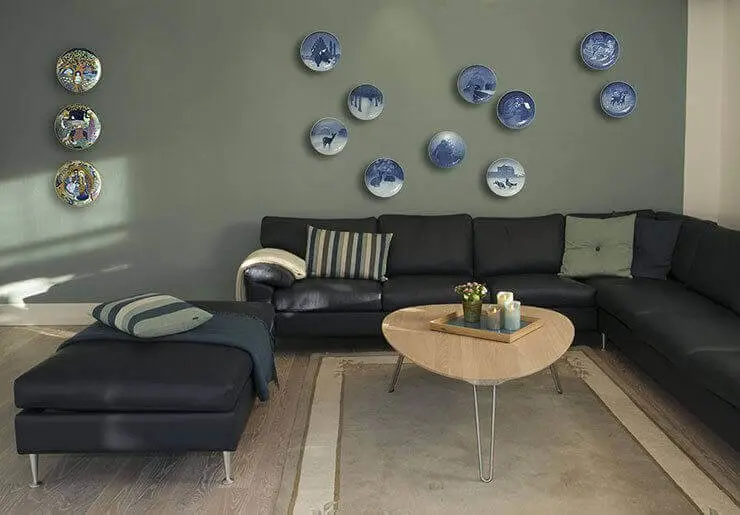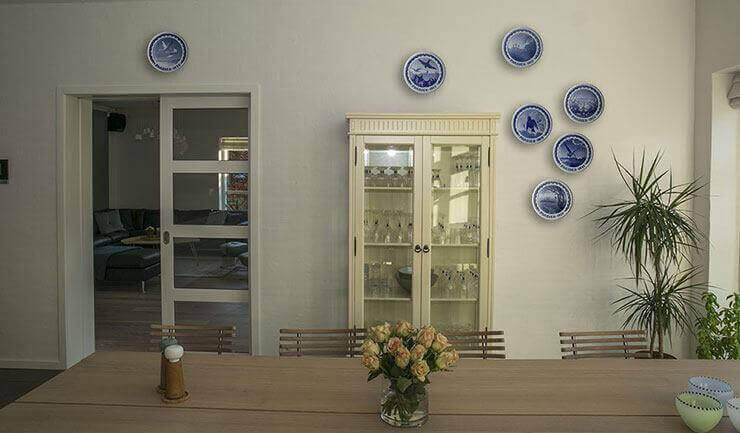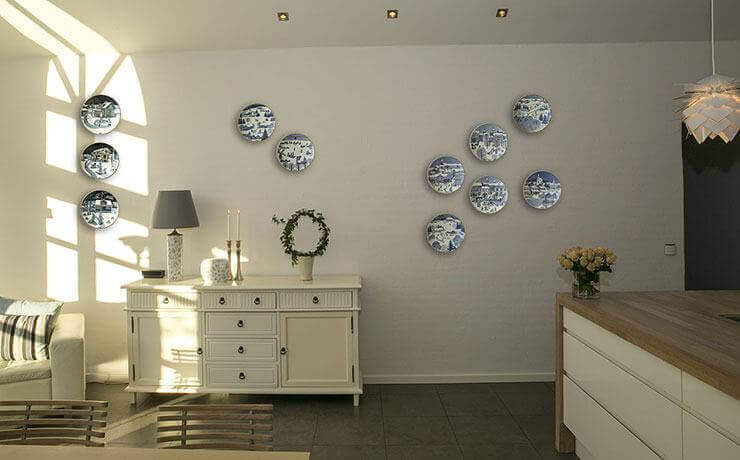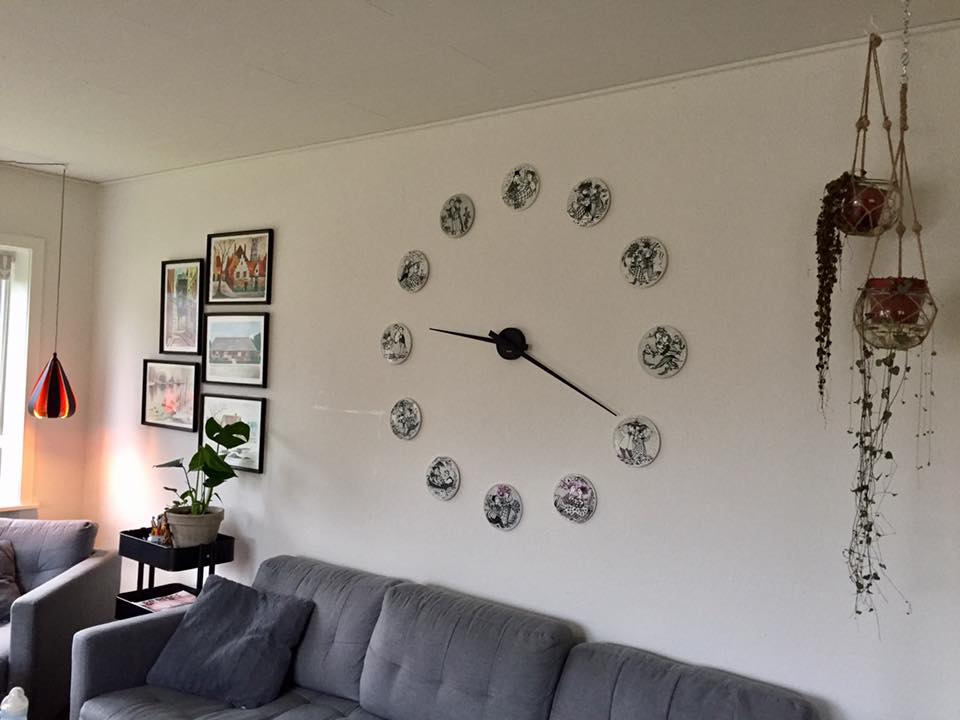 Here we have another exciting way to use Bjorn Wiinblad's butterboards; a dial for a large clock!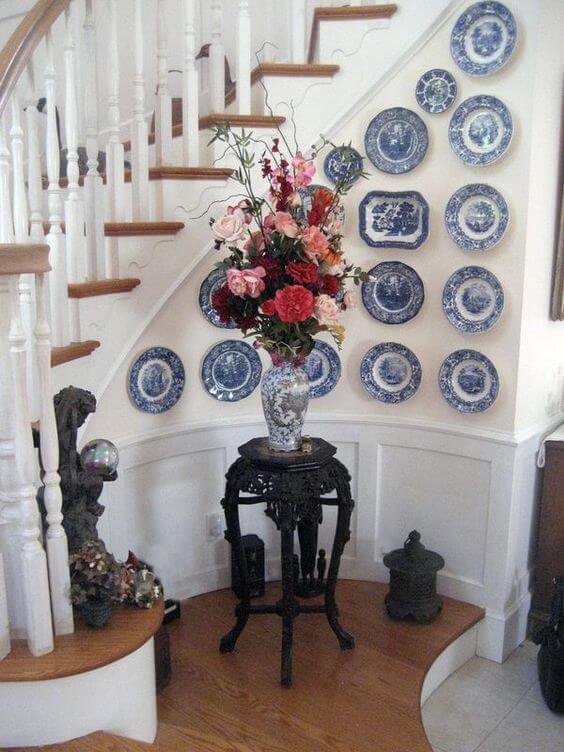 Here you will see the plates used for a nice wall decoration on a curved wall, where it would be difficult to put something else up. The plates fill the wall well and give life to the wall. At the same time they are set up so that they turn beautifully with the bottom of the stairs.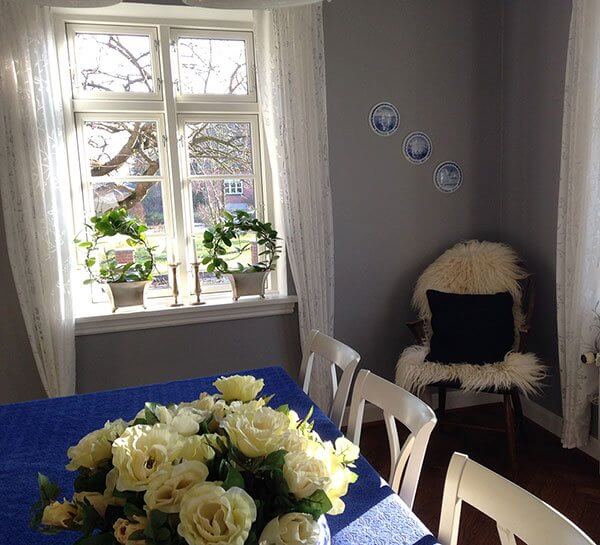 Here you will see a gray wall where the blue plates fit very well. - The plates shown are the beautiful old Easter plates from Bing & Grondahl. - As you can see here, there is ample opportunity to play with the colors between the plates.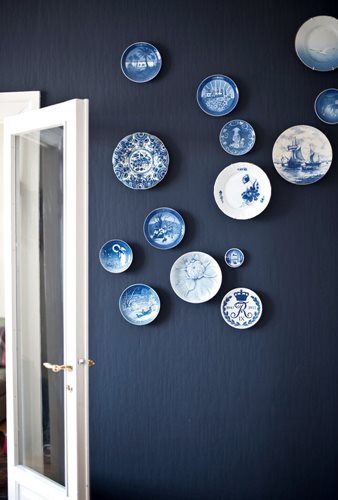 Here you can see a great example of how to bring life to the old plates by painting the wall ultra navy blue. Here is a mix of mother's day plates, Christmas plates, anniversary plates, etc.
Use plates as wall decoration in the kitchen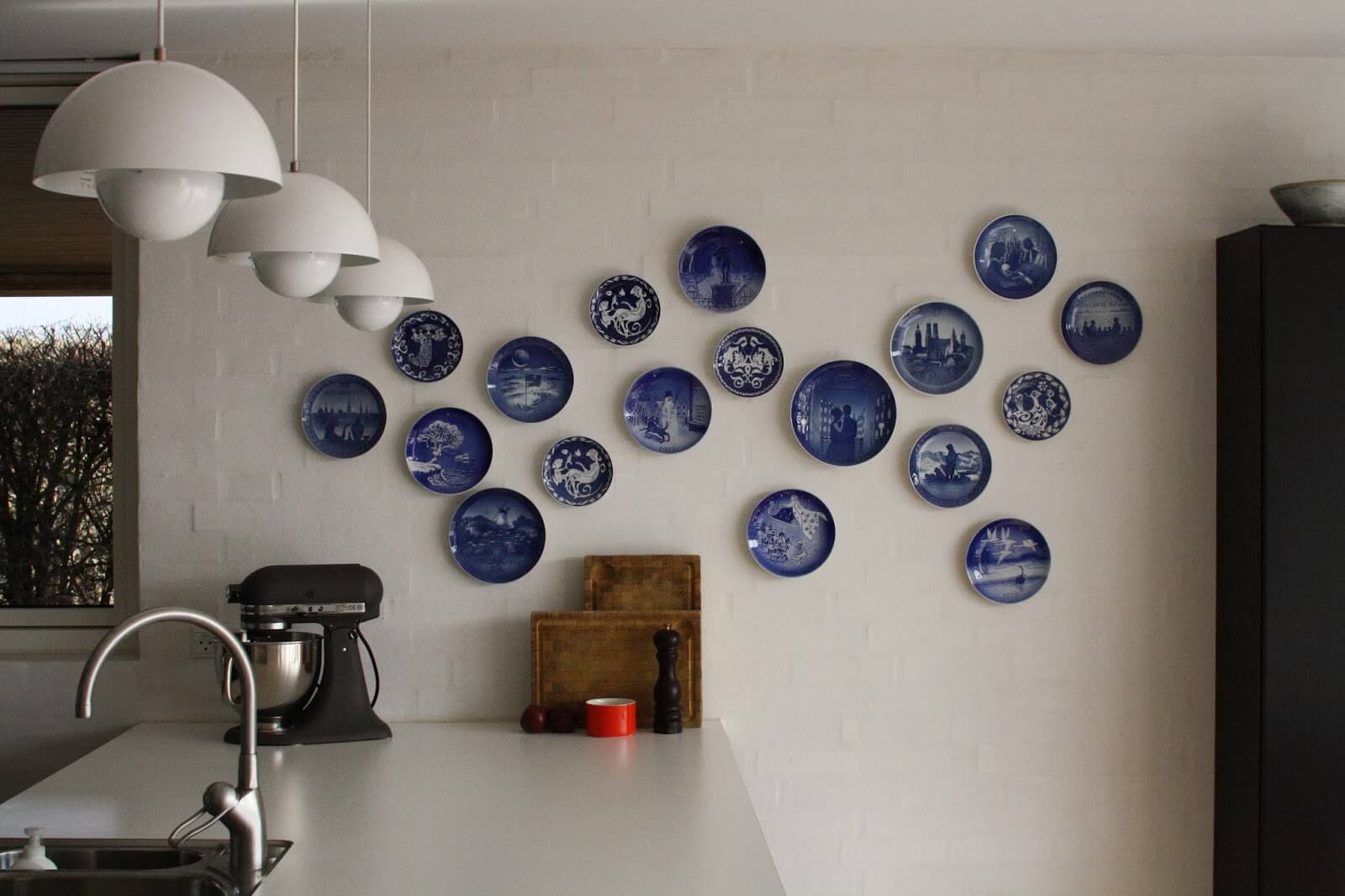 Plates are also very good for wall decoration in the kitchen as they can easily be taken down and put in the dishwasher.
A staircase can also be hard to decorate, and plates are also a great help in decorating these.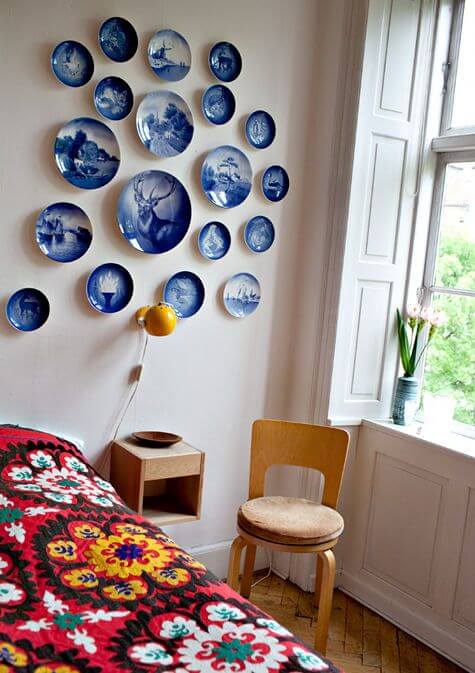 You can also create a wall decoration that receives the light from a window close, thereby bringing the wall to life with different size plates that reflect the light from the window.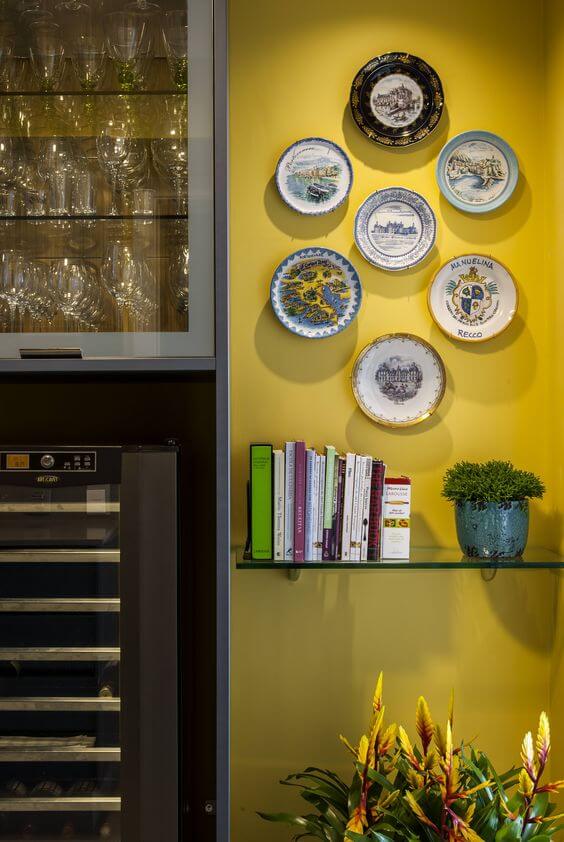 Here the plates are set to fit with the colorful wall and flowers below.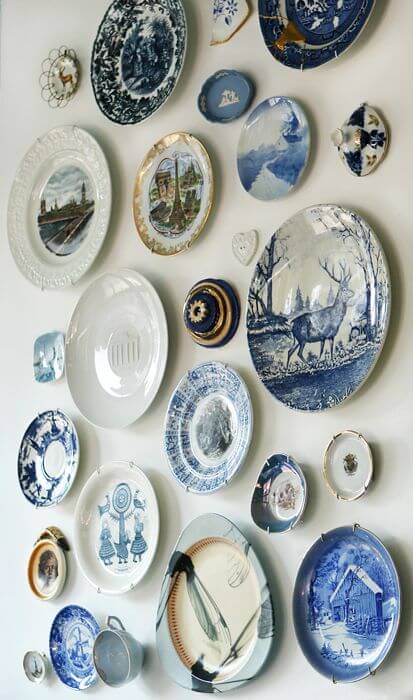 Here is a large and beautiful setup of plates in many shape, sizes and colors. It has been spiced up a bit with a teacup that has been placed among the plates.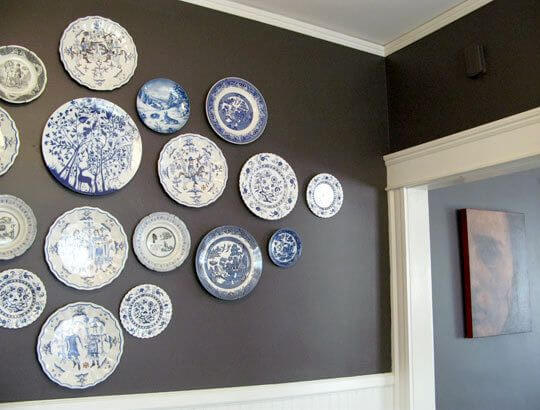 On the picture above we have a nice setup of plates in contrast to the black wall. It makes for a perfect backdrop for the many plates.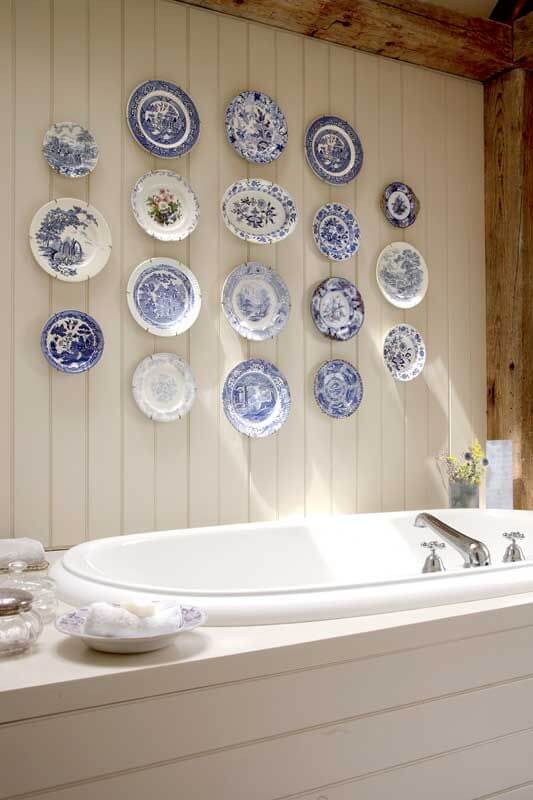 Here we have arrived in the bathroom, where the plates can make a really good wall decoration and they contrast well with the white walls.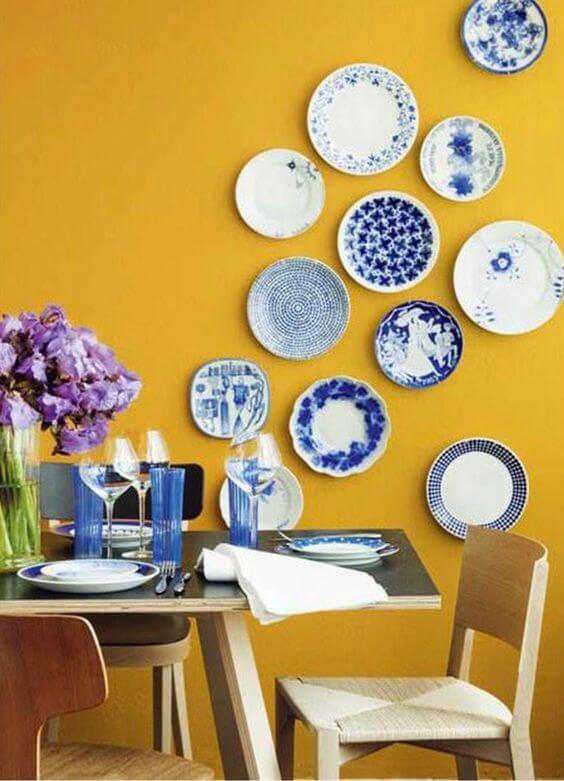 Here we had once again hung the plates in contrast with the nice yellow wall, where they give a break in the color and stand out.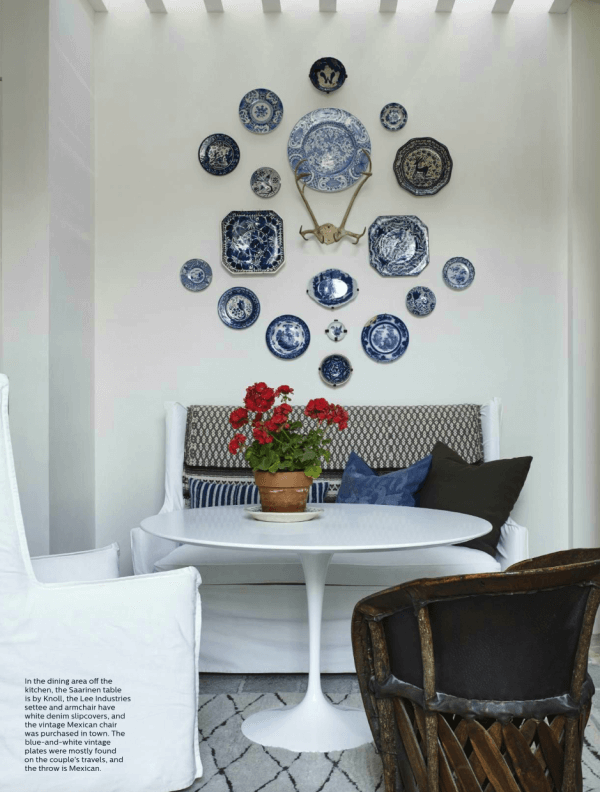 The plates have been nicely combined with antlers that make for an impressive setup above the dinning room setting.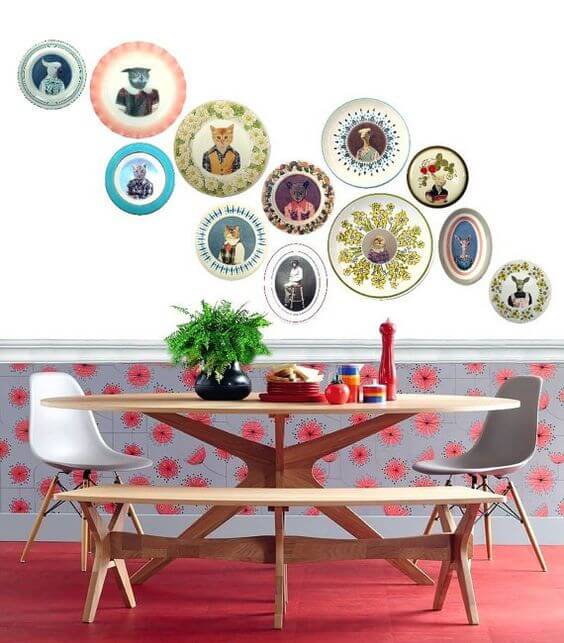 Here we have a dinning room in powerful colors. Luckily there are also colorful plates that fits perfectly together with such a design.
Use plates in the conservatory and other damp rooms!
If you choose to decorate with paintings on the walls in damp rooms, you risk that your works of art will be damaged and destroyed. Therefore, it is worth considering decorating your walls with plates as they can withstand moisture. If you choose plates for the wall, you do not have to worry about them being damaged by moisture and dirt.
So it is up to you to choose which plates will fit your interior, you can find our huge selection here:
Examples of Christmas and annual plates: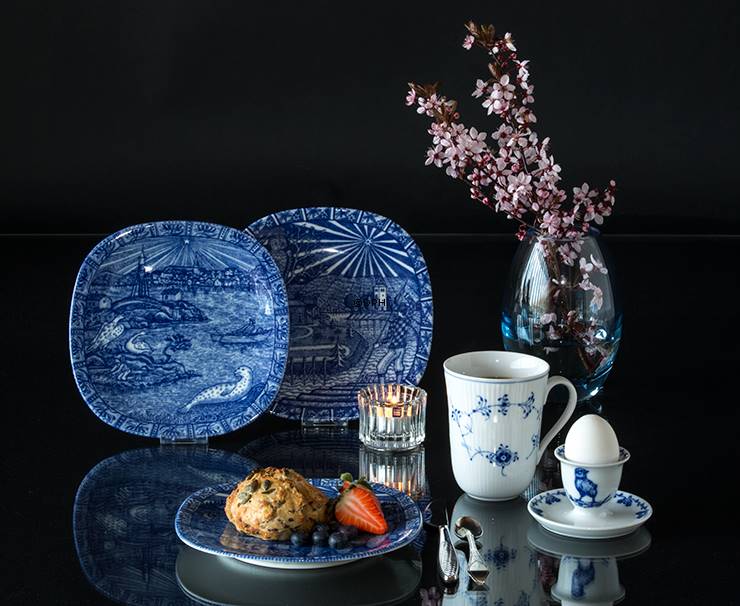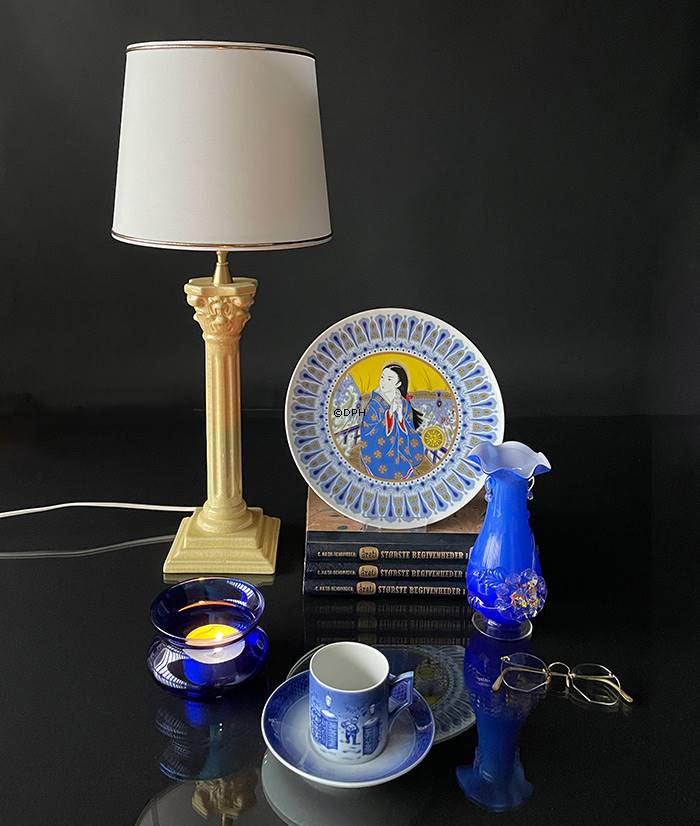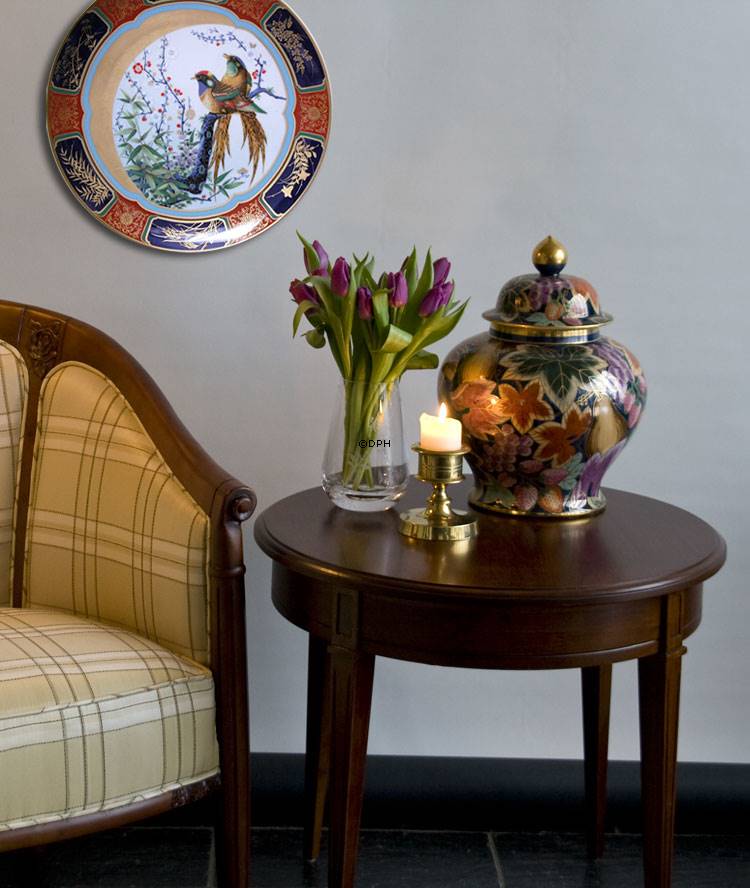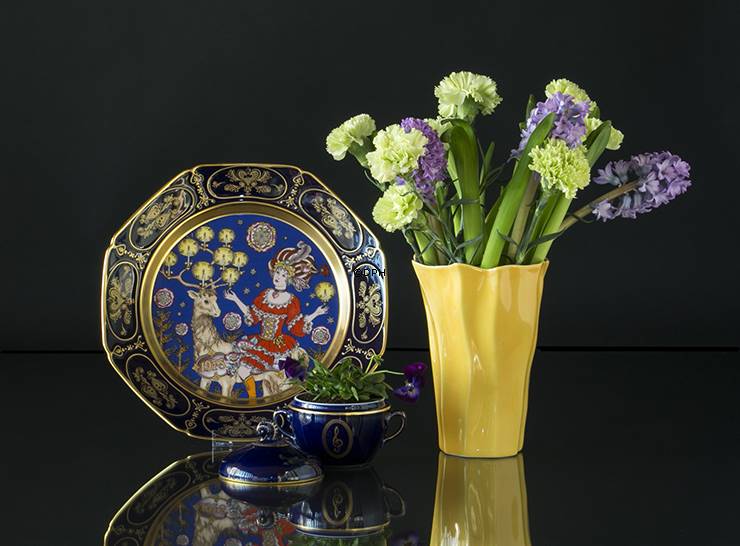 Aside from the shown Christmas and annual plates there are many others - See the selection of Christmas plates and Annual plates here!
Plates with flowers, animals, landscapes and historical plates.
Below you will find various other types of plates, so if you are looking for some special motifs, colors, themes etc., then you should be able to find some that match your wishes.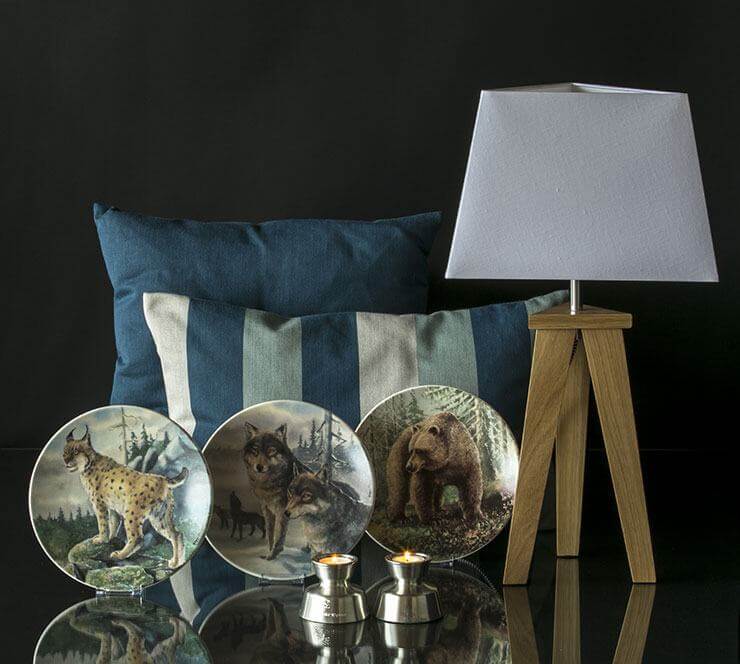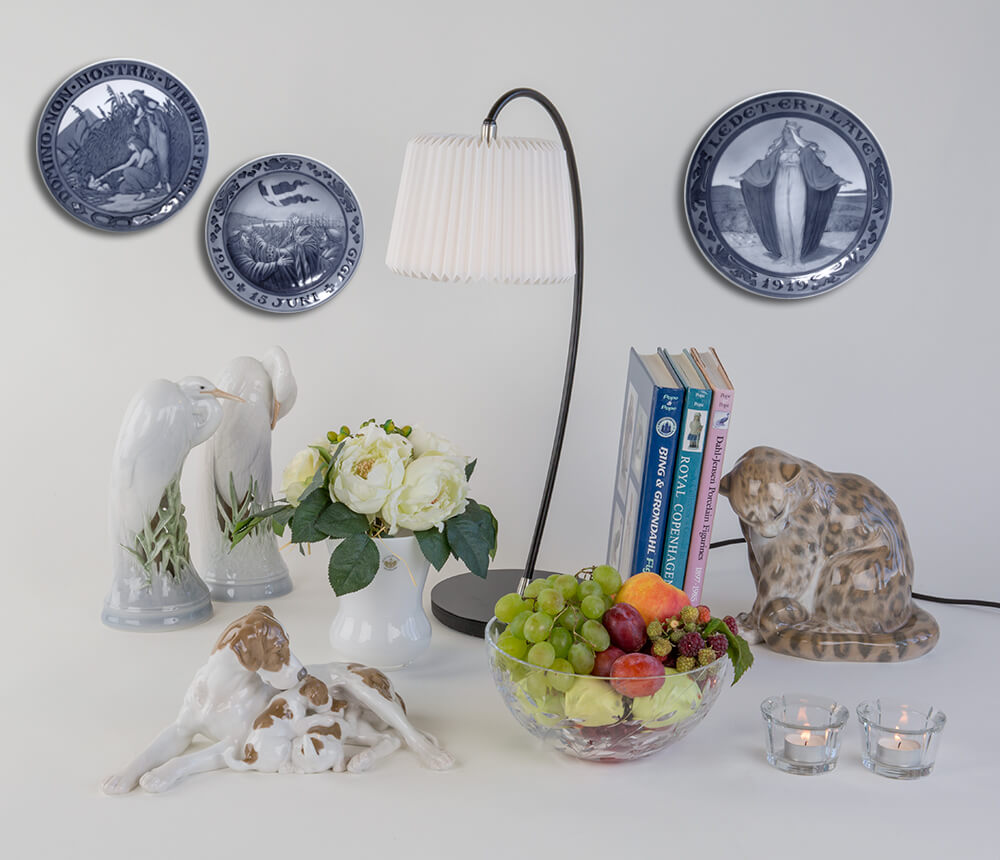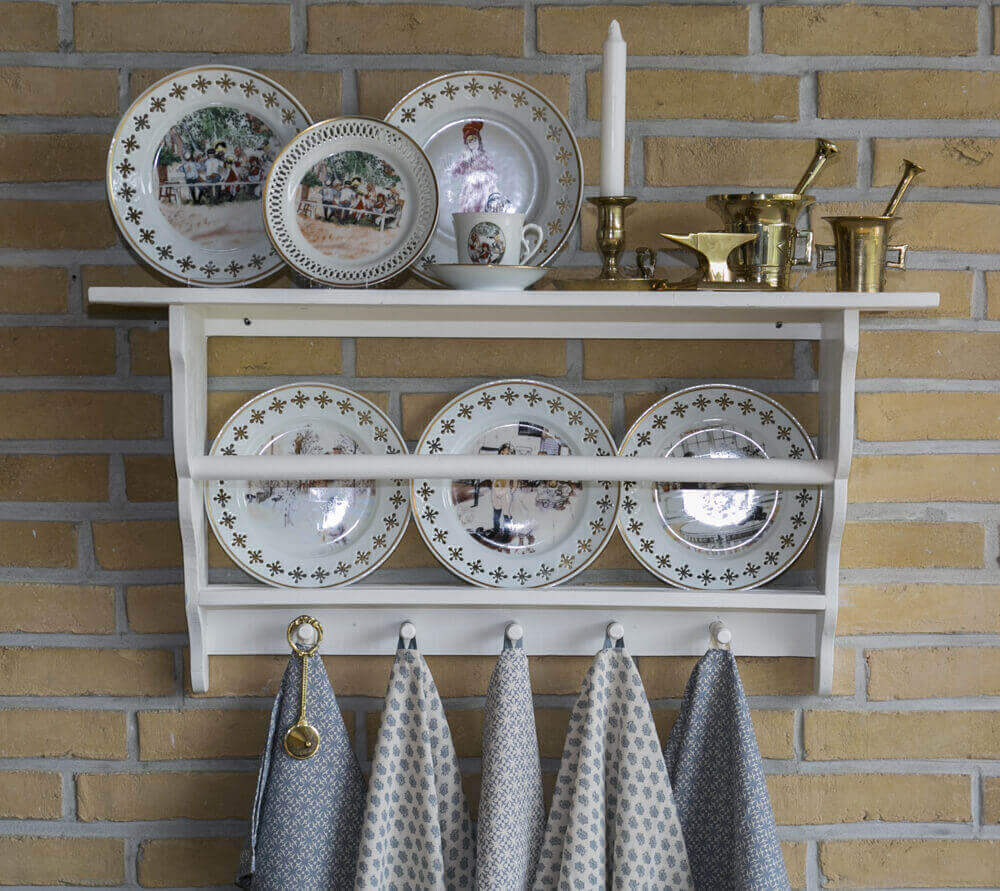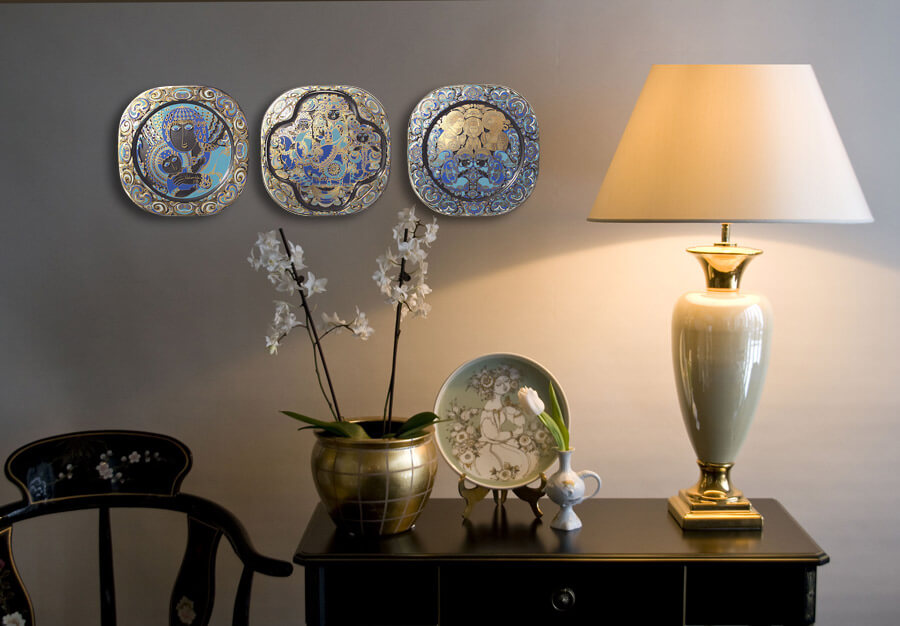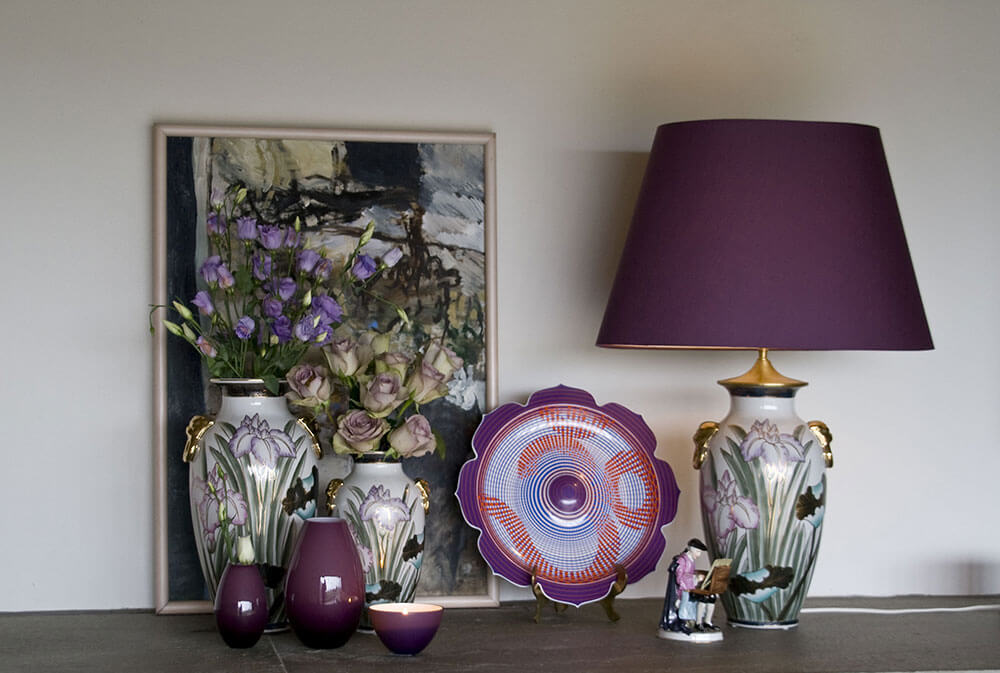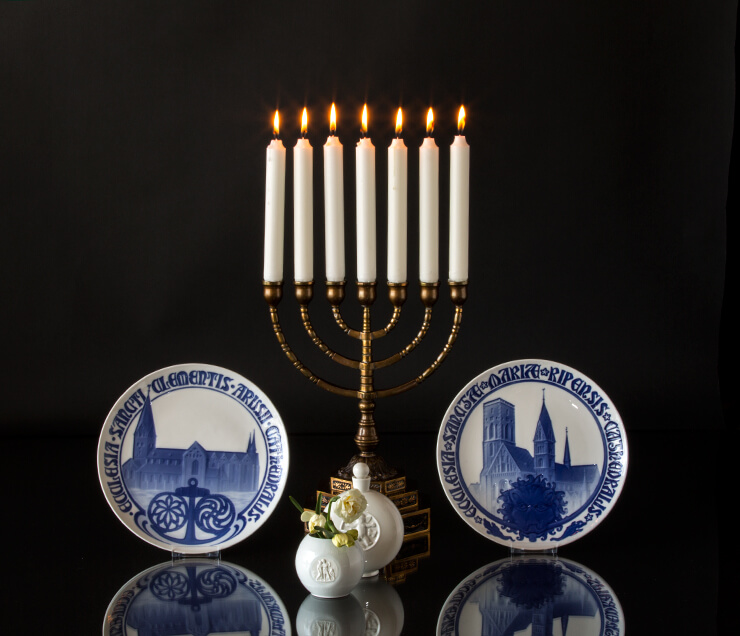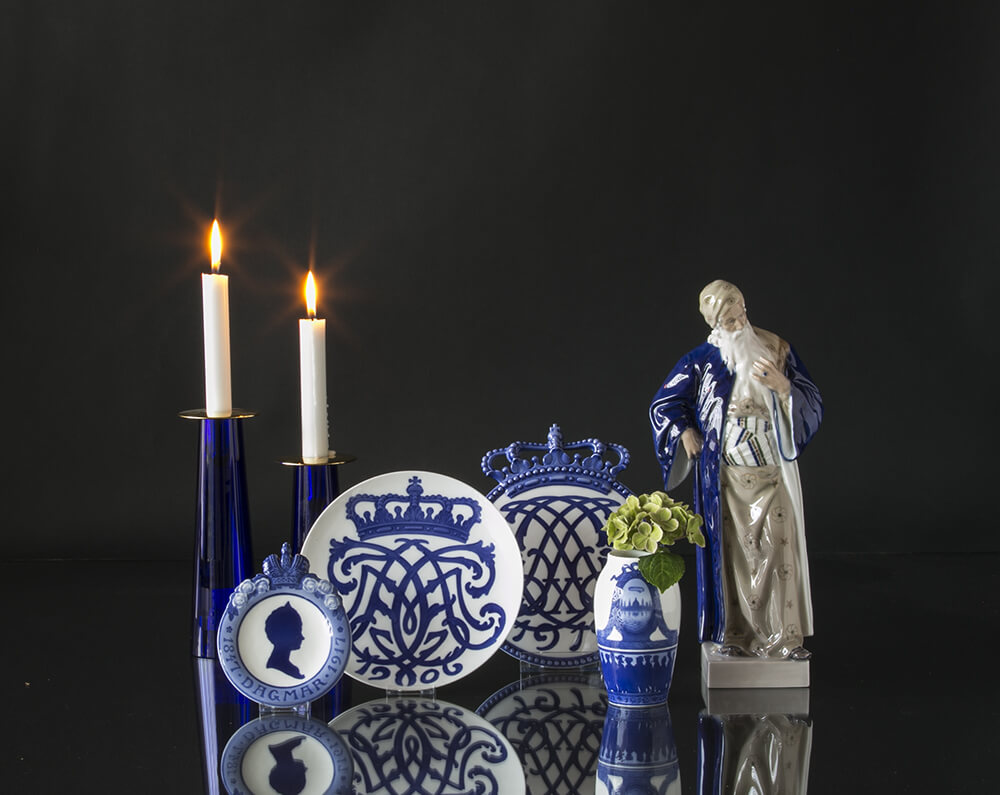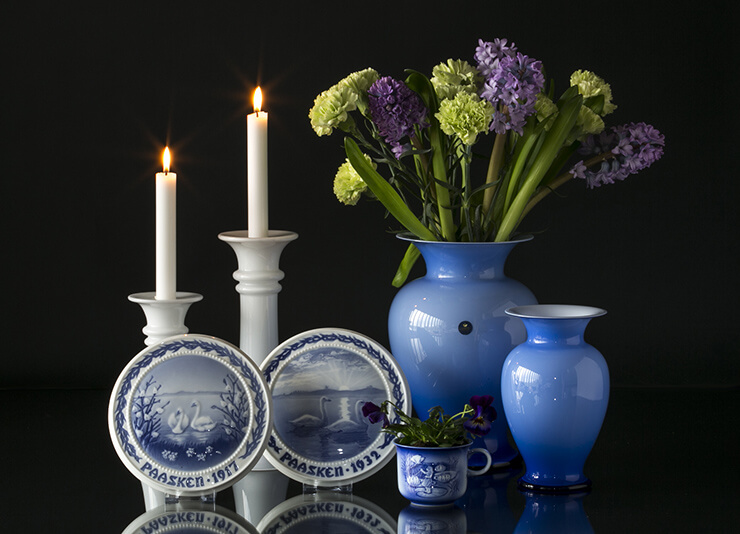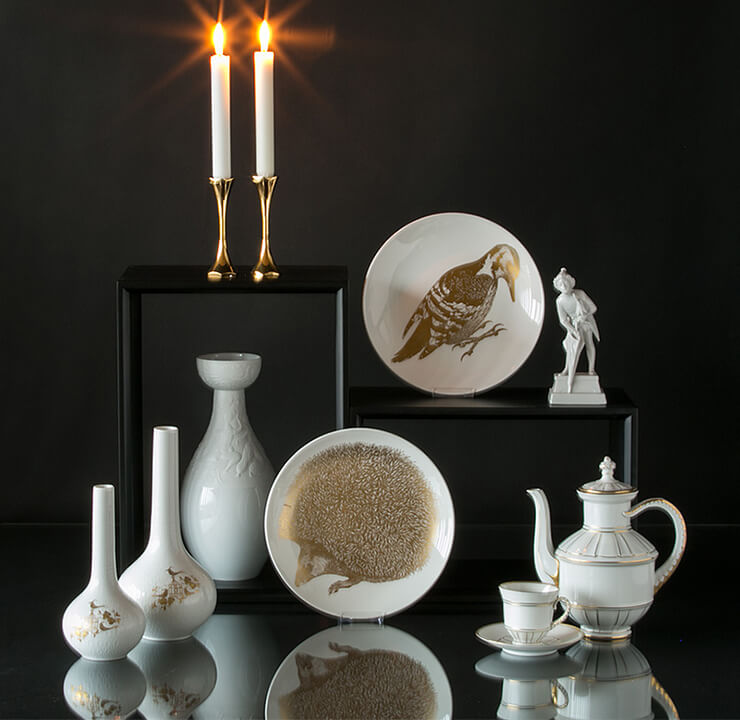 Aside from the plates shown there are thousand of other beautiful plates