Fashion and Style - Which shade should I choose?
Which shade should I choose?
The shape of the lamp:
Tall slim lamps shaped as a candlestick in silver, brass and so on. On those types you can apply a relatively small shade. For instance a Lene Bjerre lampshade, a cylinder formed shade, a le Klint shade, or an oval shade maybe with a brass or silver band around the edge of the shade.

If the foot of the lamp has a chubby form, you can then apply a shade with a relatively wide diameter. You should not choose a high and slim formed lampshade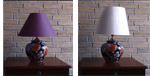 It is a good idea to take a look at the shape of the lamp. If you have an elongated lamp, the most suitable shade is an elongated one. A lamp with a hexagonal foot fits for a hexagonal lampshade as well as a lamp with a squared foot, fits for a squared shade and so on.

The style of your lamp depends on your choice of lampshade. You can completely change style on many lamps simply by changing shade.

If you have an old Chinese lamp and you are getting tired of the oriental look, you can choose, for instance, this more modern cylinder formed lampshade. On the other hand, if you want to highlight the oriental look, this pagoda formed shade with flicks, is the obvious choice.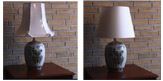 When it comes to lamps of Danish design for instance Le Klint or Holmegaard, choosing an oriental lampshade, would be the wrong decision to make. Most people prefer a stylish shade like the popular shades from Le Klint or a round and smooth lampshade.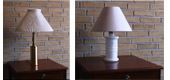 Some lamps are very stylish, even without shade. That goes for the Chinese ones, or the old trophy formed European lamps with brass foot or brass ears. If you have an old lamp made of brass, the lamp can change completely, from being an elegant exclusive looking lamp, to being this sweet romantic looking lamp because of your choice of lampshade.

Before you get rid of your old lamp, you ought to consider giving it a renaissance by purchasing a new shade for it. We often advise our customers to forget about the old lampshade pay us a visit in our store and bring along their lamps. We then try different types of exciting models of lampshade on their lamps in order to find the style that fits to the customers wishes.

Which size of the lampshade should you choose?
There is no unique answer to this question. Because it all depends on the model of the lampshade, style and of course your own taste. Nonetheless, we believe the following could be a help for you.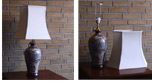 If you have a lamp that is formed like a vase and you consider an angular shade for the lamp. The rule is that the height of the shade should either match or be slightly lower than the height of the lamp.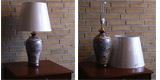 Almost the same rule goes for a cylinder formed or an oval lamp. In this case you can choose an even lower lampshade. If you have a lamp that is formed like a candlestick, you can choose a much lower shade for it. Like this.

Style and fashion
If you need to change an old lampshade, the obvious thing to do is to look at the size of the lampshade. Look at the height and at the diameter of the top as well as that of the bottom and choose a shade that matches those measures. If you like to follow the trends in housing today, you need to acknowledge that people are more in favor of the cylinder formed and oval lampshades than the much more flat and round shades.
The shades do not need to be as big as they did earlier. The trendy shade of today is typically a little lower than the ones of the 80´s and 90´s.
If you are doubtful on your choice of lampshade, we will be glade to help you. If possible visit our store and bring the lamp with you. We will then try shades on you lamp until we find the right one.
If you do not have the possibility to come to Odense, you can email us some pictures on which you have photographed your lamp next to a ruler, for us to see the height of the lamp. We advise you to take the picture of the shade at the very same spot where you want your lamp to be. That will give us an impression of the style of shade you are looking for.
The email address is info@dph-trading.dk we will respond your mail with suggestions and prices for a possibly suitable shade for your lamp.