Together with the Christmas plate and Christmas cup from Royal Copenhagen, you can set a cosy and tasteful Christmas table. See the beautiful Royal Copenhagen Christmas cups in this category.
Danish Design - Royal Copenhagen Annual Coffee Cups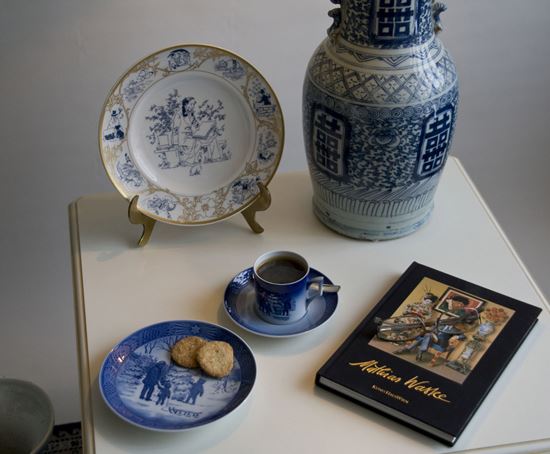 The largest and most well-known series of annual Cups also known as Christmas cups from Royal Copenhagen is of course the blue cups to match the Christmas plates. The Series of Blue Danish Coffee Cups started in 1979, and every year a new cup is added to the series of china Christmas cups matching the Royal Copenhagen Christmas Plates.
The old blue Royal Copenhagen Christmas cups are the additional tableware for those, who use the Christmas plates as tableware. They are a wonderful addition to the Christmas plates, which they match perfectly. The motif is identical to the motif of the plate of the same year, which makes it possible the make a matching set for the years in which the cups have also been produced. It is a perfect set for enjoying your afternoon coffee or tea with cookies or biscuits on the plate, while enjoying the snowy landscape from your window, while the living room is comfortably warm. Also the set makes for an impressive showpiece when having guests, making for a wonderful subject of conversation and it is sure to amuse children, who will love these decorated cups.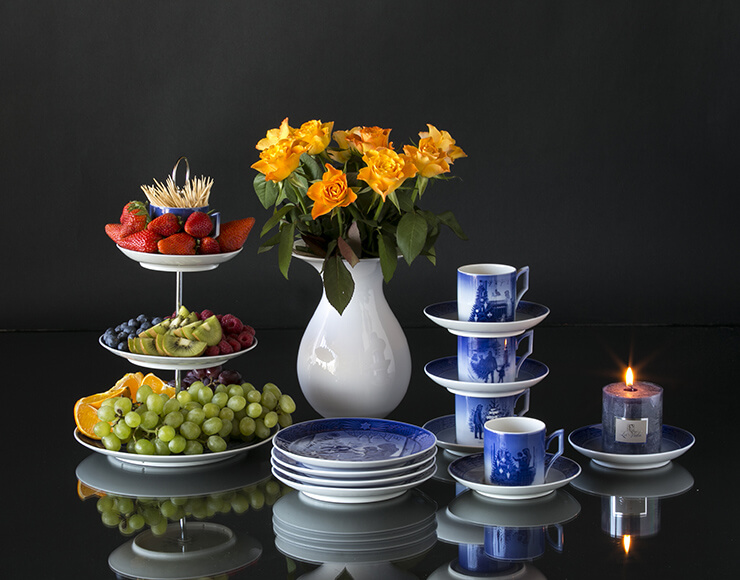 In addition, however, there was also made a few other annual cups with white base color and colorful motifs, produced by Royal Copenhagen of Denmark. In 2005, Royal Copenhagen produced a beautiful set of sugar bowl and creamer to match the blue series. Later, there were also released cups and saucer with more colors than we normally associate with Royal Copenhagen.