In this category you will, among other things, find the popular Wiinblad butter boards.
Bjorn Wiinblad's cooperation with Nymølle

Nymolle Faience, in collaboration with Bjorn Wiinblad published the famous Butter-board or dishes with red and black line drawing where we through the 12 months follow the onset of a new family. Nymolle Faience Factory is also the producer behind Bjorn Wiinblad plates with the four seasons. Furthermore the cooperation resulted in Bjorn Wiinblad Annual plates and in various other plates designed with Bjorn Wiinblad's characteristic drawings.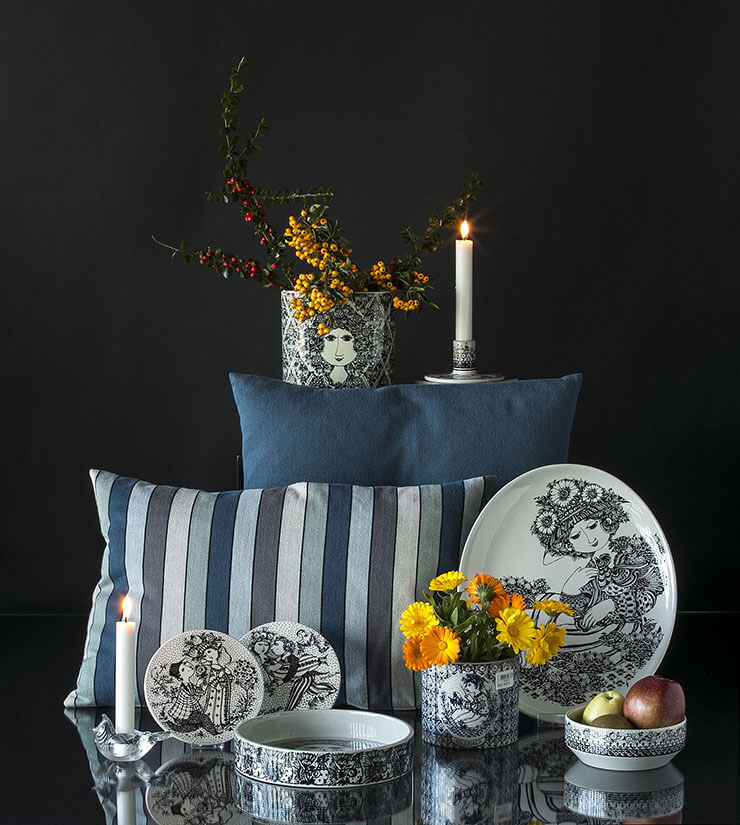 Bjorn Wiinblad Butter-board also called plates or dishes

Bjorn Wiinblad butter board were made in a black and red version every month. In January the young couple meet for the first time and in the following months, we witness how their relationship develops with both ups and downs and eventually culminate in their first-born in the month of December. As an extra dimension to the story the weather of the month always is in the background of the story and the titles. In April the title is "conflict", where the couple have their first argument and the weather is often in conflict with itself whether it be rain or shine. The title of May is "Harmony" - the pair have found each other again and the weather is more stable.

Bjorn Wiinblad plates - The Four Seasons

Bjorn Wiinblad plates with the four seasons are made in various sizes, all in earthenware. They symbolize the characteristics of the four seasons, spring, summer, autumn and winter. The motif of Bjorn Wiinblad's The Four Seasons plates are surrounded by an impressive border and shows the well known Bjorn Wiinblad people.

Bjorn Wiinblad Year plates

From 1969 to 1988, Nymølle also produced a series of annual plates, also designed by Bjorn Wiinblad. The motif of the Bjorn Wiinblad year plates is more varied than the butter boards and The Four Seasons. The Wiinblad annual plates is a recurring theme. They all have motives of happy people like Bjørn Wiinblad always drew them, but they are more imaginative and artistic. the line drawings are all in black.