Find Plates Christmas plates, Mothers Day Plates, Commemorative Plates, Marine Plates, Annual Plates etc.
Find Figurines Animal figurines, Children Figurines, Pixies, Angels etc. in Porcelain, Stoneware, Glass etc.
Find Plaquettes and Ornaments Centenial, Xmas, Flower Plaquettes (Mini Plates), Figurine Ornaments etc.
Find Vases and Jars Porcelain, Stoneware, Ceramics, Faience, Crystal, Glass, Silver, Brass etc.
Find Dishes, Bowls and Ash Trays Porcelain, Stoneware, Ceramics, Faience, Crystal, Silver, Brass etc.
Find Other Collectibles Annual Mugs, Bells, Eggs, Egg Cups, Cups, Christmas Drops, Georg Jensen Mobiles etc.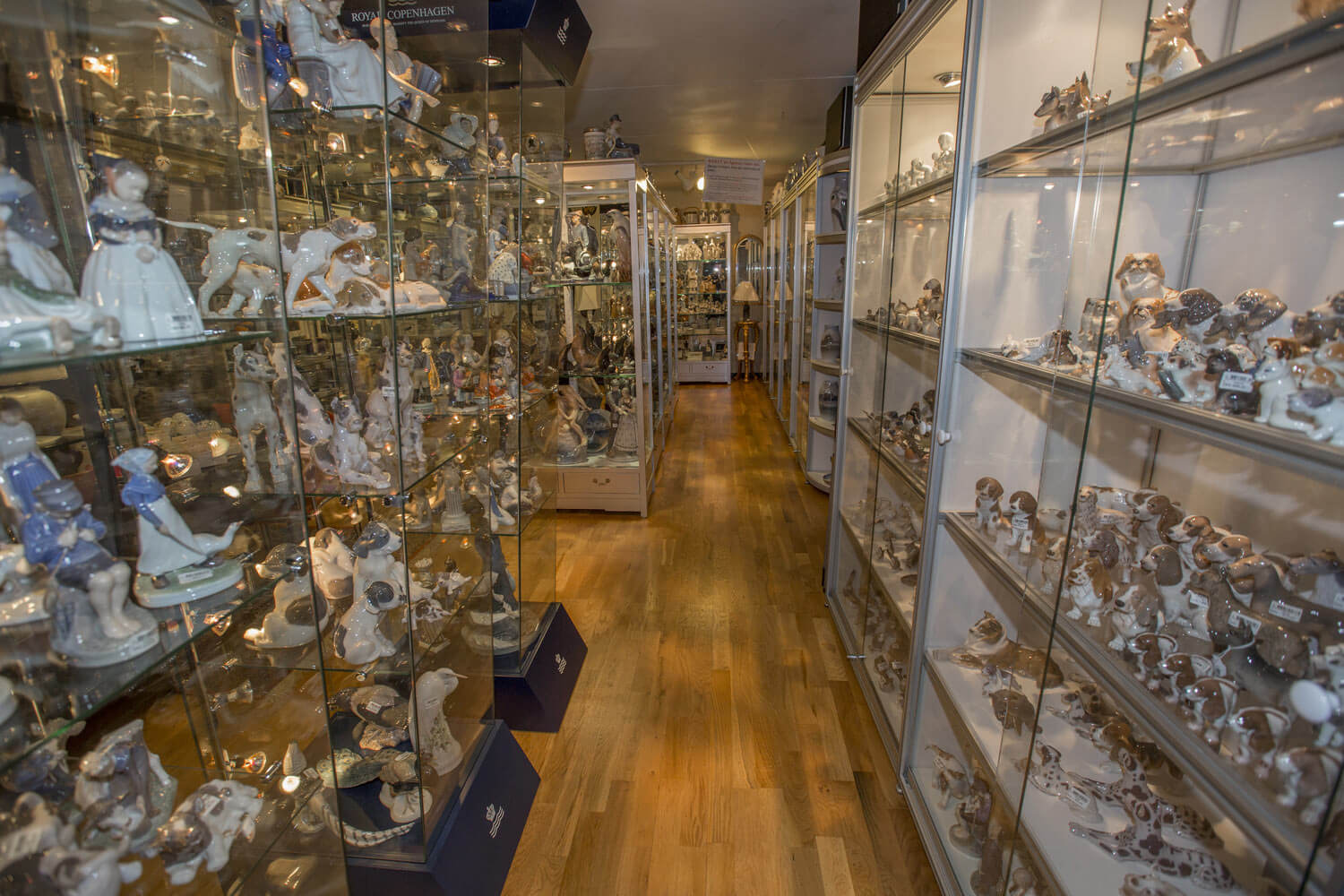 You might also want to see:
Royal Copenhagen Christmas 2017
Bing & Grondahl Christmas 2017
Royal Copenhagen Christmas 2016
Bing & Grondahl Christmas 2016
Royal Copenhagen Christmas 2015
Bing and Grondahl Christmas 2015
Royal Copenhagen Christmas 2014
Bing & Grøndahl Christmas 2014
Our main field is Royal Copenhagen and Bing & Grondahl collectibles and we have one of the largest selections in Denmark. We have a lot of old Royal Copenhagen and Bing & Grondahl Christmas plates in stock from the beginning of the series in 1908 and 1895 until today. Danish Christmas plates are famous all over the world and are often used as gifts or bought by collectors.
Naturally, there have also been made a lot of other plates like commemorative plates, mother's day plates, children's day plates, jubilee plates, plates with flowers, plates with animals etc. We also have many of these plates in stock.
Furthermore we have a large selection and old and discontinued Royal Copenhagen and Bing & Grondahl figurines in stock. The numbers of figurines manufactured over the years is huge and some figurines are more rare than others. Some people collect figurines of specific animals, for instance lions, elephants or polar bears and other people are interested in a special breed of dog like dachshund, terrier and the like.
You will find all our collectibles in the categories above.
You will also find plates here. We have the well-known plates from Royal Copenhagen and Bing & Grondahl as well as the Hans Christian Andersen Christmas plates from Desiree. Furthermore you will find many plates from both Danish and foreign factories. Included are also the Bjorn Wiinblad plates from Rosenthal.
Among the more unique plates are the Easter plates from Bing & Grondahl from the period 1910-1935. This series consists of actual wallplates that are made only for hanging on the wall.
Georg Jensen's beautiful Christmas decorations are also popular. We both have the Georg Jensen Christmas mobiles, Georg Jensen candleholders and the Georg Jensen Christmas ornaments.
Royal Copenhagen's series of plaquettes are also an interesting collectible. They have connections back to the original Christmas plaquettes from Aluminia, which was the basis for Royal Copenhagen's series of plaquettes with Danish motifs.
The beautiful Karen Blixen Christmas decorations and Easter decorations are among the newest arrivals in elegant decoration that have also become a collectors item.
In the more curious department you find the porcelain painting that look like regular paintings, but unlike normal paintings that are painted on a canvas they are painted on a porcelain plate that is then put in a frame.