More than 200.000 collectible plates in stock. Safe and Fast Worldwide delivery!
Click on the images below to see the huge assortment, photos, prices, stock situation etc.
Let us present a huge assortment of collectible plates. - Blue Danish Porcelain plates from Royal Copenhagen, Bing & Grondahl, Desiree Old Copenhagen Blue, Aluminia, Rosenthal, Rorstrand, and many other porcelain and pottery manufactures.
Please find Christmas plates | Commemorative Plates | Mothers Day Plates | Easter (Spring) Plates | Animal, Bird, Hunting plates | Family and Kids Plates | Artists and Months Plates | Fairytale Plates | Maritime and Ship Plates | Plates with Sceneries & Flower Decoration | Oriental Plates, and many more ...
Also please find: Plate hooks, and Plate Stands | Fittings for Cake Stands | Plate boxes
Huge Assortment - More than 200.000 decorative Danish blue wall plates and other collectibles in stock
The above categories of porcelain plates contain a lot of very unique and beautiful hand painted plates, produced to celebrate specific events, jubilees, seasonal holidays etc. Each and every plate has its own history.
Lots of different manufacturers for example: Royal Copenhagen, Bing & Grondahl, Svend Jensen Denmark, Old Copenhagen Blue Porcelain, Desiree Hans Christian Andersen plates, Rørstand, Porsgrund, Alumina, Arabia, Rosenthal Bjorn Wiinblad, Noritake, Tettau, Wedgwood, Bradford Exchange, Bucha & Nissen, etc.
Centerpieces
Bring the old blue-glazed Christmas plates and Mother's Day plates back to life! Use as a centerpiece or étagère, and serve delicious food like sushi, tapas, homemade cookies and fruit - simple and elegant! - read more here
Wall plates are produced for many different occasions and with different motifs. Some are produced for the occasion of the Children's Day, Mother's Day, Father's Day, Easter, Christmas, plates with animals and landscapes, plates with motifs from fairy tales, plates with old railways, trams and aircraft, plates with ships, plates with oriental motifs and a wide range plates of the occasion of factories and personal anniversaries and to commemorate various events.
Danish Blue Commemorative Collectible plates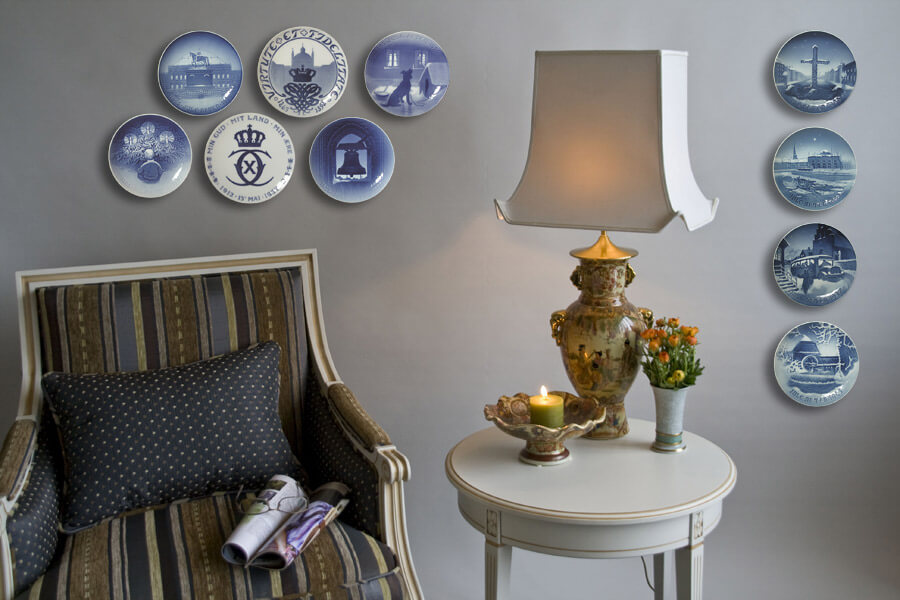 Bing & Grondahl Mothers Day Plates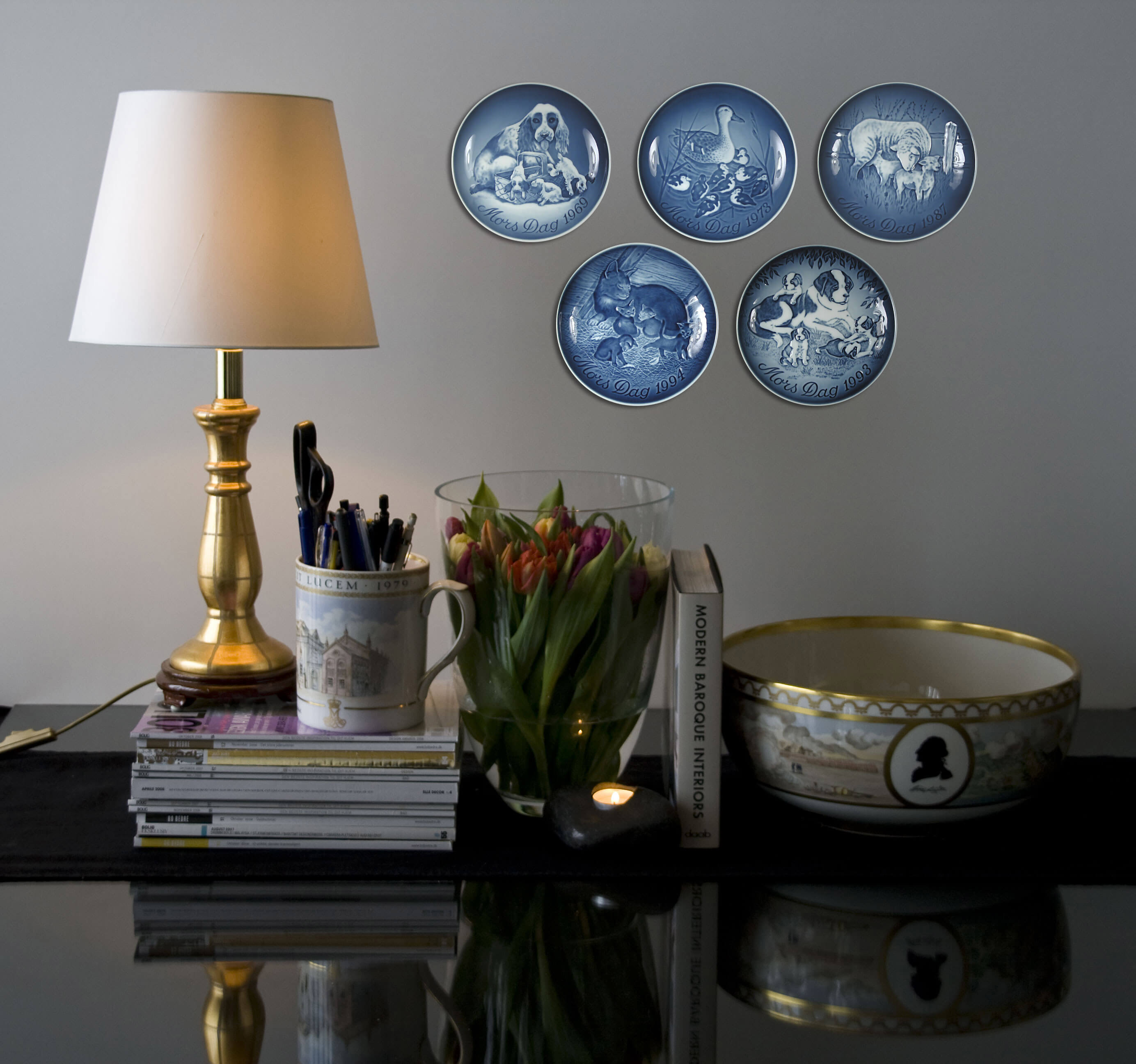 Bing & Grondahl Christmas Plates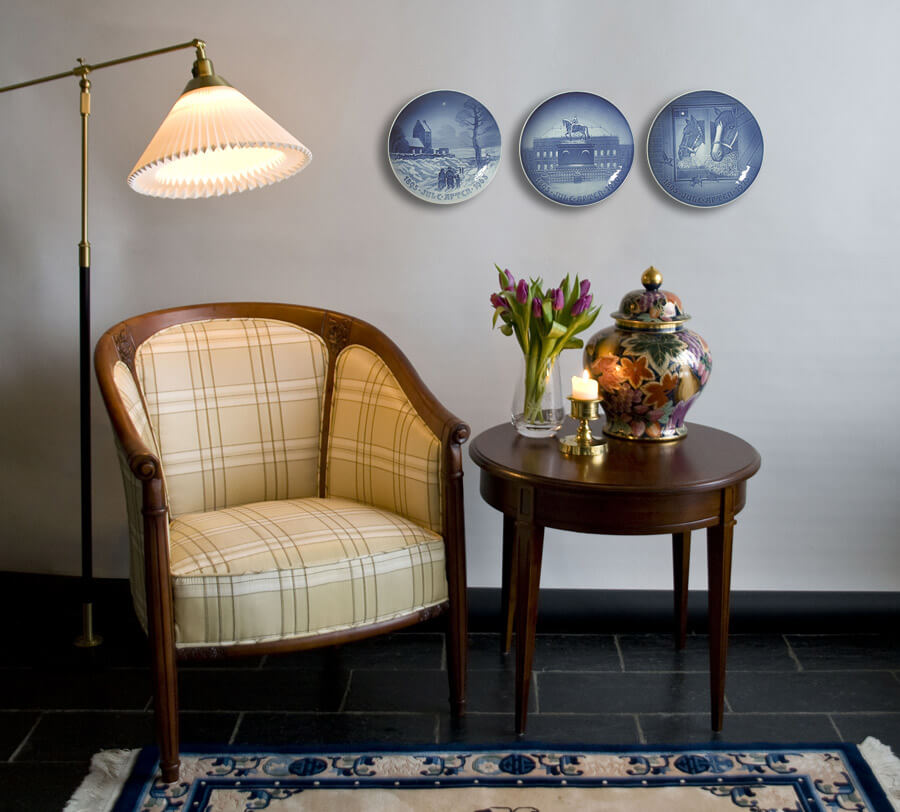 Bing & Grondahl Marine Windjammer Plates
Desiree Hans Christian Andersend Blue Danish Porcelain Plates
(Old Copenhagen Blue - Svend Jensen)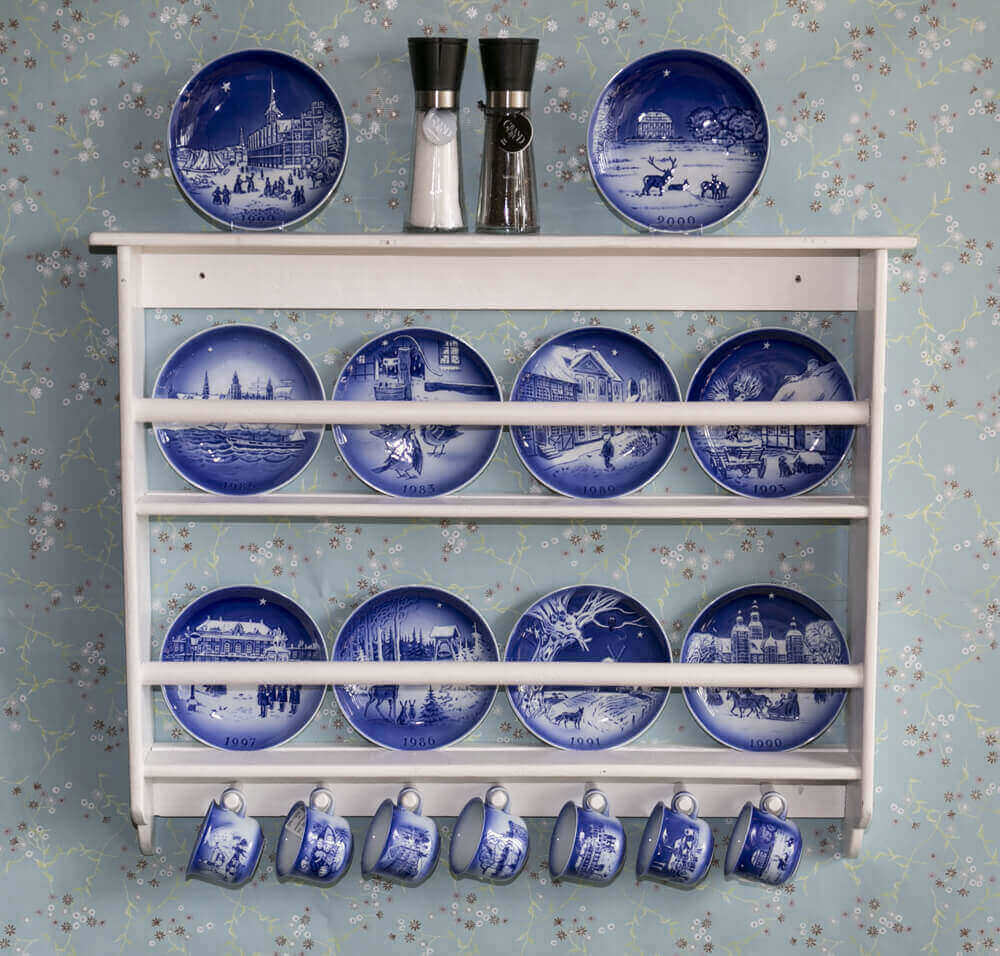 Blue Danish Mother's Day Plates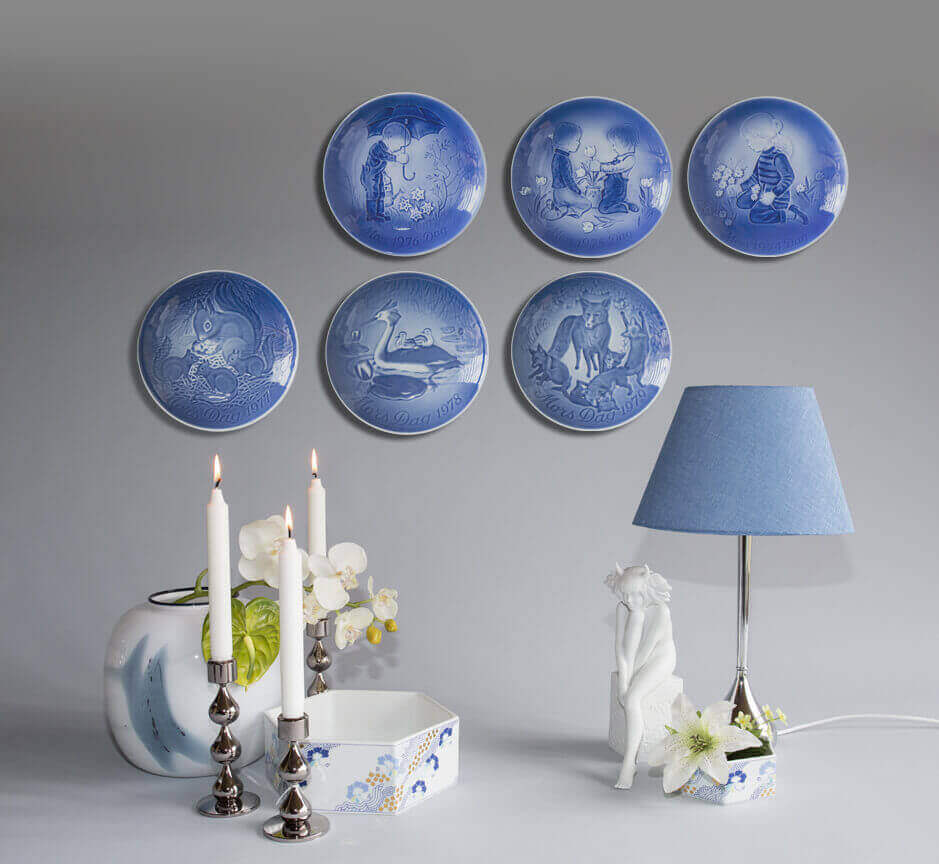 Bjorn Wiinblad Plates
Hutschenreuter Christmas plates designet by Ole Winther