Bjorn Wiinblad has designed so many beautiful and very distinctive works of art. Below you will find Bjorn Wiinblad butter boards and plates designed by the famous artist.
Bjorn Wiinblad designed his first Christmas plate for Rosenthal in 1971.
Wiinblad began its collaboration with Rosenthal in 1957, and in 1971 the first edition of Rosenthal Wiinblad Christmas plate was released. All of the plates show some of Wiinblads optimistic and romantic decoration.

Bjorn Wiinblad's inspiration was mainly music and litterature. Mainly opera and ballet were great sources of inspiration for Wiinblad.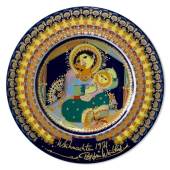 Wiinblads first series of 12 Christmas plates produced in collaboration with Rosenthal has biblical motifs. thay are multicolour with 24 carat gold as Bjorn Wiinblad is known for around the world. The plate designs have a lightness and color richness which can be traced back to ballet.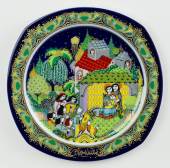 After the release of the first 12 Wiinblad Christmas plates, Bjørn Wiinblad published another series of Christmas plates of 12 pcs. from 1983-1994. This series of plates, Christmas carols on porcelain, was again issued in cooperation between Rosenthal and Bjorn Wiinblad. Bjorn Wiinblad has for these plates found his inspiration in the most beautiful Christmas Carols in the world. Bjorn Wiinblad has with great success captured christmas carols in his Christmas plates. The first plate in this series is inspired by Silent Night Holy Night Next, Bjorn Wiinblad each year chosen a well known and loved Christmas hymn to his Christmas plates.
Bjorn Wiinblad and Rosenthal cooperation extended well beyond the pre-mentioned Christmas plates and Carol plates. Bjorn Wiinblad designed vases, tableware, Aladin Plates, drinking glasses and bowls. Almost all of which has his distinct signature, with their colorful and optimistic expression, as seen on the Christmas plates. Bjorn Wiinblad's works, both those described above, the Wiinblad Christmas plates, as the vases, figurines and plates, he performed in collaboration with Nymolle, as the well-known figurines and vases from Bjorn Wiinblads workshop is known worldwide, and in many Museums around the world Bjorn Wiinblad's work is represented. The Christmas plates are and have for years been coveted collectibles, and especially the first Wiinblad Christmas plates can be difficult to obtain because Wiinblad hardly had foreseen the great interest there would be for them and the print run therefore is limited.