Bjorn Wiinblad designed his first Christmas plate for Rosenthal in 1971.
Wiinblad began its collaboration with Rosenthal in 1957, and in 1971 the first edition of Rosenthal Wiinblad Christmas plate was released. All of the plates show some of Wiinblads optimistic and romantic decoration.

Bjorn Wiinblad's inspiration was mainly music and litterature. Mainly opera and ballet were great sources of inspiration for Wiinblad.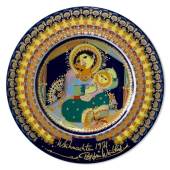 Wiinblads first series of 12 Christmas plates produced in collaboration with Rosenthal has biblical motifs. thay are multicolour with 24 carat gold as Bjorn Wiinblad is known for around the world. The plate designs have a lightness and color richness which can be traced back to ballet.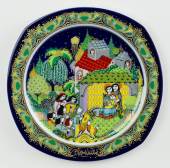 After the release of the first 12 Wiinblad Christmas plates, Bjørn Wiinblad published another series of Christmas plates of 12 pcs. from 1983-1994. This series of plates, Christmas carols on porcelain, was again issued in cooperation between Rosenthal and Bjorn Wiinblad. Bjorn Wiinblad has for these plates found his inspiration in the most beautiful Christmas Carols in the world. Bjorn Wiinblad has with great success captured christmas carols in his Christmas plates. The first plate in this series is inspired by Silent Night Holy Night Next, Bjorn Wiinblad each year chosen a well known and loved Christmas hymn to his Christmas plates.
Bjorn Wiinblad and Rosenthal cooperation extended well beyond the pre-mentioned Christmas plates and Carol plates. Bjorn Wiinblad designed vases, tableware, Aladin Plates, drinking glasses and bowls. Almost all of which has his distinct signature, with their colorful and optimistic expression, as seen on the Christmas plates. Bjorn Wiinblad's works, both those described above, the Wiinblad Christmas plates, as the vases, figurines and plates, he performed in collaboration with Nymolle, as the well-known figurines and vases from Bjorn Wiinblads workshop is known worldwide, and in many Museums around the world Bjorn Wiinblad's work is represented. The Christmas plates are and have for years been coveted collectibles, and especially the first Wiinblad Christmas plates can be difficult to obtain because Wiinblad hardly had foreseen the great interest there would be for them and the print run therefore is limited.
Bjorn Wiinblad's cooperation with Nymølle

Nymolle Faience, in collaboration with Bjorn Wiinblad published the famous Butter-board or dishes with red and black line drawing where we through the 12 months follow the onset of a new family. Nymolle Faience Factory is also the producer behind Bjorn Wiinblad plates with the four seasons. Furthermore the cooperation resulted in Bjorn Wiinblad Annual plates and in various other plates designed with Bjorn Wiinblad's characteristic drawings.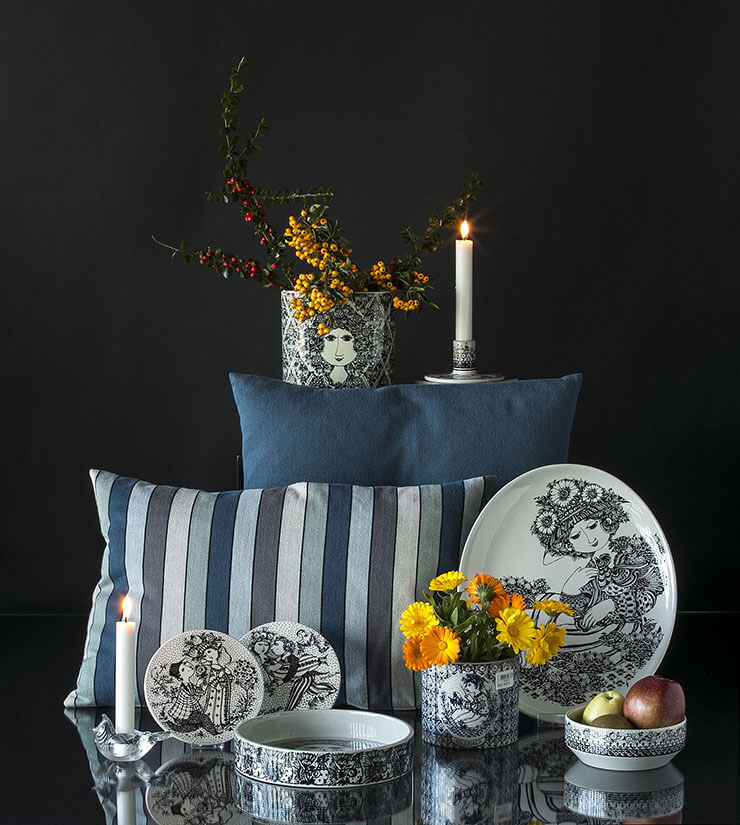 Bjorn Wiinblad Butter-board also called plates or dishes

Bjorn Wiinblad butter board were made in a black and red version every month. In January the young couple meet for the first time and in the following months, we witness how their relationship develops with both ups and downs and eventually culminate in their first-born in the month of December. As an extra dimension to the story the weather of the month always is in the background of the story and the titles. In April the title is "conflict", where the couple have their first argument and the weather is often in conflict with itself whether it be rain or shine. The title of May is "Harmony" - the pair have found each other again and the weather is more stable.

Bjorn Wiinblad plates - The Four Seasons

Bjorn Wiinblad plates with the four seasons are made in various sizes, all in earthenware. They symbolize the characteristics of the four seasons, spring, summer, autumn and winter. The motif of Bjorn Wiinblad's The Four Seasons plates are surrounded by an impressive border and shows the well known Bjorn Wiinblad people.

Bjorn Wiinblad Year plates

From 1969 to 1988, Nymølle also produced a series of annual plates, also designed by Bjorn Wiinblad. The motif of the Bjorn Wiinblad year plates is more varied than the butter boards and The Four Seasons. The Wiinblad annual plates is a recurring theme. They all have motives of happy people like Bjørn Wiinblad always drew them, but they are more imaginative and artistic. the line drawings are all in black.
Bjorn Wiinblad Aladdin Plates

Aladdin plates are made of porcelain with colorful designs on dark blue background. The Bjorn Wiinblad Aladin plates appeared actually in two series, but it is clearly the one with golden rim that is best known. There were made three plates in Rosenthal Aladin series with blue background without a rim, but the best known series has a beautiful gold border around the motif, also with blue background. The Bjorn Wiinblad Aladdin plates tell some of the key scenes in Aladdin story very beautifully. Bjorn Wiinblad was a master of expression with illustrations and you can sense his joy of art on every plate.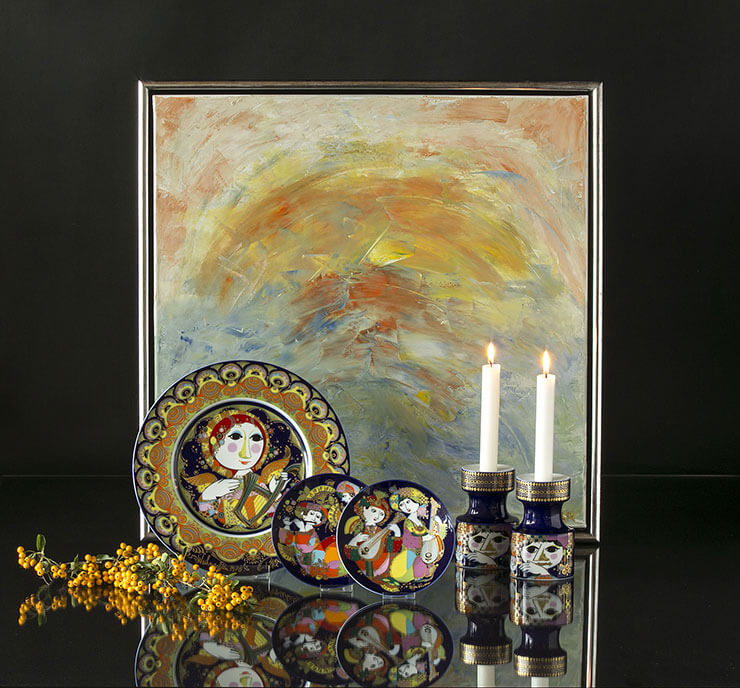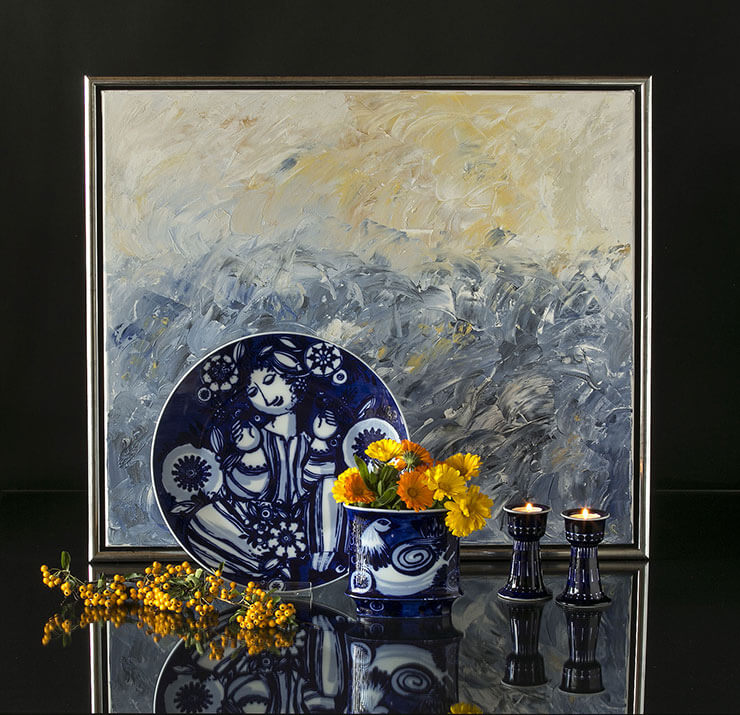 Bjorn Wiinblad "Biblical Parable" Plates

The beautiful Rosenthal glass plates called Biblical parable was published from 1982 to 1987 and they are all designed by Bjorn Wiinblad. He has found inspiration in the New Testament to portray some of Christianity's fundamental values and morals. The plates are made of glass motif in relief.