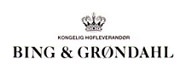 Below you had a complete list of all the Bing & Grondahl (B&G) plates, B & G vases, porcelain figurines, collectible Christmas bells, decorative dishes, bowls made of fine china, etc.
However if you did not find what you were looking for, we recommend that you try to use our search option i top of the page.
Should you be interested in more information about the brand and Danish royal porcelain manufacturers background please click here to read the history of Bing & Grondahl.