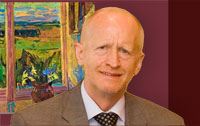 DPH Trading is owned by Joergen Risager.

The company was based on Joergen Risager's idea of making trading with the Christmas plates his career.

He had this idea during a dinner at his brother- and sister-in-law's in 1970. The brother-in-law had bought a personal stock of Christmas plates, which were meant to be his retirement savings. Back in 1970 it was very difficult to get hold of Christmas plates. Delivery times were very long, you had to buy them in at the hardware store, and you were only allowed to buy one. At least you needed a very good reason to be permitted to buy more than one (could be something like - I could not bear, if my old grandmother did not get the newest addition to her collection as well.)
The brother-in-law saw big prospects in buying up Christmas plates from the many hardware stores in Odense, where to Joergen Risager had just moved. Joergen Risager was urged to buy all the Christmas plates he could get hold of, and the brother-in-law would pay an extra price of DKK. 5.- per plate Joergen Risager had bought. Joergen Risager tried to get hold of the Christmas plates, but had made no promises to his brother-in-law.
After many hardships Joergen Risager succeeded in procuring 15 pieces of the 1970 Bing & Groendahl Christmas plates as well as 15 pieces of the 1970-plate from The Royal Porcelain Factory. In 1970 the plates were sold at a retail price of DKK 30,65 a piece (approximately USD 5.-). After scrutinizing the household money, he decided, that his family could do without the money spent on the plates and kept the plates to himself.

By December 1971 Joergen put the plates up for sale. All the plates were sold to the first person who wanted to buy, at the price of DKK 45.- a piece. Thus these 30 plates became the foundation of the company. Instead of returning to his job after New Years 1972, he was granted leave from his job to try out his idea. The company was founded on this slender foundation. Dansk Platte Handel ("Danish Plate Trading") was founded on February 1st, 1972. The company had a rough take-off. The banks had absolutely no confidence in Joergen Risager´s idea. He could not get a loan or an overdraft facility, so trading-money were scarce.
Luckily the plate-trade thrived in Bolbro, where the company was situated during the first ten years. Danes as well as Americans were more than willing to buy. During those years "Dansk Platte Handel" exclusively dealt in plates and a few figurines. However the selection grew quickly to hold a extensive selection of Danish as well as foreign plates and figurines plus supplements for old dinner and coffee sets.
The property at Loekkegravene 49, Odense N., where the company is still housed, was acquired in 1982.

Shortly after Joergen Risager had taken possession of the new building, the market unfortunately took a descending turn, in Denmark as well as in The United States. The situation was difficult, and DPH had to find new sources of income to supplement the plate-trade and to survive the failing sales.
The supplement became antique, semi-antique and new Chinese and Japanese vases and jars, and soon the lamp-assembling workshop was established, as most of our customers prefer lamps to vases or jars. At the same time, the company name was changed to DPH Trading, as the name "Danish Plate Trading" did not cover the sale of lamps, vases and jars. - Jorgens wife Inger Risager joined the company, and stared as a sales represantative for DPH. - Learn more about Inger Risager
Soon after in 1986 also Jorgens daughter Lone Risager Therkelsen started to work full time in the company as well. Learn more about Lone Risager Therkelsen
In a sense, the good destiny has never been far from Joergen Risager. DPH benefited from the connections to Japan when receiving a visit from Japanese suppliers. They instantly fell in love with the Danish Christmas plates and this was the kick off of a large export of Christmas plates to Japan. The export started in 1989 and boomed by 1993, where the Japanese really got their eyes up for Danish collectibles.
The art of limitation has never been Joergen Risager´s strong point. Through the years the company has gone through expansion and development. It has been necessary to extend the buildings several times- a bigger showroom as well as bigger storage room have been added. The selection of articles have expanded in several directions. Further to the Chinese and Japanese lamps the selection now contains lighting articles of various kinds as well as furniture, mirrors and artwork.
| | |
| --- | --- |
| | In the plate and collectibles section DPH Trading today holds a considerable stock of plates and collectibles from various manufacturers throughout the world. DPH Trading is also dealer of all new products from Royal Copenhagen, Bing & Groendahl, Holmegaard, Rosendahl, etc., just as we sell used, semi-antique and antique tableware supplements. |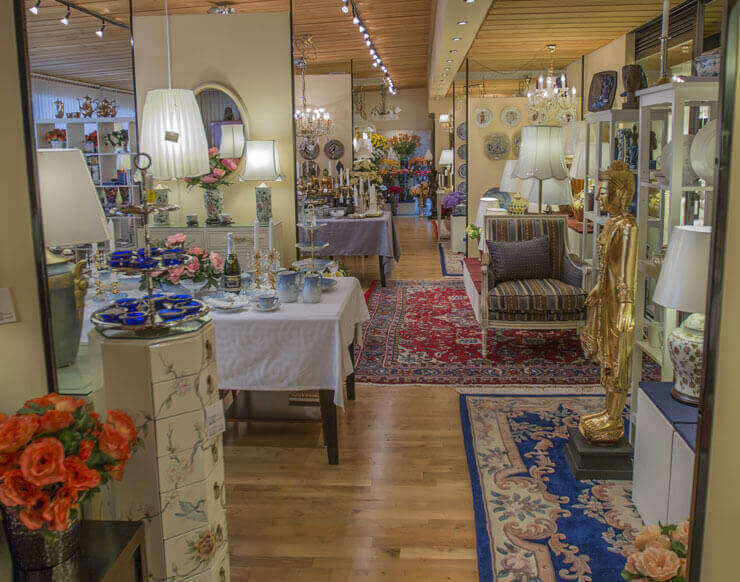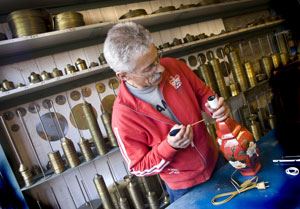 The lamp-assembly workshop has become a small niche production, from which we have benefited considerably. Our selection constantly grows, and all along new and exciting products are found.
As to IT, DPH Trading has always been in front, as Joergen Risager is absolutely fascinated by the amazing options and possibilities of computers. Also in our contact with the customers the computer, and the internet especially, is a well qualified and quick media. With a wide range of collectors worldwide as our customers, business would be almost impossible without the internet.
DPH Trading launched a web-site and shop - the result of million-investments in IT technology etc.
Investments in the future, for the benefit of our customers and ourselves. The site presents some 13.000 products from our stock. The number of items is continuously increasing. At the site details, data and historic data on products, manufacturers, artists and much more are found.
We are still adjusting, correcting and adding further functions to our site, working intensely to give you as a customer the best possible service.