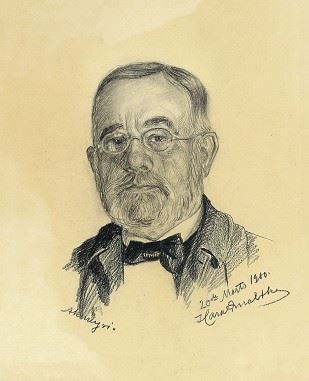 Harald Viggo Count Moltke was a Danish painter and writer, he was educated at the Royal Danish Academy of Fine Arts 1889-93 (also known as the the Northern Lights painter).

Harald Moltke carried out, together with Knud Rasmussen, teacher Jorgen Bronlund who came in Nuuk, the doctor Alfred Bertelsen and Arctic explorer Ludvig Mylius-Erichsen, in the years 1902-04, a Greenland expedition to West Greenland (The Literary Expedition). Purpose of the expedition was to describe the country and its people culture, with an artistic perspective.
Harald Moltke and the others live most of the year in close contact with the few polar Eskimos in the area. the Eskimo way of life and customs were described. During that time The Eskimos were drawn and painted, and a large amount of their legends and stories were recorded. In February 1904 the expedition broke up and traveled down along the west coast before returning to Denmark in the same year.

On the Greenland Expedition 1902-1904, and on Harald Moltke trips to Iceland and Finland, he painted among other things 30 portraits of Inuits and 26 paintings of the northern lights.
He painted motifs for some of Royal Copenhagen's very rare memorial plaques, commemorating the "DANISH EXPEDITION TO THE GREENLAND NORTH-EAST COAST" 1906-1908.
Here are a few of Harald Moltke's famous northern lights paintings: