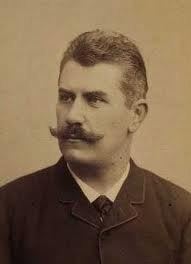 H.C. Amberg, Danish architect. He became carpenter in 1855 and studied at the Art Academy in 1856-65, where he later worked as a teacher a number of years from 1876-88.
Amberg is also known for his restoration of the Cathedral in Ribe, he also drew
Royal Copenhagen Commemorative Plate No. 49, which was made to commemorate the restoration completion of Ribe Cathedral.