Johann Christoph Bayer (1738-1812) - painter
Johann Christoph Bayer, studied as a painter of flowers at Dietsch in Nuremberg until 1768

In 1768 came 30-year-old Johann Christoph Bayer to Copenhagen.

He was employed by Royal Copenhagen Porcelain Factory from 1776-1804.

The flowers paintings were done by him in connection with the decoration of the Christiansborg Palace in Copenhagen, but he is most famous for his decorations to the Flora Danica service.

He created 1,802 different parts of Flora Danica - A huge task.
When Johann in the summer of 1768, 30 years old, came to Copenhagen from Nuremberg in Germany, he had just graduated as a porcelain painter - with flowers as a specialty - at his father's small porcelain factory in Nuremberg.
Presumably by accident, Johann was sitting in the Botanical Garden in Copenhagen looking at flowers, and gets in conversation with the director of the Botanical Garden, G.C. Oeder, who was also German. Oeder had at that time a number of flower painters in the process of painting a sensational set of books - Flora Danica - which King Christian the 7th had ordered. The highly praised book should contain hand-colored pictures of all the flowers in the Danish kingdom. Johann Christoph was thus employed to paint flowers in the books.

In 1775 another German - Frantz Heinrich Müller - begins the new royal porcelain factory in Copenhagen.
In 1770 ordered King Christian the 7th the Flora Danica service at the royal porcelain factory (Royal Copenhagen). It was originally intended as a gift to Catharine II (Catherine) the Great of Russia. However Catharine II never received the Flora Danica service as she died in 1796 before the dinnerset was finished.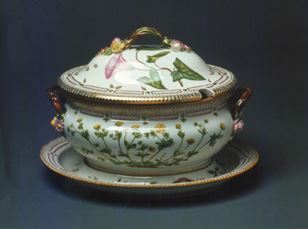 The king renewed However, the order and the Flora Danica set was delivered to the Danish royal family in 1804. The service has since then only been used at state dinners, birthdays, weddings and other major events. Even so, much have been lost, for example, were 32 plates destroyed all at once in 1841. Of the original 1802 pieces, it is believed that around 1500 have survived. Queen Margrethe the 2nd currently owns the dinnerset.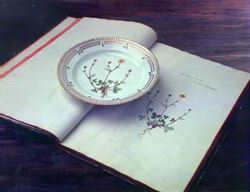 Johann Christoph Bayer was commissioned to transform the many flower paintings from the square plates from "The Flora Danica book" to the round and oval porcelain parts. The Flora Danica porcelain frame with 1802 parts became his life's work. The manufacture of the dinnerware ended in 1804, and Johann Christoph Bayer was awarded a pension from Royal Copenhagen Porcelain Factory. At the time, Johann Christoph Bayer was 66 years old. He dies in 1812, 74 years old.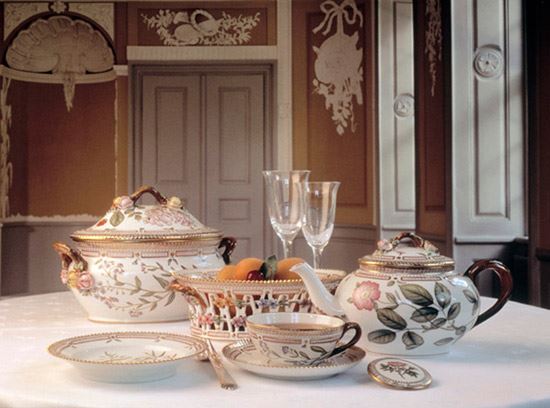 All edges and flowers were cut by hand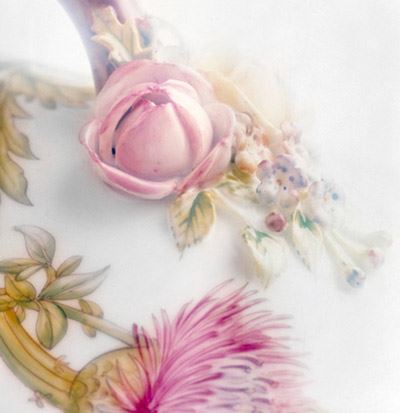 The fluted edges and perforations are all carved by hand, and the flowers on lids and handles are sculpted in porcelain, Leaf by leaf; the creation of The Flora Danica simply speaks for itself.