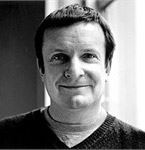 Peter Svarrer was educated at the school of Art and Design in 1981. He has been a very prolific designer who has had tremendous influence on Danish glass art.

Peter Svarrer started his own glassblowing studio in 1982.

In 1997 Peter Svarrer started the cooperation with Holmegaard Glassworks.

Peter Svarrer has had a major influence on the shapes and colors in Holmegaards assortment, for many years, he has, among other things taught at the Danish Design School and Kolding School of Arts and Crafts.

Peter Svarrer has received several awards and scholarships for his beautiful glass designs.

The cooperation with Holmegaard Glassworks perfectly match with Peter Svarrers desire to immerse himself in the work of developing new products, instead of spending time on accounting, marketing, etc.
He says:
"I got a workshop at Holmegaard in Næstved in 1997 and spent my days between the studio and glass cabin, where a team of the most skilled craftsmen blew prototypes by my workshop drawings. Therefore I connect the brand with a sincere understanding of the material glass, where a number of people each with their own skills, work together to achieve the optimum in design.It is the same today. "

"When I work with drawing new designs in glass, it is always with the glass' own nature in mind - because it fits so well with my in many cases organic design and precisely this is the glass so good at communicating. It may be a simply idea such as the cocoon wineglass series that I would like that one gets a sensual experience in the touch with the glass' stem, and therefore it has an organic shape. "
Peter Svarrer has designed a part of Holmegaard lighting classics, and helped to continue the Scandinavian design that is loved both at home and abroad