https://www.dphtrading.dk/brand/rosendahl-bjoern-wiinblad
https://www.dphtrading.com
https://www.dphtrading.de/marken/rosendahl-bjoern-wiinblad
Fast and Safe Shipping
• 45 years of experience
• Fast and safe delivery
Click for details ▼


Rosendahl has bought the design rights for Bjorn Wiinblad's brand meaning that his characteristic line drawings will come in new shapes and colours. Mix the new products with his old products or start your new collection of Bjørn Wiinblad today.
Number of items:   3
Items per page:
Prices shown in:
Price is based on delivery in:
Bjorn Wiinblads famous drawing will be brought back to live again - this time by Rosendahl Design Group - who has launched this beautiful series of cups, bowls, candle holders, trays and cookie cans.
Common to all the products is that they represent the joy Wiinblad had for
creating - and show the imaginative drawings of lush women figures.

The new series of Wiinblad products addresses both the devoted and
nostalgic collector as well as the new generation wanting to get
colours and joy into the modern household.

The many products can be mixed - and can be combined with the old things
from Bjorn Wiinblads Workshop.

Whether you like the colourfull things, or you want to keep your house in
black and white this new series of Wiinblad products will be your new
favourite.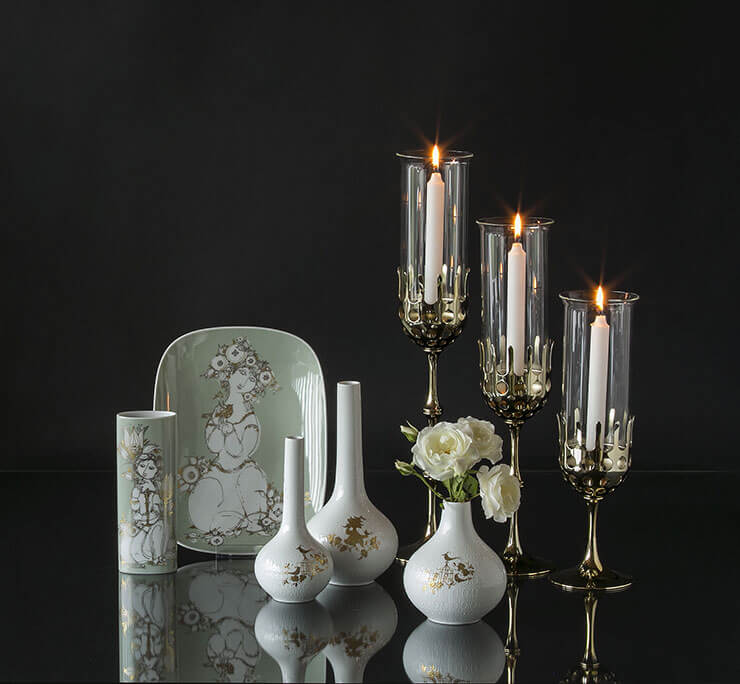 We can see that cookies are disabled in your browser!
Our webshop can not function without cookies!
Enable cookies in Opera:
1. Opera button
2. Settings
3. Privacy and security
4. Cookies -> Allow local data to be set

Enable cookies in Firefox:
1. Menu button
2. Options -> Privacy
3. "Firefox will:" dropdown -> Use custom settings
4. Accept Cookies

Enable cookies in Safari:
1. Action menu button
2. Preferences -> Privacy
3. Cookies -> Allow
Enable cookies in Internet Explorer:
1. Tools
2. Internet Options
3. Privacy -> Settings
4. Move the slider to allow cookies
Enable cookies in Microsoft Edge:
1. More button ...
2. Settings -> View advanced settings
3. Cookies -> Don't block cookies

Enable cookies in Google Chrome:
1. Menu button
2. Settings -> Show advanced settings
3. Privacy -> Content settings
4. Cokies -> Allow
✅ Fast and secure delivery
• 45 years of experience
• Fast and safe delivery
DPH Trading, Loekkegravene 49, DK-5270 Odense N, Denmark EU, info@dph-trading.dk © Copyright 2020 - DPH Trading
Don't miss our home decoration tips, great offers for collectibles, events, promotions and much more...
We send newsletters approx. 1 to 3 times a month, depending of the season.