1. Online payment using a credit/debit card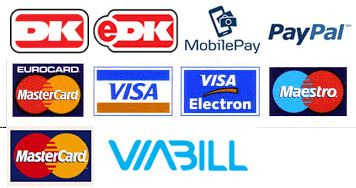 We accept payment in DKK (Danish Krone), EUR (Euro), USD (US Dollar), GBP (British Pound), CAD (Canadian Dollar)
AUD (Australian Dollar), CHF (Swiss Franc), SEK (Swedish Krone), NOK (Norwegian Krone)
The following cards can be used for PayPal payments:

Payment for goods ordered by phone or the like.
Have you received an offer per Email that you want to pay?
If you want to pay for some items that you have received an offer by e-mail, we recommend that you find the e-mail with the offer and click on the green payment link in the e-mail. This is for sure the easiest way for you, as you do not have to fill in your data again. At the same time, you ensure that we can see which order you pay for.
If your have any trouble or other questions in regards to payment, you are welcome to contact us by e-mail
info@dph-trading.dk or phone (+45) 66 18 95 95.