Here you will find an overview of our customer services concerning help, guides & information about all our items, oppertunities and services. Choose a subject you wish to know more about and get your answer immediately.
If you cannot find an answer to your question, please do not hesitate to contact us. Call us on phone (+45) 66 18 95 95, Mon-Friday 08:00 am - 15:00 pm (GMT+1). Or send us an e-mail with your question to info@dph-trading.dk. We respond within 1-4 normal business days.
Most of our customers pay using a debit or credit card. DPH Trading uses a secure payment method..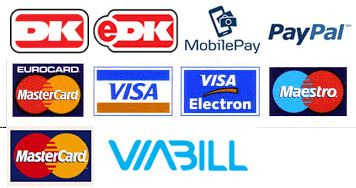 No amount will be charged before the items/order is dispatched. Should any unexpected delivery challenges occur or intervein with your order we will return the charged amount to you, any debit or credit card fees included.
How you choose to pay is entirely up to you. Substantial savings are possible when dealing in large sums, depending on which payment option you choose.
We accept payment in DKK (Danish Krone), EUR (Euro), USD (US Dollar), GBP (British Pound), CAD (Canadian Dollar)
AUD (Australian Dollar), CHF (Swiss Franc), SEK (Swedish Krone), NOK (Norwegian Krone)
Transaction fees
Before completing any payment you are informed of the exact amount these fees represent