The word "bowl" comes from a big bowl of punch and the large porcelain bowls from Bing & Grondahl and Royal Copenhagen truly can accommodate a lot. Today punch not so much used anymore, but instead bowls could be used for a large portion of lemonade in summer.

Common to porcelain bowls are that they require a large processing and are careful hand painted, so there is not produced so many of each bowl.
Royal Copenhagen porcelain bowls
Royal Copenhagen has made beautiful porcelain bowls on very special occasions e.g.
Royal Copenhagen Margrethe bowl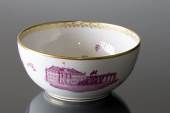 The Margrethe bowl from Royal Copenhagen was released in 1982 on the occasion of the 10th years anniversary of Queen Margrethe's accession to the throne. The bowl was released in 2000 numbered copies and depicts the three royal residences Amalienborg, Marselisborg and Fredensborg, as well as Dannebrog and the Queen's monogram. The Royal Copenhagen Margrethe bowl was designed by artist Sven Vestergaard.
Royal Copenhagen Copenhagen bowl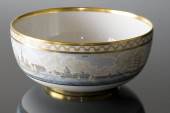 The Copenhagen bowl was released in 1975 on the occasion of the Royal Copenhagen factory's 200 years anniversary. Again, the artist Sven Vestergaard has designed the motif on the anniversary bowl, which shows a profile view of Copenhagen and the coast.
Royal Copenhagen USA bowl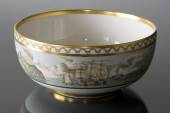 In 1976 Royal Copenhagen published the large, beautiful USA bowl to mark the 200 years of America's Declaration of Independence in 1776. The motif on the bowl shows an excerpt of two paintings, George Washington at the Battle of Princeton and the British frigates attempt to climb the Hudson River.
Bing & Grondahl Bowls
Bing & Grondahl has released a theater bowl in both a red version and a blue version. It was released in 1974 on the occasion of the 100 years of the Royal Theatre being build on the King's Square on the 15th of october 1875. This motif was designed by Erik Clemmesen. The motif of theater bowl shows the 9 muses from Greek mythology.