Royal Copenhagen has manufactured this beautiful series of Christmas plates from 2006 to 2010. The series was decorate by Hans Henrik Hansen, who wanted to create a modern series of Christmas plates with lots of colours.
Royal Copenhagen Hearts of Christmas Plates

This series was in production from 2006 up to 2010. Royal Copenhagen published this beautiful and colorful series of Christmas plates called Hearts of Christmas.
As part of this series they also produced beautiful porcelain Christmas hearts in the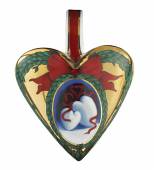 years 2006, 2007 and 2008. The last two years unfortunately no Christmas heart was made, only the Christmas plate.
The Hearts of Christams Plates portrays a young couple together with Santa Claus in the process of feeding the pigeons, baking honey hearts and dancing around the beautiful Christmas tree. The motifs of the corresponding hearts are not the same as the Christmas plate, so Christmas plate and Christmas heart do not necessarily need to be together.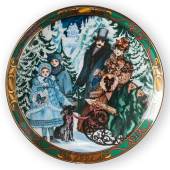 The series was designed by the versatile artist Hans Henrik Hansen, who also designed the Royal Copenhagen Christmas plates in the series " Christmas in Denmark" from 1991 to 1996.