Flora Danica is Royal Copenhagen's most prestigious dinnerware and is known all over the world.

The first Flora Danica pattern was produced from 1790-1802 and was intended as a gift from the Danish Royal Family to Zarina Catherine II of Russia. Unfortunately, she died before the Flora Danica service had been completed and therefore the original tableware has been in the Danish royal family's possession ever since.

Today it is stored at Rosenborg Castle and Christiansborg, and is only used for very special occasions.
Royal Copenhagen Flora Danica tableware

The original set consisted of 1802 parts and it was inaugurated on Christian 7 birthday on January 29th 1803.
Flora Danica tableware depicts plants from the lavish set of books and the plants on the porcelain are reproduced in exactly the same size. It was the artist Johann Christoph Bayer, who painted most of the motifs on the first Flora Danica service from Royal Copenhagen. He had previously designed several motifs for the book, so the careful and exact work with the flowers was not new for him.
In 1863, the Danish Princess Alexandra married the English crown prince and for that occasion Royal Copenhagen resumed the production of Flora Danica, as some ladies wanted the wedding gift to be a Flora Danica service consisting of 60 covers.
On the original Flore Danica dinnerware all plants were shown - including algae, fungi and seaweed. These motifs were left out on the wedding dinnerware so it only consisted of flowers. When the dinnerware was finished, the production of Flora Danica was continued and it has been in production ever since. A few years ago a few dishes with mushrooms were issued, as in the original set, but only few.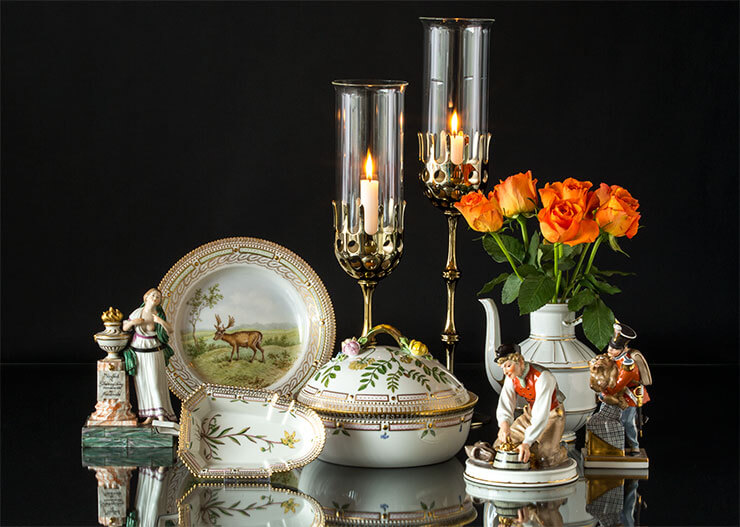 Royal Copenhagen Flora Danica is a magnificent work of fine details and each flower and decoration is carefully hand painted.

Flora Danica is the only service from Royal Copenhagen, which is yet mainly used by the royal houses and wealthy individuals. Each part is so unique and difficult to make so the price is naturally high. The flowers are still drawn by hand with the original Flora Danica plates as a template. It also requires many firings before each part is finished. Consequently, many only owe one part of the Flora Danica service, which are passed down in the family from generation to generation.