Bing and Grondahl has manufactured a lot of porcelain vases. The most popular motifs are landscapes, ships and flowers, but naturally there are also other motifs. See our selection below.
See the similar vases from Royal Copenhagen and Lyngby that are well-suited to be put in a arrangement together with B&G's vases.
Bing and Grondahl vases in porcelain

B&G has produced numerous porcelain vases in a variety of sizes and shapes and with different motifs. The three favorite motifs are landscapes, marines and flowers, but there are also porcelain vases with other motifs.

Bing & Grondahl porcelain vases with landscapes

Landscapes is a favorite motifs of B&G vases and a landscape is often shown with a mill, a church or a farm. Also more specific motifs as The Old Town in Aarhus, Carlsberg and Nyborg is pictured on some of the Bing & Grondahl vases. Idyllic landscapes with winding country roads with single trees by the roadside and a small farm, are seen on many porcelain vases from B&G, large as well as small.

Bing & Grondahl porcelain vases with maritime motifs

Denmark has a long tradition of fishing and sailing, which is depicted of several Bing & Grondahl vases with fishing boats, sailboats and ships.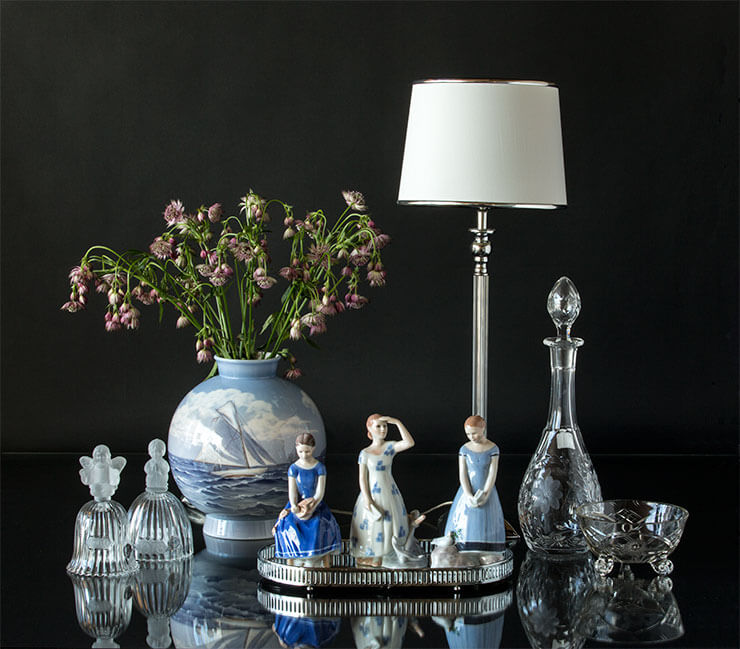 Bing & Grondahl porcelain vases with flowers

Bing & Grondahl is known for their series of vases and bowls with lily of the valley. The vase series consists of several vases in varying shapes and sizes. There are small and narrow vases for a single flower, medium sized vases for small flowers such as snowdrops, winter aconite and crocus and large vases for the flower bouquets. Bing and Grondahl has also produced porcelain vases with laburnum and wisteria in the same shapes as the vases with lilies of the valley, but the selection of these two series is not nearly as large as the lily series. Many other flowers are pictured on the B & G vases, such as cherry branch, apple blossoms, roses, irises, pansies and blackberry branch.