How to fit a Le Klint shade
An guidance video, demonstating how to place the Le Klint pleated lampshade on its wireframe.
How to place the Le Klint pleated lampshade on its wireframe.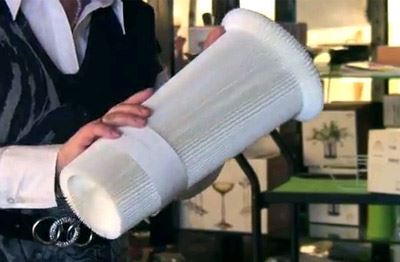 From the left photo you see a
Le Klint pleated shade without frame.
Examples on Le Klint frames: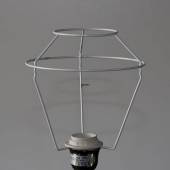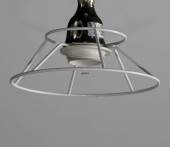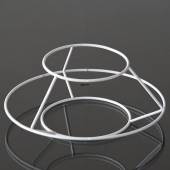 On the product page for each individual Le klint shade, you find information about which frame you can use (see an example here - click here). - The frame can be bought separately, as different frames are used for different lamps
When you have received your Le Klint shade, and are to fit it to the shade frame it is extremely important that you widen the shade 25-30 times, before you try to fasten it to the frame.... see how in the video.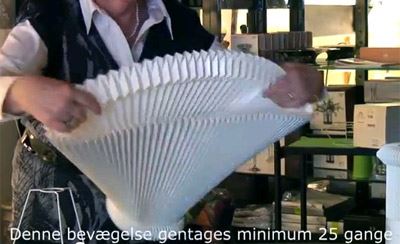 If you do not widen your shade, you might crack your new shade.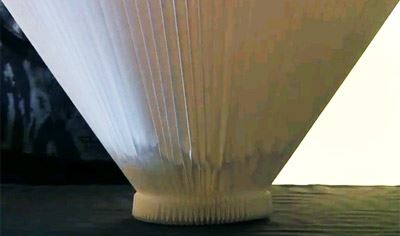 When the shade has been properly widened. hold the top of the shade with your left hand.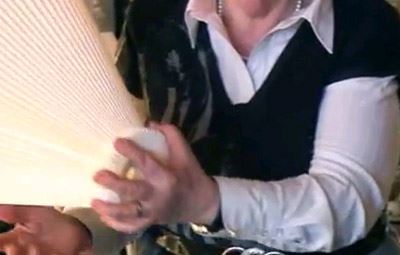 Then you are ready to place the frame into the shade.- If you can not place the frame directly into the shade. You have to widen the shade more.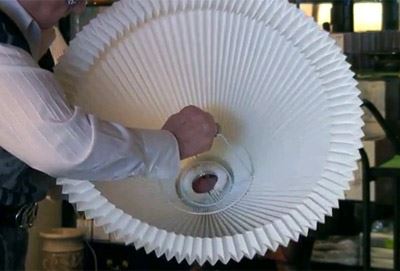 When the frame is placed the shade is ready for fastening on your lamp foot.
The Le Klint shade fastened to a Royal Copenhagen lamp.: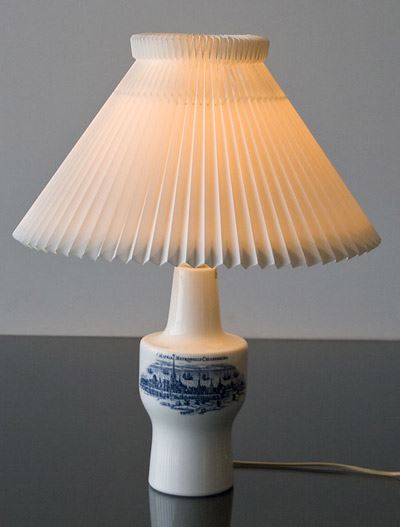 If you are to place a frame in one of the large Le Klint shades:
When you are to place the frame in a large pleated Le Klint shades you need one to help you holding the top of the shade while you place the shade frame.
Please click on the lampshade models above to see an overview of sizes, prices and info - We are authorized Le Klint dealer, and Expert in Le Klint lampshades.
Le Klint is widely known for its pleated lampshades that are unique in their stylish look and tight design. Pleated lampshade are almost synonymous with Le Klint and are easily reconisable in any room. The production of these beautiful shades are a craft that is cared for and they are still handfolded in Denmark, because a special touch is needed to fold the shades and it takes a long time and effort to master this.
The shades were originally folded in paper, but are now folded in plastic, which has many practical advantages over paper like being much easier to clean.
Here at DPH Trading we are autorised dealers of Le Klint lamp shades and we have a huge selection of Le Klint shades that can be viewed here in the webshop and when visiting our shop in Northern Odense.


Le Klint lampshades are classics and just as popular today as they were when the first lampshade were produced for the first time. The practical white pleated lampshades in plastic are easy to clean and will last for many years. A Le Klint lampshade is timeless and fits both old as well as new lamps.

Model 1 - which is almost identical to the very first Le Klint lampshade that was folded by P.V. Jensen Klint in 1901 - with the characteristic collar at the top is the most sold Le Klint lampshade. Also model 2 without collar is popular, especially for very stylish lamps, where model 2 seems more feminine than model 1.

Model 6 is mainly used for the famous Le Klint wood wall lamps. It is known by the more narrow and slightly upturned collar compared to model 1.

Le Klint lampshade model 12 is used for floor lamps, where you have to use a holder to mount the lampshade on the lamp itself. Model 12 is provided with an elastic strap at the top of the shade which expands slightly when the shade is mounted on the holder. The holder consists of two parts, an upper part sitting on the outside of the lampshade and a lower part, which is mounted on the lamp socket. The holder is available in several colours, depending on which floor lamp, the shade has to be used for. Many customers have an old floor lamp in their home, which require a new lampshades and therefore in many cases it is not necessary to buy a new holder, only a new lampshades. Therefore you can buy model 12 lampshade with or without holder.

Le Klint lampshades model 16 and 17 is not quite as famous as the above mentioned lampshades, but they are often used for floor lamps or table lamps.