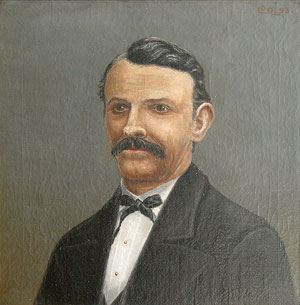 Chr. Benjamin Olsen (1873-1935) was one of the great marine painters.
According to the Christian Benjamin Olsen Fund - Ch. Benjamin was born in Odense. He was a painter apprentice in Svendborg and was self-educated from 1893 and became a marine painter in Copenhagen with guidance and support from Chr. Blache.
He traveled with the Danish navy, and was among others with the King and Queen on the Faroe Islands, Iceland and Greenland in 1921 and 1926, prompting a major influence on his naturalistic rendering of sky and sea and a solid portrayal of ships.
He painted numerous paintings of ships commissioned by various shipping services, while he mastered underglaze painting. From 1906 until his death he worked as a porcelain painter, first at Bing & Grondahl and from 1913 at the Royal Copenhagen Porcelain Factory, where he became a main force in the period of naturalistic underglaze paintings.
Christian Benjamin Olsen has painted motifs for some of the famous Royal Copenhagen Christmas plates.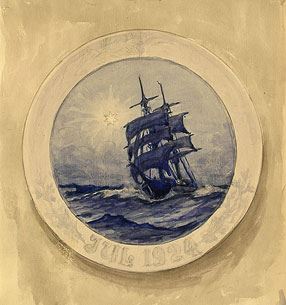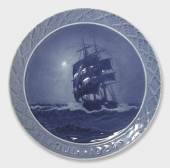 To the left you see the picture for the Christmas plate from 1924 and above the finished result.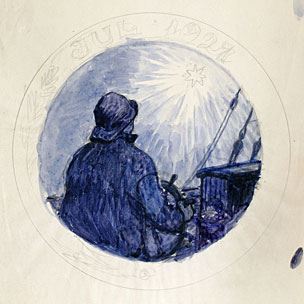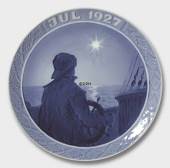 Again here we have Christian Benjamin's drawing for the Royal porcelain factory Christmas plate 1927 and above how the finished platter was to look.
He also drew sketches for Royal Copenhagen Christmas plates from 1930, 1933 and 1935:
Christian Benjamin Olsen also drew sketches for a number of other plates, as shown below:
Seen here is the drawing for one of the rare royal memorial plaques, which appeared in 1925 at the Royal Porcelain Factory.
He also painted motifs for some very beautiful vases. Here is one of his sketches, and some Royal Copenhagen vases with marine motifs: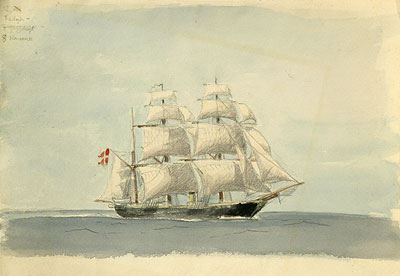 A typical painting by Christian Benjamin Olsen: