Glass candleholders includes a very broad range of ordinary candleholders and especially tealight candleholders. Although all of the candlesticks are made of glass, the design and thickness of the glass varies. Our own range of glass candleholders for tealights are produced in heavy glass in bright colours. They are all for tealights, but the design on them vary. Some of the tealight holders are spherical with small window decorations, which are clearly seen when the light burns.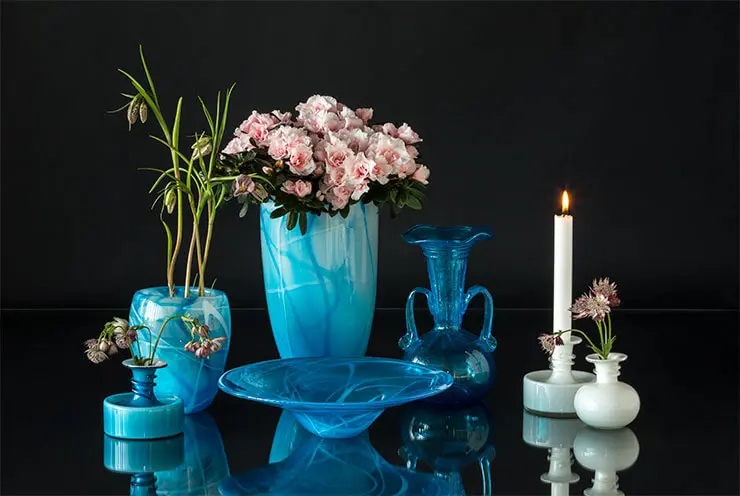 Glass Tealight Candle Holders - Hand Blown, produced for DPH Denmark
They are beautiful on the coffee table, kitchen table, dining table, chest of drawers, sideboards, window sill - in short, anywhere. Our votives are made of a thick layer of mouths blown glass, making the probability of them breaking less. In addition, it also means that they stand firmly so children playing or dogs with wagging tails are not as great a risk for them.

The colours of glass tealight holders fit naturally with the rest of our imaginative glass collection, so you can put them together with our decorative glass bowls and glass dishes, glass figurines and glass vases.
Holmegaard candleholders, candlesticks and tealight holders
Holmegaard candlesticks are characterized by stylish design, combined with good and functional performance. One of the oldest Holmegaard candleholders is the Lotus candleholder. This Holmegaard candleholder is shaped like a flower of soft sheets in two layers with the tealight in the center.
Charlotte Amalie candlesticks from Holmegaard

Are you looking for a simple, elegant but still exclusive candlestick, the Charlotte Amalie candlestick from Holmegaard is a perfect choice. The Per Lütken Charlotte Amalie series was designed in 1981, but the candlestick were first put into production in 2011. Quickly they became very popular.
In 1981 Per Lütken designed the Charlotte Amalie wine glasses, which have ever since been a great success for Holmegaard. He also designed the candlesticks to the series, which Holmegaard put into production in 2011 and from the start they were as great a succes as the glasses. The candlesticks differs from other Holmegaard candlesticks by being more tobby and for ordinary candles instead of tealights. All other Holmegaard candlesticks, which are in production at this time, are for tealights and even though tealights are beautiful and practical, there is a different elegance of a pair of tall candlesticks with tall candles. Perhaps many have missed Holmegaard candlesticks for tall candles, which has contributed to the popularity of Charlotte Amalie candlesticks.
Cocoon candleholders from Holmegaard

The Cocoon series grows bigger and bigger! It started with vases, then came bowls and dishes, then wine glasses and finally the candleholders. The small round Cocoon tealight holders have a beautiful simplicity about it, just like the other products in the series. Cocoon tealight holders differs from the other parts of the series by being made of transparent glass, so we can really enjoy the candle and see how the light plays with clear glass. Holmegaard Cocoon candleholders are all in bright pastel colours which are ideal for summer in the cottage, as they can be both inside and outside - they light up in the twilight either on the table, on the terrace or along the driveway / entrance. Holmegaard Cocoon tealight holders were first published in 2009 and since then some colours have been discontinued and others have come. Cocoon was designed by renowned glass artist Peter Svarrer.
Light Bottle
Light Bottle candleholders allow you to have candles standing both inside and outside. The light is protected from the wind, so you can leave it on the terrace or at the doorstep without having to light it over and over again when a gust of wind blows it out.