The beautiful candlesticks in gold from Asmussen Hamlet Danish Design is very popular and well known in Denmark. The gold drop candlesticks from Asmussen Design are available with 1 drop, 2 drops, 3 drops and 4 drops. Unfortunately the candlesticks are no longer in production, but we bought the remaining stock from Hamlet Danish Design, whom was responsible for production and sales, when they chose to stop the production.

Asmussen candlesticks with gold drops

Unfortunately all new candlesticks with 3 drops are sold out, but candlesticks with 1, 2 and 4 drops may still be available. For Asmussen's gold drop candlesticks, you can also get candle rings with crystals in different shapes.

Asmussen candlesticks are very popular as gift for 50-year wedding anniversaries birthdays.

Asmussen drop candleholders are a good alternative for Georg Jensen candleholders for the Christmas tree. Asmussen candleholders for Christmas trees are available in two versions; straight and twisted. Both versions are beautiful on their own and it is only one's own taste, which may choose one over the other.

For many years, silver has been more popular than gold and thus Asmussen drop candlesticks are also made in a tin-plated version. These Asmussen candlesticks are only available with 1, 2 and 3 drops and is popular among both young and elder people. They are, of course, a perfect gift for a silver wedding.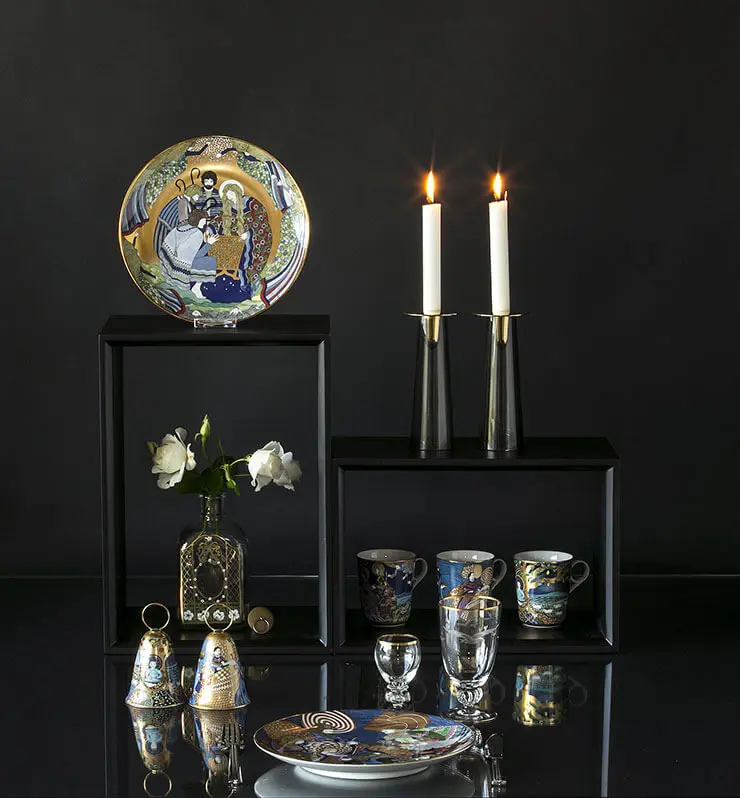 Asmussen Design is known for its beautiful gold things and napkin rings, bottle trays and place card holders which fits perfectly to the gold drop candlesticks. Bottle tray and place card holder are made of gold and blue glass, which gives unique ensemble with gold. If you set a table with candlesticks, place card holders, bottle trays and napkin rings the table depicts with elegance and style. The blue color in the bottle trays and place card holders makes the table decoration from Asmussen Danish Design fit very well with some of the blue dinnerware from Royal Copenhagen and Bing & Grondahl. Set you table with Blue Fluted, Blue Fluted Mega, Blue Flower, Empire or Royal Copenhagen blue Christmas cups, the Asmussen table accessories are a beautiful choice to supplement the plates.