Blue Flower is one of the oldest tablewares from Royal Copenhagen. Blue Flower dinnerware has been in production almost from the factory's foundation in 1775 and some pieces are still in production. Each decoration of the beautiful bunches of flowers shows some of the best known and loved summer flowers in Denmark. The bunches of flowers consists of tulip, rose, bindweed, poppy, auricula and carnations. This dinnerware is painted by hand and therefore no two pieces are identical.
Royal Copenhagen Blue Flower tableware

Even though Blue Flowers is the second oldest tableware from Royal Copenhagen, it is still one of the most popular dinnerwares from the factory. Younger generations has opened their eyes for the old dinnerware, which they know from their grandparent's homes.
Many people have inherited the Blue Flower tableware and want to supplement with several parts or add new variations. Over the years there has been manufactured many parts to the tableware and today are only available from antique dealers.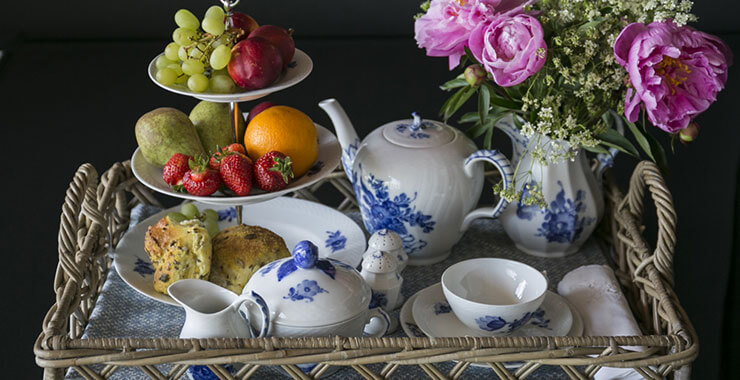 Royal Copenhagen Blue Flowerbraided, as we know it today, has been produced on the braided shape since 1885. It is a high credit to Arnold Krogh that the blue painted tableware Blue Fluted and Blue Flower are still to popular today. Arnold Krogh was employed as artistic director of Royal Copenhagen in 1885 and from the beginning one of his goals was to take more care of the decorations of Blue Flower and Blue Fluted. Blue Flower Braided is known of the characteristic relief border braided together. The border is a perfect frame around the blue bunches of flowers.

Royal Copenhagen Blue Flower Curved was issued i 1780. The dinnerware lost some of its popularity in the beginning of the 1800 century but around 1868 the tableware became popular again.

Royal Copenhagen Blue Flower Angular was painted by Arnold Krogh in 1903.