Le Klint floor lamps and standard lamps are popular lights next to the reading chair or the sofa in the living room and also popular lamps for offices. Le Klint Floor lamps are available in different finishes from black to metallic and brass and thus it is possible to find a lamp that match the decor in your particular unique office or living room. Several of the lamps can be adjusted up and down in height so it can fit your needs.
Le Klint floor lamps and standard lamps
Le Klint also produces floor lamps that are all well-designed as reading lamps. Le Klint floor lamps give a nice and useful light and sets itself well into the home decor. The lamps fit into the modern home, but with the wellknown pleated lampshades they also have a classical look giving them a touch of the timeless. Also among the floor lamps are the new series from Le Klint like Mutatio, Viper and Carronade. Viper is a lamp that with its snake-like shape is easily turned in the direction you want.
DPH Trading has a large selection of the fantastic Le Klint floor lamps at attractive prices and if visiting the shop in Northern Odense it is also possible to see our selection of Le Klint floor lamps.
Le Klint standard lamps are often seen - at the offices of the country's ministers, in receptions, museums, TV series and morning tv shows and of course in a lot of private homes - Le Klint floor lamps and standard lamps are for everyone. A Le Klint floor lamp provides a good and useful light, while it is a central part of the décor and it is a classic!

The first Le Klint floor lamp was created in 1979 when Flemming Agger designed Le Klint floor lamp 368 and 369. The Le Klint floor lamp 368 is still one of the best-selling Le Klint lamps and is available in both black and metallic. For a short period from 2008 to 2011, 368 was also made in white, but it was unfortunately quickly discontinued. Le Klint 368 black is undoubtedly the most popular colour of the floor lamp and fits into any décor.
Another popular Le Klint floor lamp is 370, which is available in metallic. The floor lamp can be adjusted in height from 99 cm to 142 cm, which gives a good opportunity to adapt it individually. Le Klint 370 is also equipped with a smart stand in the light shade so that it can be tilted up and down depending on how you like the light. Both 368 and 370 are good lamps to stand behind an armchair giving you light from the right angle to do needlework or read.

In 1971 Poul Christiansen probably created the most famous Le Klint lamp ever namely 172 Sinus Line, which has subsequently been made into both floor lamps, table lamps and pendants. Sinus Line was a revolution for Le Klint because until then the pleating girls only had folded after right angles but now they began to fold with curves. Le Klint floor lamp 342 was first launched in 2001 - 30 years after the pendant was born.

One of the new Le Klint floor lamps is the popular Snowdrop lamp. The Snowdrop series consists of floor lamp, pendants in four sizes, wall lamp and a table lamp. The Snowdrop floor lamp can, like the table lamp, rock forwards and backward in the foot so it can be set exactly where you need light. The Snowdrop series allows you to keep the same style throughout the house - standard lamp by the sofa, table lamp in the office and a pendant over the coffee table or dining table. "Snowdrop" is a modern lamp with an emphasis on classical and traditional craftsmanship, which has been used for generations. From the very beginning back in 1943 the lamps were folded by hand and they still are 70 years later.

The price of a Le Klint standard lamp can vary widely, but typically it is around EUR 400 to EUR 530. Some of Le Klint floor lamps are however up around EUR 800 to EUR 1070, but you are also getting a lamp that will last for the rest of your life while you get a piece of Danish design history. If the lampshade, after many years use, seems to need a replacement, the shades are often purchased individually, so you can replace it. See our video concerning Le Klint lampshades. One of the great advantages of Le Klint shades is of course that they can be washed, because they are made of plastic.
Dyberg Larsen Floor Lamps - Danish Design
Dyberg Larsen (Homepage is in Danish) also produce beautiful floor lamps in well made Danish design. The inspirering Pineapple floor lamp er well suited to light up behind the sofa and give reading light for a good book. When owning a Dyberg Larsen floor lamp you get a lamp from a young forward-moving name in Danish lamp design.
The Pinapple floor lamp from Dyberg Larsen has the shape of a long stalked flower with the "pineapple" as the beautiful flower at the top. The floor lamp and the related Pineapple table lamp match each other beautifully as an arrangement. The only difference between the two being the lenght of the "stalk". They make a beautiful set and it together nicely with the table lamp on a small table with the floor lamp standing behind.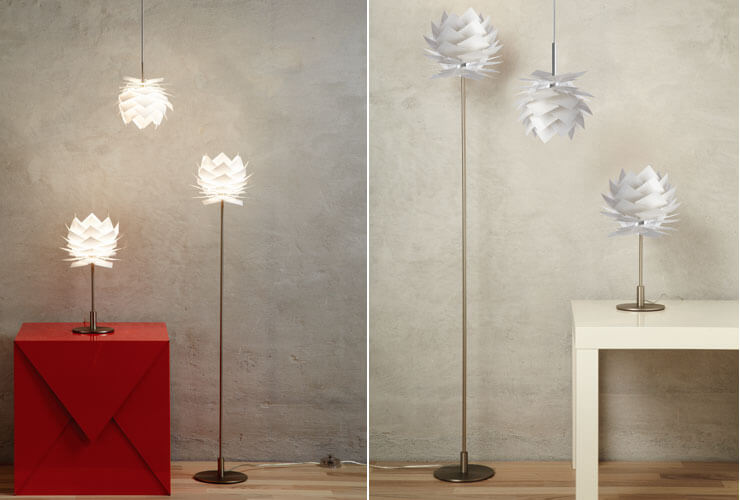 The designer of the lamps of Dyberg Larsen is Frank Kerdil, who manages to combine geometrically pure shapes into combinations that look like they have grown forth naturally. The overlapping layers in the lamp's pendant makes the light pleasant and measured to create a good mood in the room.
The design of the floor lamp is beautifully made to fit in to both the classically decorated and the modern design home with pure surfaces and lines. The lamp stands out in any setting. It can both stand on its own or together with the other Dyberg Larsen lamps, thus making at small light ensemble giving the room an extra design layer. The possibilities for combination are many and can be made very stylish in accordance with individual tastes.
99 % of the lamps of Dyberg Larsen are produced and assembled at their factory in Asperup, Denmark, so it is both Danish design and production. Dyberg Larsen is thus set in the same tradition as Le Klint, who produces their lamp shades in Odense, Denmark.