In a number of years we (DPH Trading) and Holmegaard have cooperated in developing and supply fabric lamp shades to Holmegaard table lamps. This means that we know a lot about lampshades to Holmegaard lamps and we also have records of old Holmegaard lamps, so if you have an old Holmegaard lamp, we can help you find a lamp shade for that too.
Lampshades for Holmegaard table lamps
DPH has a thorough knowledge of lampshades that suit the different Holmegaard lamps and we can supply the original Holmegaard lampshades at competitive prices. However please note that we only have fabric lampshades, not the glass shades.

Most of our lampshades are delivered with a lid on the top.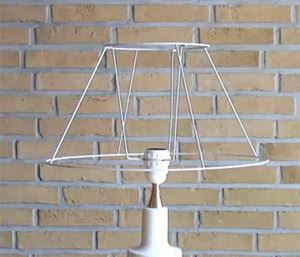 Standard shades for Holmegaard Table lamps are produced with solid stand that fits E27 sockets with socket rings. If you want to know more, you can see our general recommandations of shades and our video here.
As shown on the list above, we have lampshades for most of the new Holmegaard Table Lamps. Over the years there has been produced a large selection of beautiful glass lamps at Holmegaard Glassworks. Below we mention those, we know at the moment. If you are looking for a lampshade to one of these or other old Holmegaard lamps, please feel free to contact us by email. We can most likely help you to find a lampshade that fits to your beautiful glass lamp, and your personal decor.

Holmegaard has produced the following glass table lamps and they were all delivered with a fabric shade:

Holmegaard Pharmacies Table Lamps.
Holmegaard Base / Cocoon Table Lamps
Holmegaard Napoli Table Lamps - (designed by Michael Bang)
Holmegaard Roma Table Lamps - (designed by Anne Grete Halling-Koch)
Holmegaard Torino Table Lamps - (designed by Michael Bang)
Holmegaard Sakura Table Lamps - (designed by Michael Bang)
Holmegaard Skagerrak Table Lamps - (designed by Anja Kjær)
Holmegaard Fanfare Table Lamps - (designed by Michael Bang)
Holmegaard Scala Table Lamps - (designed by Michael Bang)
Holmegaard Jasmine Table lamps (designed by Mutsuo Inoue)
Holmegaard Laura Table Lamp
Holmegaard Madelaine Table Lamp
Holmegaard Monique Table Lamp
Holmegaard Carol Shelf Lamp
Holmegaard Apoteker Table Lamp
Holmegaard Library Table Lamp
Holmegaard Florence Table lamps (designed by Anne Grete Halling-Koch)
Holmegaard Venice Table lamps (designed by Anne Grete Halling-Koch)
Holmegaard Melody Table lamps (designed by Michael Bang)
Holmegaard Helios Table lamps (designed by Arne Branzell)
Holmegaard Siena Table lamps (designed by Anne Grete Halling-Koch)
Holmegaard Blues Table lamps (designed by Sidse Werner)
Holmegaard Mandarin Table lamps (designed by Hsing-Lung Lin)
Holmegaard Ambassador Table lamps (designed by Hsing-Lung Lin)
Holmegaard Negresco Table lamps (designed by Hsing-Lung Lin)
Holmegaard Park Table lamps (designed by Hsing-Lung Lin)
Holmegaard Baroque Table Lamps (designed by Sidse Werner)
Holmegaard Flame Table Lamps (desiget by Ole Winther)
Holmegaard Granny Table lamps (designed by Michael Bang)
Holmegaard Fleur Table lamps (designed by Michael Bang)
Holmegaard Poetry Table lamps (designed by Ole Winther)
Holmegaard Meteor Table lamps (designed by Michael Bang)
Holmegaard Backgammon Table Lamps
Holmegaard Boule Table Lamps
Holmegaard Bridge Table Lamps
Holmegaard Mary Table Lamps
Holmegaard Caroline Table Lamps
Holmegaard Trollglas Table Lamps
Holmegaard Lamp ART Table Lamps
Holmegaard Claridge Table Lamps
Holmegaard Astoria Table Lamps
Holmegaard Sheraton Table Lamps
Holmegaard Atlantic Table Lamps
Holmegaard Palace Table Lamps
Holmegaard Plaza Table Lamps
Holmegaard Misty Table Lamps
Holmegaard 4 Seasons Table lamps (designed by Michael Bang)