Lampshade stand/holder (for old E27 sockets WITHOUT adapter rings - Ø34 mm)
Lampshade stand/holder (for old E27 sockets WITHOUT adapter rings - Ø34 mm)
Type:

Metal (Silverfinish),Polyresin/Plastic
About the product
Lampshade stand for E27 socket with recess. This lampshade holder is used where the socket is split in the middle to install the stand.
The stand has adjustable side screws for height adjustment.
On the small images, you can see which types of sockets the stand fits.
NOTE!!! If you are unsure, please order the Universal lampshade stand No. 20193, which can be used for both new (Ø40mm) and old (Ø34mm) E27 sockets.
The diameter at the top of the lampshade stand is approximately 9 cm, and the edge is 11 cm. Thus, it fits almost all lampshades with a ring (a ring with a diameter of approximately 10 cm that is mounted inside the shade), allowing the lampshade stand to hold the lampshade.
The size of the ring in lampshades (10 cm) has been the standard for many years and therefore fits the lampshade stand.
Others look at: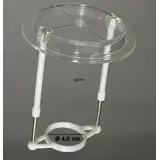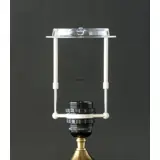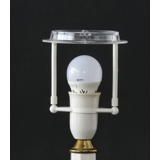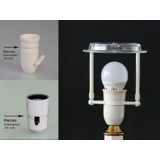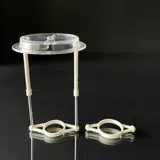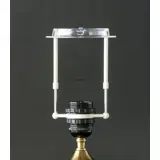 See more items