Georg Stage 100 Years Jubilee plate/bowl 1882-1982 - Handpainted with gold
Georg Stage 100 Years Jubilee plate/bowl 1882-1982 - Handpainted with gold
Year:

1982

Color:

Blue and White
About the product
This memorial plate/annual bowl was produced by Bing & Grøndahl to celebrate the memory of Georg Stage. - The plate was produced to celebrate the 100th anniversary of Georg Stage's Memory.
The base colour is light blue with motif in gold. The inscription on the back of the plate: "GEORG STAGE'S MEMORY" 100 years
On the third of April 1882 ship owner F. C. Stage & Wife made foundation in memory of their son Georg Stage, who died at an early age. The foundation, which bears the name of their son, GEORG STAGES MEMORY is intended "to give young people who wish to go to sea their first maritime training on board at a training ship. Through the last 100 years thousands of young men have had their first maritime training on board the training ships GEORG STAGE I, which served from 1882 to 1934, and GEORG STAGE II which started in 1935 and which is still sailing today. In 1905 the first GEORG STAGE was run down by an english steamer and 22 trainees lost their lives. The ship was salvaged and restored, and it sailed again the following year.

Masters of the ships were: 1882-84 Commander C. A. Bruun, 1885 Commander V. Hansen, 1886-87 Laid up 1888-89 Lieutenant C. F. Drechel, 1890-91 Captain C. A. Bruun, 1892 Lieutenant A. E. M. J. Trolle, 1893 Commander C. Bræstrup, 1894 Commander E. A. C. von Jessen, 1895 Commander With-Seidelin, 1896 Commander A. E. M. J. Trolle, 1897 Lieutenant H. C. G. Amundsen 1898 Lieutenant H. Konow, 1899 Commander O. P. F. von Holck, 1901-02 Lieutenant P. E. Saabye, 1903-04 Lieutenant Amdrup, 1905-06 Lieutenant M. E. Malthe-Bruun, 1907 Commander F. Cold, 1908-09 Lieutenant V. J. A. Harttung, 1910-11 Lieutenant H. Münter, 1912-13 Lieutenant V. Clausen, 1914-17 Commander C. Myhre, 1918-46 Commander J. B. Junker, 1947-74 Commander J. P. Nørgaard, 1974- Commander Barner Jespersen. Commander J. P. Svendsen from January the 1st 1945 to March the 25th 1945 died after a fall from the rigging.
Govenors of the foundation in 1981: President: Vice-admiral S. S. Thostrup, Director F. Bergmann, Commander K. W. Linnemann, Commander B. V. Myrthue, The draughtsman Mads Stage, Captain J. C. Munck, Commander J. P. Nørgaard, Director B. Warsberg.
Others look at: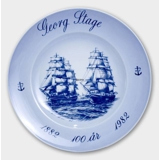 -46%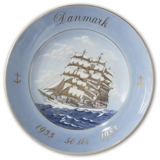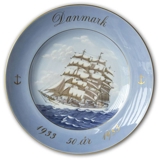 -50%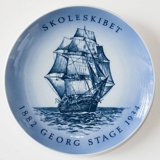 -48%
See more items