1973 Jenny Nystrom Christmas plate, pixie and cat sleeping
1973 Jenny Nystrom Christmas plate, pixie and cat sleeping
Year:

1973

Color:

Blue and White

Type:

Porcelain (Underglaze)

Measurement:

Ø: 24 cm
About the product
Jenny Nystrom Christmas plate 1973 with motif of a cat and a pixie sleeping in the hayloft.

This 1973 Jenny Nyström Christmas plate depicts a touching moment between an elf and a cat taking a nap in the soft hay of a loft. This porcelain plate, measuring 24 cm in diameter, is the perfect size to become a staple of your Christmas dinner or a captivating centerpiece in your holiday decor.

The plate captures a quiet moment of Christmas peace, where even fairy tale characters take a break in the cozy atmosphere. Every aspect of the plate's design, from the relaxed elf to the cat's contented rest, encapsulates the essence of a relaxed Christmas. Use it to serve your Christmas favorites, or let it stand as an eye-catching feature that contributes to an atmospheric ambiance in your home.

Incorporate this atmospheric Christmas plate into your celebration and let it add a Scandinavian touch of Christmas magic to your home.

*Please note that this plate does not come with a hanger. This can be purchased separately.



Others look at: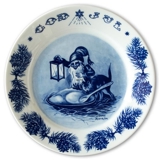 -80%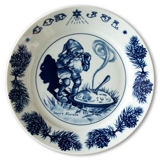 -80%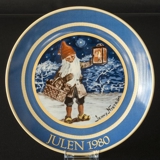 -50%
See more items