Here is a complete list of the Nymolle products found on this website. You will find among other things Bjorn Wiinblad Butter Checkers, which was designed by Bjorn Wiinblad, Nymolle Bjorn Wiinblads Annual plates, Nymolle Vases, bowls, etc.
Nymolle Faience Factory
Bjorn Wiinblad is almost synonymous with Nymolle Faience Factory. Not many in Denmarkhave not at some point seen Bjorn Wiinblad's drawings on the faience of Nymolle. The style of Bjorn Wiinbladwas the main element in the production from Nymolle and he ended up as the owner of the factory.
Bjorn Wiinblad was first associated with Nymolle Faience Factory in 1946 and this became the start of his artistic career. It was at Nymolle that he developed his characteristic series of drawings in red, green and black. The most known and widespread example of this style from Bjorn Wiinblad are the butterboards with one for every month. This series exists in a black and a red version. The same style is found on vases, bowls and plates produced at nymolle.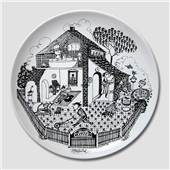 Bjorn Wiinblad also made many commissions on Nymolle for a number of different occasions. This includes plates for the 50th anniversary of Imerco and the opening of Inspiration.
Quite a number of these plates were produced and they are very decorative in their unique style.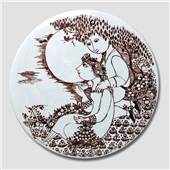 I den specielle ende finder vi morgen, middag og aften serien, hvor dekorationerne har atypiske farver i brunt og blåt.
Of the more unique kind we find the morning, midday and evening series, where the decorations have atypical colors in brown and blue.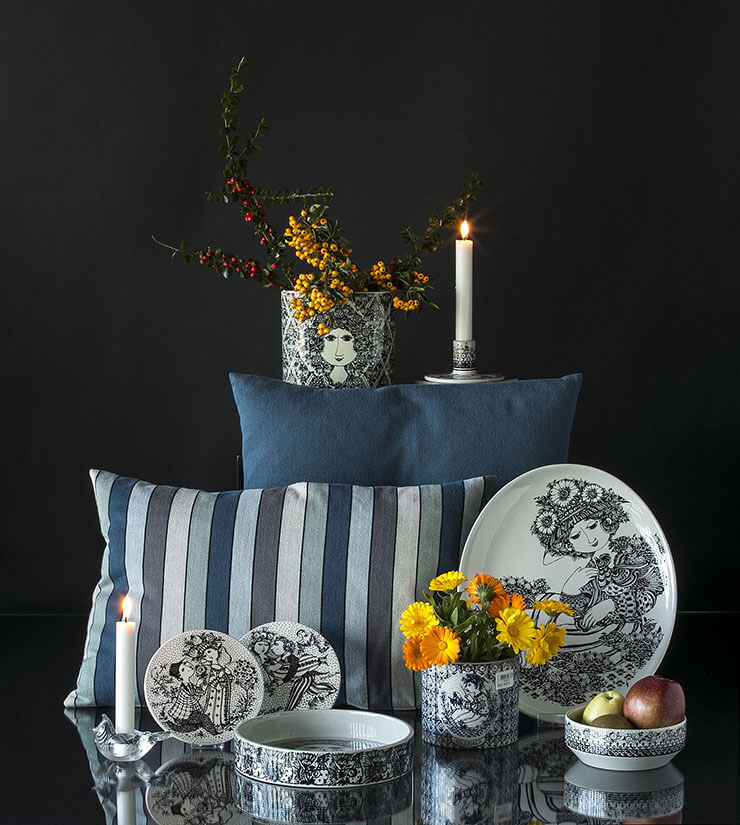 Bjorn Wiinblad took over Nymolle Faience Factory in the 1970's and shortly after he also acquired Knabstrup Ceramic Factory in 1977 that was made a supplier of Nymolle until both factories closed in 1988.