In 1968 Imerco chose to make their own series of Christmas plates with Danish churches. Imerco Christmas plates were produced in Bayern by the German porcelain manufacturer Bareuther & Co., also known as Baco. The plates were manufactured from 1968 when Christmas plates were very popular, up until 1990.
Number of items:   23
Items per page:
Prices shown in:
Price is based on delivery in: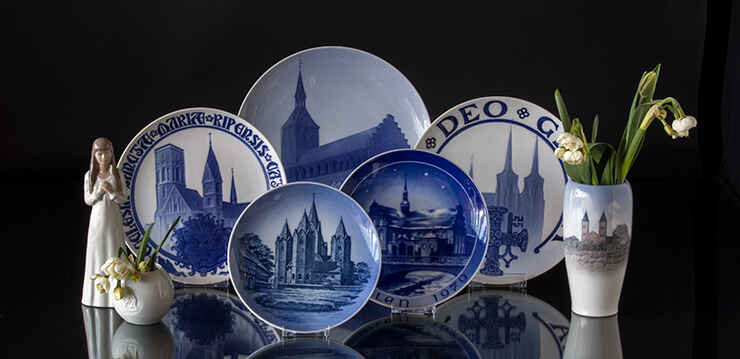 Imerco church plates from Bareuther & Co.

The first church Christmas plate shows one of our most important churches - Roskilde Cathedral, where many of our old kings and queens are buried. Another plate is depicting Denmark's oldest cathedral - Ribe Cathedral. It is not only cathedrals, which have been pictured on Imerco Baco Christmas plates. For example, Broager church is depicted on the church plate from 1974. Broager church is distinctive because of its beautiful twin towers and its fateful history and monuments. Also Frederikshavn Church is pictured on a Baco church plate. The church is relatively new compared to many of the other motifs on the church plates, as the church was built in 1892.

Plates with churches have always been successful, and with the unique history and decoration of each church, they are an important part of the society we live in today, whether you are a regular church visitor, or only visit it once at year. In Denmark the church is a place where many families meet and start their Christmas. In Denmark we start to celebrate Christmas on Christmas Eve, where many visit the church. When we sit in church and enjoy the great organ music and the beautiful Christmas carols, we feel the peace coming to us. Only children, who have been waiting for this night, are so excited so they find it difficult to sit still.

Through the year the church is a base for many other gatherings. Christenings, confirmations, weddings and death will be marked in the church. It is all important events in one's life and therefore it may be nice to have a memory of the church in form of a church plate.

Perhaps some of these ideas have been considered at the time Imerco decided to have their church plates produced.