Bjorn Wiinblad has designed several pitchers, mainly used for decoration. Bjorn Wiinblad was synonymous with lively design and his pottery figurines and pots are widely known in the world.
Holmegaard jugs, carafes and bottles Christmas
Holmegaard glass production lines consisting of wine glasses, water glasses and associated quads have been diverse. It has been for countless series and the vast majority are unfortunately no longer in production today. Around 2008, Holmegaard had difficulties and the factory was taken over by Rosendahl, which fortunately has continued the products and the high quality.

The Holmegaard Glug-bottle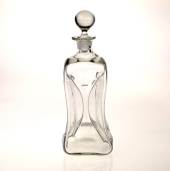 The Holmegaard glug-bottle has for many years been popular because of Glug bottle´s special design and sound when pouring from it. The Holmegaard´s Glug bottles were first published in 1840 The Holmegaard Glug bottles are still available in two different sizes, but have been produced in many sizes over time.


Holmegaard has over the years produced a vast and varied range of beautiful glass decanters and jugs. - Only a few of these are in production today. - We sell mainly new pitchers and carafes, but are you looking for an old decanter, ask, maybe we can help.
The popular Christmas bottles from Holmegaard started in 1981 and there are still a new Christmas bottle for a year.
Holmegaard Christmas bottles are synonymous with Jette Frölich, who decorated them from the very beginning. Jette Frölich is famous for its paper-clips of Christmas decorations and motifs are the most beautiful show transferred to glass bottle. On the side of each Holmegaard Christmas bottle is a discreet line with marking, so you can see how much time is left for Christmas - with a small tightens every day. There can Christmas bottle used as adult advent calendar and is also an ideal Christmas present. Holmegaard Christmas bottle is a great gathers Article at home and have greatly also many collectors abroad. The designs of Christmas bottles are all kept in well-known Christmas colors - red, green, gold and silver. All Holmegaard Christmas bottles have different designs on each side so no matter which side you see it from, you will see a beautiful Christmas scene. It simultaneously provides Christmas bottle an extra dimension because the motives are reflected in each other.
With the Holmegaard Christmas bottles also includes the small Christmas dram glass from Holmegaard, which is also published every year for Christmas.
Bjorn Wiinblad jars and jugs
Bjorn Wiinblad pots are mainly used for decoration and always brings joy with them. For Bjorn Wiinblad it were important always to create joy through his works. Pitchers, both large and small heads and hats (caps). The design vary, but the overall impression is the same - joy of art.
In Bjorn Wiinblad´s own workshop in Kongens Lyngby, Bjørn Wiinblad designed and decorated a lot of decorative jugs. His unique design of happy woman faces are found on every pot, jar and jug, both large and small. We know Bjorn Wiinblad on his distinctive choice of blue and white colors, but he also often used other colors, for example green, pink, yellow and brown. Most works from his own studio were painted by Bjorn Wiinblad himself or his trusted employees.