Royal Copenhagen Blue Fluted
Blue Fluted Plain has been a part of the assortment at Royal Copenhagen since the founding of the factory in 1775. In 1885, Arnold Krogh worked as artistic director of Royal Copenhagen. He developed the Blue Fluted pattern to what it is today. In the years before Arnold Krogh's arrival the pattern started to seem a bit diluted. One reason for this was probably to save money on decorating costs.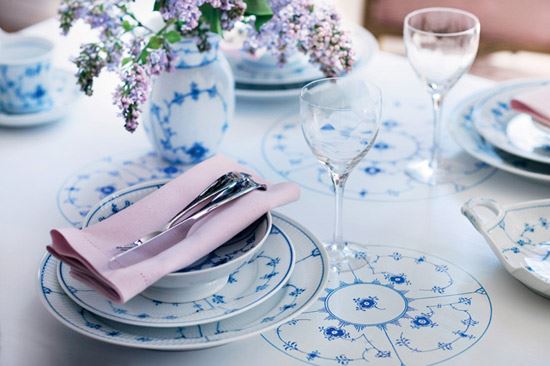 Blue Fluted Half Lace and Blue Fluted Full Lace is a further development of Blue Fluted Plain. It was created in 1885 when Arnold Krogh worked through all the old dinner service.
Through the more than 200 years when Blue Fluted has been produced, an incredible number of parts have been made. Many of them are no longer in production. Therefore many exciting parts of Blue Fluted can only be found in antique shops. Blue Fluted today consists mainly of espresso cups, coffee cups, mugs, breakfast cups, soup plates, lunch plates, dinner plates, serving dishes, sauce bowls, soup tureen, salad bowls, cake dishes, coffee pots, tea pots, sugar bowls and cream jugs.
Previously, there has been produced several varieties of cream jugs, sugar bowls, coffee pots, tea pots, cake plates and serving dishes.
There have also been produced beautiful coffee trays, cake dishes with stand, vases, candle holders, fruit bowls, cigarette cups, ashtrays, dessert cups, mustard pots, egg cups and extremely demanding plates and dishes, as well as majestic chandeliers in full lace.
In 2000, the Blue Fluted service went through another renewal and modernization, as Karen Kjædgaard-Larsen designed Blue Fluted Mega. This service has gained equally as much popularity as the "ordinary" Blue Fluted service. The Blue Fluted Mega is available in both blue and black.
See information of how to make porcelain etc.