Dyberg Larsen Ceiling Lamps and Pendants
The design from Dyberg Larsen is based on geometric and natural shapes combined in refined ways to make them merge in a way that seems natural. The designer behind the lamps is Frank Kerdil. The lamps are designed to be easy to assemble and the individual layers fit over each other to form a layered shape. The overlapping layers also makes the light from the pendant more pleasant and measured.
It is even possible to buy new slats for your lamp, if needed. If your are interested in new slats, you can contact us at info@dph-trading.dk.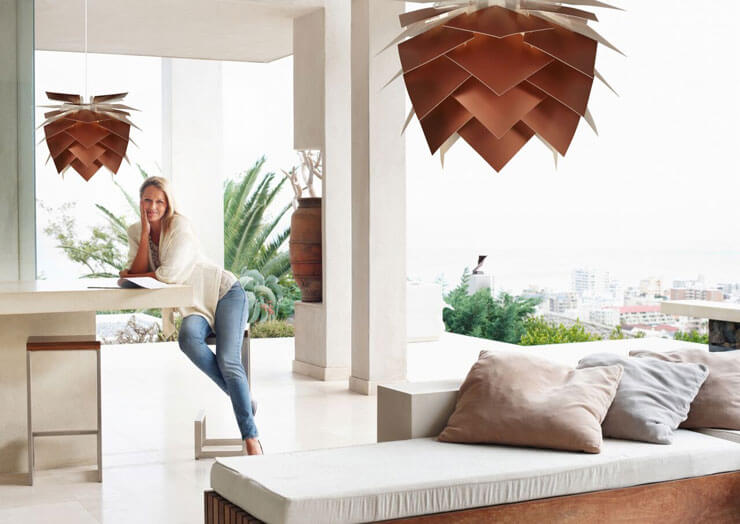 Dyberg Larsen pendants have a beautiful design, which makes them fit well into both the classic decor and the stylish modern home. They hover gracefully above both the sofa, table and dining table. There are various colors to choose from, which fit into any decor from the stylish white across the strong aluminium-colored alulook to the warm golden and cupper-colored.
The ceiling lamps from Dyberg Larsen are suitable to fit over the dining table or sofa arrangement, where they add an extra dimension to the whole setting and add extra style to the room. The many colors also make it possible to have color combinations of the pendants. Thus having a pendant for the places, where it fit in the best or they can be set together in a nuanced arrangement giving a color variation to the room.
The pendants have a modern design and a unique beauty, whether it be the Dripdrop, Illumin or Pinapple series you prefer. They are a beautyful addition to any home.

99 % of the lamps of Dyberg Larsen are produced and assembled at their factory in Asperup, Denmark, so it is both Danish design and production. Dyberg Larsen is thus set in the same tradition as Le Klint, who produces their lamp shades in Odense, Denmark.