Get

help and advice

when choosing

a new

lampshade.




Check out our

videos

and find the

right

lamp

shade

for

your lamp.





In our

help videos

you can

learn

more about

:

Get answers to these questions concerning lampshade design and fashion: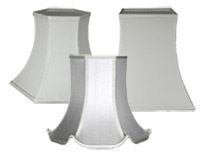 We have the biggest selection of lampshades in Denmark - More than 30 different kind of lampshades
More than 30 different kind of lampshade models, please click on the kategories above to see our large selection of lampshades.
Many of our lampshade models are available in different sizes and colours. We supply lampshades to many lamps: table lamps, floor lamps, pendants and chandeliers.
Did you not find the lampshade you were looking for?

Then please write an email to us (see contact information here). With more than 30 years of experience, we can most likely help you. Not all of our lampshades are shown here in the webshop.

More than 30 years of experience with lamps and lampshades

We have for more than 30 years dealed with table lamps and lampshades. In the past, we exclusively sold wholesale, but now it is possible for everyone to buy the lamps and lampshades online in our webshop directly from us.

New lamp shade for an old lamp - good idea!

Does your old lamp need a new lampshade? Then you are at the right place. We sell both new and old Chinese lamps, which now stands around in Danish homes. You probably still like the lamps, but the lampshade need to see a change. This is where we want to help you.
Send a picture of your lamp

If you are unable to visit our lamp store in Odense, please feel free to send us an email with a picture of your lamp and we'll get back with our suggestions for the best lamp shade for your lamp.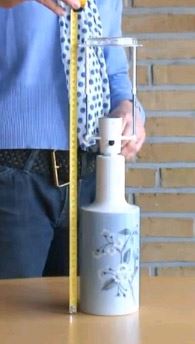 Remember! When photographing your lamp, please place a tape measurer beside the lamp (see picture). This way we can see the size of the lamp.

Take a picture without the current lampshade, so we can see mount, lamp shade rack etc. Attach and send your images via email to info@dph-trading.dk

General tips for finding the right lamp shade:
It can be difficult to find the perfect lampshade. Basically, you should look at the shape and position of the lamp.

For a round lamp we recommended a round or hexagonal lampshade if there is enough space. On the other hand, if the lamp is placed on the window sill, an oval or oblong lampshade is recommended.
Lampshades to Holmegaard Table lamps
In collaboration with the designers from Holmegaard we have developed a special series of lampshades to Holmegaards table lamps. If you need a fabric lampshade for an old lamp or a new table lamp from Holmegaard, we can handle it.
DPH Trading is authorized Le Klint dealer and sell all products from the Le Klint lamp and lampshade range.

If your old Le Klint lamp just need a new lampshade, we can easily help you.