1902 Brewery plate, The Tuborg Factories
1902 Brewery plate, The Tuborg Factories
Year:

1902

Color:

Blue and White

Measurement:

H: 21 cm x W: 16 cm
About the product
The Factories of Tuborg were build in 1873 in Hellerup and the first beer was brewed in 1875. The construction was done in extension of the construction of the Harbor of Tuborg that was build between 1869-1872. The initiative for the com- pany came from industrialist Philip W. Heyman, who got other industrialists like C. F. Tietgen involved in the project.
The name Tuborg fittingly stems from the name of a pub build by the brewer Jonas Thue in the 1690's.
Tuborg was innovative in marketing and developed many iconic commercials like the Tuborg parasol and "The Thirsty Man" that became cultural icons.
Tuborg became part of The United Breweries in 1894 and Tuborg became the dominant member and thus the main competitor of Carlsberg that dominated the market. in 1903 a settlement was made with Carlsberg to stabilise the market. The settlement contained a clause that made a merger of the companies possible until the year 2000. This clause was activated in 1970, when the companies merged to one company.
Tuborg has together with Carlsberg been the dominant Danish beer for more than a century. The production on the Factories of Tuborg ended in 1996 and the area was made into a new quater. Both Carlsberg and Tuborg are now brewed at the larger brewery in Fredericia.
This plate was produced by the Faience factory Aluminia.
Others look at: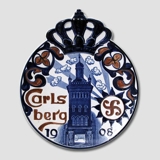 -30%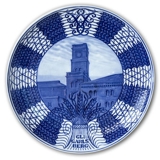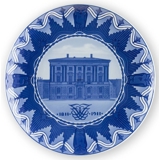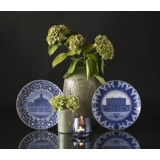 See more items