1980 Royal Copenhagen Plate, Silhouette of Queen Ingrid and Queen Margrethe
1980 Royal Copenhagen Plate, Silhouette of Queen Ingrid and Queen Margrethe
Year:

1980

Color:

Blue and White

Measurement:

Ø: 22 cm
About the product
Royal Copenhagen Commemorative plate Series: The Historical plate Year of issue: 1980 Motif: Queen Ingrid and Queen Margrethe of Denmark Diameter: 8" - 21 cm
28. March - 1980 - 16. April This plate was made to celebrate Queen Margrethe II 40th birthday and Queen Ingrid's 70th birthday
By making this plate the Royal Copenhagen Porcelain Manufactury continued a 200 years old tradition. Already a few years after the factory was founded in 1775, the first royal porcelain with the monogram of Queen Juliane Marie was made. It was made to show thankfulness because of Queen Juliane Maries Protection of the factory. The connection to the Royal Family became stronger and stronger and in 1779 the total share capital was owned by the Royal Family and they owned it until 1849.


Others look at: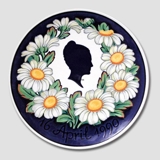 -65%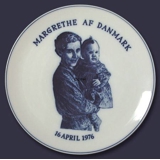 -53%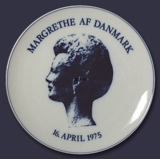 -53%
See more items