By the lakes 2017, Royal Copenhagen Christmas plate
By the lakes 2017, Royal Copenhagen Christmas plate
Year:

2017

Color:

Blue and White

Type:

Porcelain (Underglaze)

Measurement:

Ø: 18 cm
About the product
2017 Royal Copenhagen Christmas plate, designed by Allan Therkelsen, has the title by the lakes.
The Royal Copenhagen Christmas plate 2017 shows father and daugther who admires and feeds the swans in the old lake in Copenhagen named "Peblinge Lake". Peblinge Lake is one of 3 connected lakes in Copenhagen and many people in the city enjoy walking or running around the lakes. The motif of the 2017 Christmas plate depicts father and daughter enjoying the fresh air while mother is preparing the Christmas Eve dinner. In the background you see the Lake Pavilion, built for the capital's Skating Association in 1894. Today it is a popular restaurant with a beautiful view to the Lake.
The Royal Copenhagen Christmas series includes the plate - of course - but also a Christmas bell, a Christmas drop and a Christmas cup. All of them has an extract of the motif from the Christmas plate.




Others look at: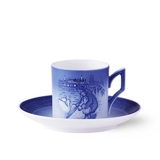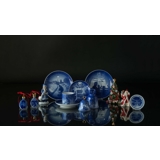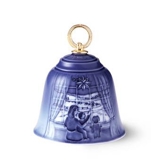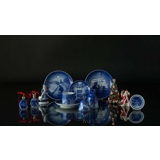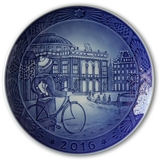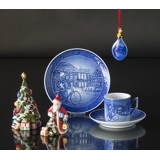 See more items