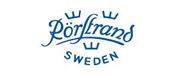 Rørstrand originated in Stockholm in 1726 and is the second oldest porcelain brand in Europe after the Meissen porcelain. The factory was founded by Johann Wolff, who was originally from Holstein and had been employed at an earthenware factory in Nuremberg before coming to Copenhagen in 1722, where he first became manager of the earthenware factory in Store Kongensgade on the promise of being able to produce the sought-after porcelain. When he did not succeed in this, he hurried on to Sweden, where he succeeded in finding a circle of nobles and merchants, who were willing to finance a porcelain factory.

With the blessing of King Frederik I, the factory was built at Rorstrand Castle in Stockholm. The name Rorstrand comes from the fact that many reeds grew on the beach by the nearby lake (Rörstrand meaning "Beach with reeds"). The first burning took place in 1727 with the participation of Frederik I. Johann Wolff did not succeed in living up to the expectations and was dismissed as early as 1728, after which he left Sweden forever. Instead, the German Christoffer Conrad Hunger was employed as head of the factory, but he also failed to deliver what he promised and was dismissed in 1734. He was replaced by Andreas Nicolaus Ferdinand, who had come to the factory with Johann Wolff from Denmark.
In the beginning, however, the production was not porcelain but faience, and in 1729 the factory received a letter of privilege for its production in Sweden. A letter of privilege for porcelain was also given in 1735, although there was still no succes in producing it. Christoffer Conrad Hunger tried to establish his own porcelain factory in 1741, but due to Rorstrand's letter of privilege he was refused. The same year, Anders Fahlström became the first Swede as head of the factory and with him began a quiet period for Rorstrand.
Even with high tariffs, Rorstrand was long pressured by competition from foreign porcelain and earthenware, and this was not diminished by the fact that the Marieberg factory was founded in Stockholm in 1758, which led to a loss of market share. However, Rorstrand eventually won the battle with Marieberg and in 1782 was able to buy the competitor and close down production in 1788. After that, Rorstrand was again alone in Sweden. However, this also meant that no investment was made in technical development, so Rorstrand took a long time to develop new products.
Only with the establishment of the Gustavsberg porcelain factory in 1825 did development and competition increase. It was during this same period that people really began to produce actual dinnerware services with a common pattern.
In the 1860's, Rorstrand was one of the largest industrial enterprises in Sweden and around 1870, it finally succeeded in producing actual porcelain.
In 1873, with the permission of the Swedish government, Rorstrand established the Arabia factory in Helsinki for trade with Russia. Gothenburg Porcelain Factory was bought in 1914. Rorstrand moved there when their factory in Stockholm was closed and demolished in 1926. Ever since the beginning of the 20th century, Rorstrand has had contemporary selected artists associated with their factory.
Rorstrand ended its involvement in Arabia in 1916, when the ownership stake was sold. As an irony of fate, Arabia ended up buying its former parent company in 1929, so Rorstrand became a subsidiary of Arabia. Rorstrand had since collaborated with Lidköping porcelain factory, which was already owned by Arabia and Skånska Cementgjuteriet (later Ifö).
After the acquisition of Rorstrand and the merger with Lidköping Porslinsfabrik, Rörstrand's move to Lidköping began. In 1931, the French-born Gunnar Nylund (formerly employed by Bing & Grondahl in Copenhagen) was employed and the following year he was appointed artistic director. He hired the talented designer and painter Carl-Harry Stålhane as his assistant. The move was completed in 1936, after which Lidköping became Rorstrand's headquarters.
Between 1963 and 1984, Rorstrand was part of the Uppsala-Ekeby group, after which they were acquired by the Finnish company Wärtsilä Oy in 1984. Gustavsbergs Porslinsfabrik was acquired by Wärtsila Oy in 1987, and three years later in 1990 the company was acquired by the Finnish Hackman Group.
Rorstrand has had various artists over the years, and never compromised in terms of quality, innovation and creativity. Rorstrand has provided beautiful and functional service to the Swedish and Danish population and others.
In the production, Rörstrand has had dinnerware, vases, dishes, decorative items, Christmas plates and Mother's Day plates as well as much more. The production has spread to both faience, porcelain and stoneware, etc .. Today, items are primarily in porcelain.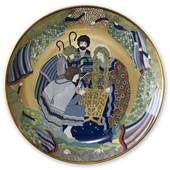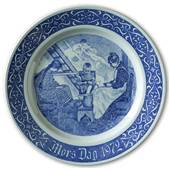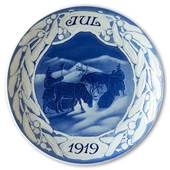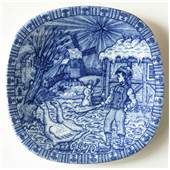 Many of their products are accepted as classics today og are used and loved by people in many countries. The dinnerwares Sundborn or Nobél, the Cándia dishes or their Christmas or Mother's Day plates can be mentioned.