The History of Rosenthal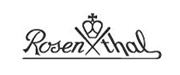 The first Rosenthal company - a factory decorating porcelain, was started in 1879 in Southern Germany. It was founded by Philipp Rosenthal in Erkersreuth near Selv, Bavaria. By 1890 the factory moved to Selb, and already the following year a regular porcelain production was started. Porcelain was an article in short supply and it was therefore in great demand.
During the next 10 years the company expanded continuously and after the turn of the century the company opened or bought several factories. A lot of things happened, and the company even expanded beyond the limits of their original field, trying their luck in the industry of electricity and automobiles. Ceramic art departments are initiated in 1910 and 1920. Krister Porcelain Factory in Waldenburg was taken over in 1921 and by 1937 The Porcelain Factory in Waldershof was bought as well.
Philipp Rosenthal was forced to leave Germany during the war, as he was jewish, but still the company expanded before, during and after World War 2. Philip (spelled with one "p" only in the end) Rosenthal (Philipp's son) followed in his fathers footsteps, and joined the company in 1950. The son set new standards for production and development. He wanted the product to be more lively, and broke with the aditional designs of porcelain. He wanted the avantgarde applied in the porcelain designs. Products manufactured during those years are considered legendary.
Following the foundation of a glasswork in 1920, new possibilities arose, in terms of co-operation and development of a totally new material. This opened a passage for fruitful co-operation between a lot of contemporary glass artists and designers. Starting in 1957 Rosenthal produced series of products in co-operation with the Danish artist Bjorn Wiinblad. These products have become popular worldwide, especially in USA, Asia and Europe.
During the next years Rosenthal took over a number of small glassworks and workshops. The production was started in 1960, in the newly built "Thomas Porcelain Factory" in Speichersdorf. Yet another factory was taken into use in 1967, when the production started at the "Rosenthal Porcelain Factory Rothbuhl" in Selb. In the late 60's a new factory for Rosenthal was built in Amberg - "Rosenthal Glass Factory". It was built by Walter Gropies, one of the founders of the striking Bauhaus School. Production was started in 1970. Around their centenary in 1979, 8500 people were employed with Rosenthal globally.
More factories were bought or built over the years, and many prominent companies at home and abroad were working with Rosenthal in various degrees of cooperation or commissioning, such as Gianni Versace in Milan or Bulgari in Rome.
It is said, that Rosenthal's big success is due to the father and his sons always paying great attention to marketing techniques, as well as their big set-up and development of koncession-shops and studio-departments in the postwar-years. Finally they presented "Studio Line" in 1961.
Rosenthal is known today by virtue of their great innovation and the courage of finding new ways and releasing unusual products, which become popular in spite of their unusual expression. An example could be the series of plates produced in cooperation with Bjorn Wiinblad.
Rosenthal was also renowned for its production of exclusive porcelain (at times bold) in choice of shapes as well as colours. Over the years their co-operation with artists has been daring, and the artists were given free hands in creation as well as development.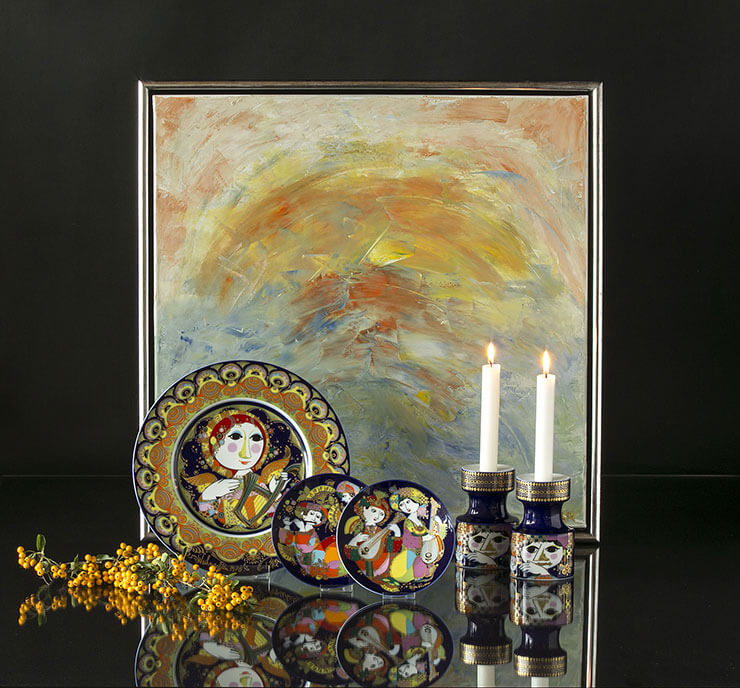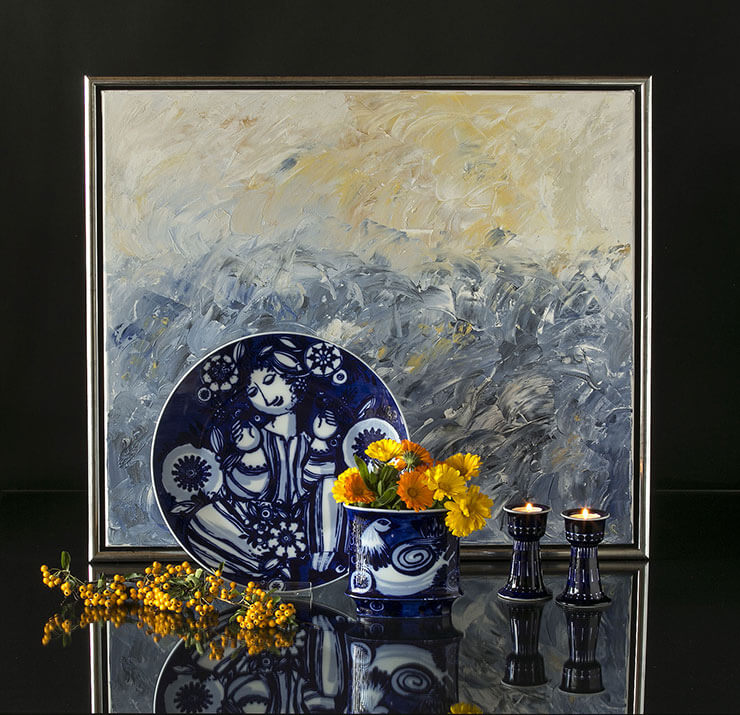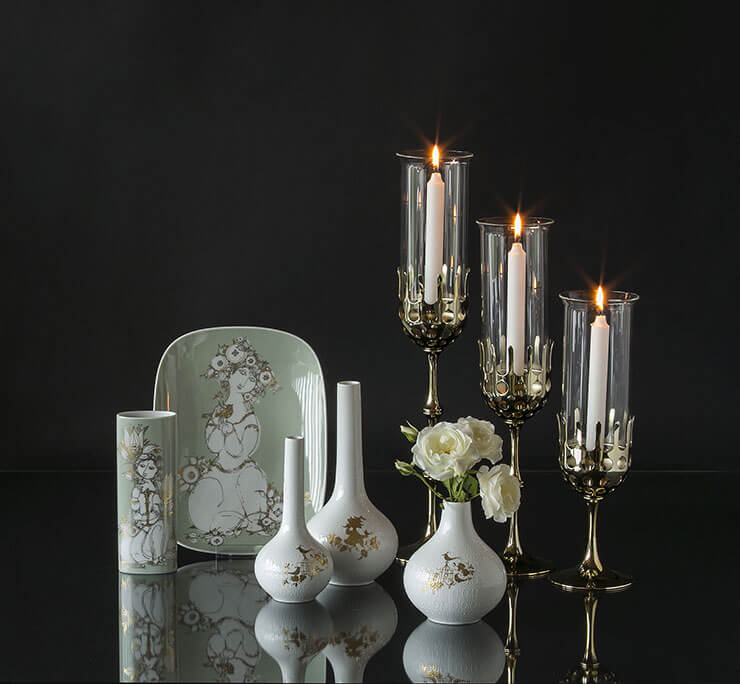 Co-operating with Bjorn Wiinblad, Rosenthal produced several series of plates, porcelain as well as glas. Among others the porcelain plate series "Aladin", the glass plate series "The Parables", the porcelain plate series "Christmas Carols", the porcelain plate series "Christmas plates" and the glass plate series "Christmas plates". Wiinblad's designs within Rosenthal were not limited to plates only, but includes various designs for dinner-, coffee- and tea-sets, drinking-glasses, candlesticks etc. Among many other things Wiinblad designed a dinner set to mark the 2500 years anniversary of the Shahdom of Persia.
More plate series were produced such as:
Rosenthal biblical parables in glass:
By 1997 Waterford Wedgwood bought the controlling interest in Rosenthal. Today Rosenthal is an independent member of the Waterford Wedgwood Holding Group - the worlds biggest manufacturers of "Table Culture" products.
In 2000 the German porcelain factory Hutschenreuther was bought by Rosenthal.