Fairytale plates
Naturally it is the Hans Christian Andersen fairy tales that completely dominate among Danish plates with fairy tale motifs. The great writer has a prominent place on Danish plates. The entire Desiree Christmas plate series is thus inspired by his fairytales and life. Both Royal Copenhagen and Bing & Grondahl has also issued plates with Hans Christian Andersen's fairy tales.
The motifs on the plates are from the popular fairy tales. An example of this is that Grande Copenhagen has produced an entire series of plates based on the fairy tale of The Ugly Duckling.
Bing & Grondahl has issued two series with motifs from the fairy tales of Hans Christian Andersen. One series is coloured and the other with black and white drawings. Among the fairytales depicted are; The Flying Trunk, The Little Mermaid, Thumbelina and The Shepherdess and the Chimney Sweep.
Royal Copenhagen, too, has made many fairy tale plates with Hans Christian Andersen motifs. Royal Copenhagen has issued 4 series with fairytale motifs. One of the series are in the classical blue color also known from the Royal Copenhagen Christmas plates. Another series is the Hans Christian Andersen plates with colorated motifs and a golden edge. This is a beautiful and colorful series that recollect the story through the motif.
Royal Copenhagen has also issued a fairytale series in 6 plates with colorfull and light motifs. This series is rare and hard to come by.
The last series from Royal Copenhagen is plates with silhouettes of fairytales and a green edge. This plate series is rare and not seen often.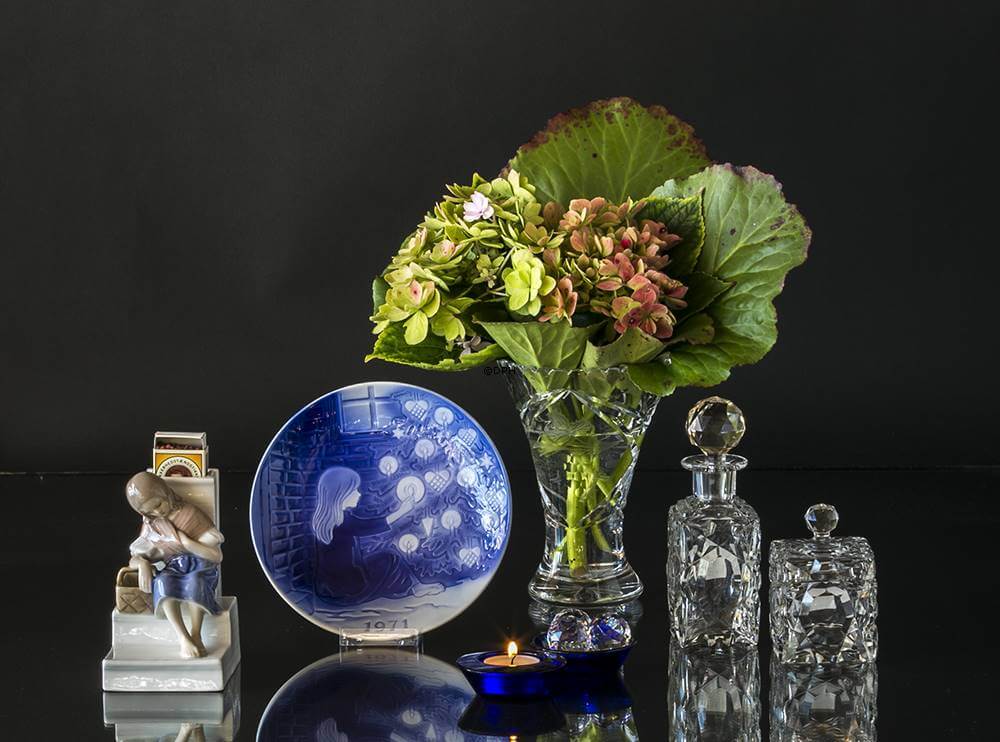 Other Fairytale Plates
There are other plates with fairytale motifs than just the Danish with Hans Christian Andersen fairytales. Franklin porcelain from Wedgwood is behind a series of the fairytales of the brothers Grimm. Here you'll find motifs from Little Red Riding Hood, Rumpelstiltskin, Snow White and the Seven Dwarves, Cinderella and Sleeping Beauty.
Vinogradoff Porzellan has issued plates with Russian fairytales and myths. These also have the motif on a black background encircled by a golden edge.