Royal Copenhagen plates with motifs from Hans Christian Andersen fairy tales

We meet the Little Mermaid surrounded by beautiful plants from the depths of the ocean, sitting on a stone in the water, so she can get a short look of the prince at the beach in the horizon. She can see the castle in the background. We also meet the emperor who is only wearing his trousers. He (and the rest of the people) has been deceived so that neither he nor anyone else in the entourage will admit that they can not see the precious cloth.
Bing & Grondahl Plates with Hans Christian Andersen fairy tales

B&G has made two series of porcelain plates with similar motifs from Hans Christian Andersen fairy tales. One series is made in overglaze decoration with colour, while the other has black/white motifs under the glaze. The coloured B&G plates have a beautiful laced edge, surrounded by a discreet gold rim. The black/white plates has a common border with a black line that surround the motif. The plates are designed by William Petersen.

Hans Christian Andersen was a masterful storyteller and his fairytales are so well known in Denmark and abroad that we only need to look at the motif, to recognize the fairytale. There is no doubt that the plates with the extraordinarily high bed, as the princess is about to climb into, symbolizing the story of the Princess on the Pea, and there is no doubt that the plate with the nearly naked man is representing the Emperor's New Clothes.

In 1975, on the anniversary of the death of Hans Christian Andersen, Bing & Grondahl released a beautiful commemorative plate with Hans Christian Andersen in the centre and motifs from some of his most famous fairy tales around the edge.
Desiree plates with Hans Christian Andersen motifs

The motif of the first plate in the series is very symbolic, depicting the Hans Christian Andersen Museum in Odense, the following plates depicts motifs from his fairy tales, novels and biographies. In 2000 a motif that has been of great importance for Hans Christian Andersen is depicted, namely the Hermitage. The same is the fact of the last two plates in the series, depicting Fredensborg Palace, Kongens Nytorv and the Royal Theatre.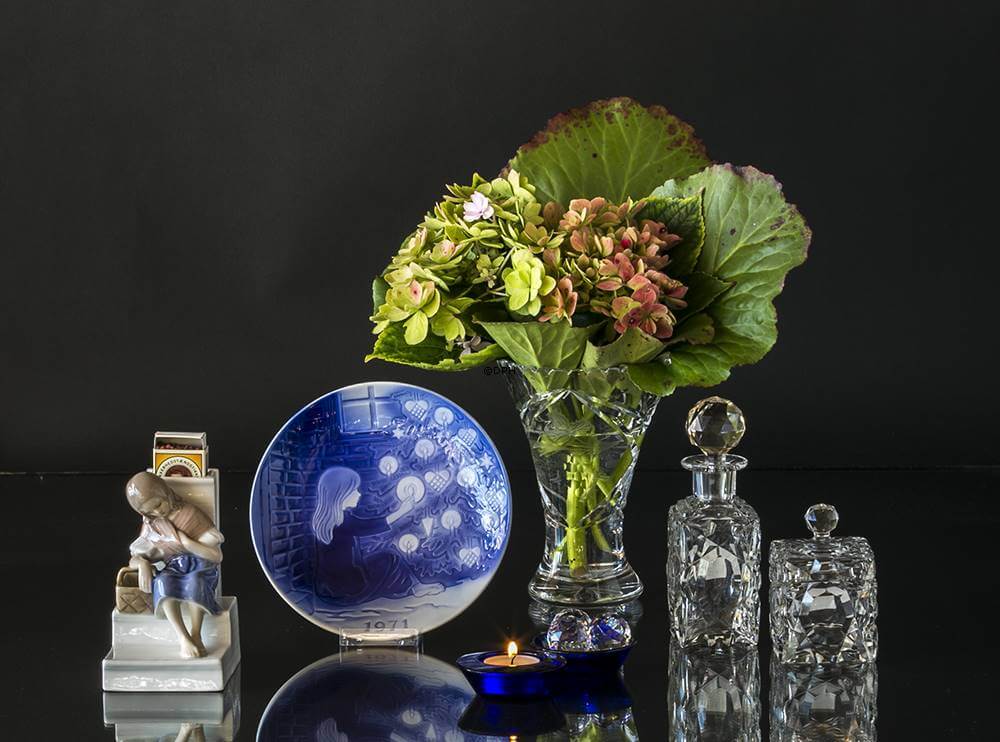 Grande Copenhagen plates with The Ugly Duckling

The six porcelain plates in the Grande Copenhagen series tells the story of The Ugly Duckling, as we know from the Hans Christian Andersen fairy tales. The plates depict the story beautifully from the duckling coming out of the egg and the mother being repelled by it, until the final reconciliation with the beautiful swans where it finds its proper place together with them. The plates were released in 1985, 1986 and 1987 and were designed by Karan Jean Bornholt. The Hans Christian Andersen plates are decorated over the glaze.