Rørstrand
started their mother's day series in 1971 only two years after
Bing & Grondahl
had introduced the world's first mother's day plate. As a motive for Mother's Day plates, Rørstrand chose to use the paintings by the famous Swedish artist
Carl Larsson
.
The mother's day series of Rorstrand lasted from 1971 to 2004, and the motifs were taken from Carl Larsson's paintings throughout the years, so the series gives a beautiful insight into Carl Larsson's works, just like Bing & Grøndahl's series with Carl Larsson's motifs. The plates are held in the classic blue underglaze style, which Scandinavian plates are famous for. This also allows the plates to be used to serve food and they go in the dishwasher. They are suitable for the table at festive occasions and when the table needs that extra bit. And once you have finished using them, they can be made into wall decorations again.
Carl Larsson is one of the most famous if not the most famous Swedish painter very much like P. S. Krøyer is in Denmark. Like Krøyer, Larsson's images are based on everyday life, where it is small scenes from the family's daily life that are reproduced. Carl Larsson is especially known for the very idyllic family life that was reproduced in the form of paintings from his own home in Sundborn. These are portraits of the simple rural life, which are reproduced on Mother's Day plates and that Larsson is best known for.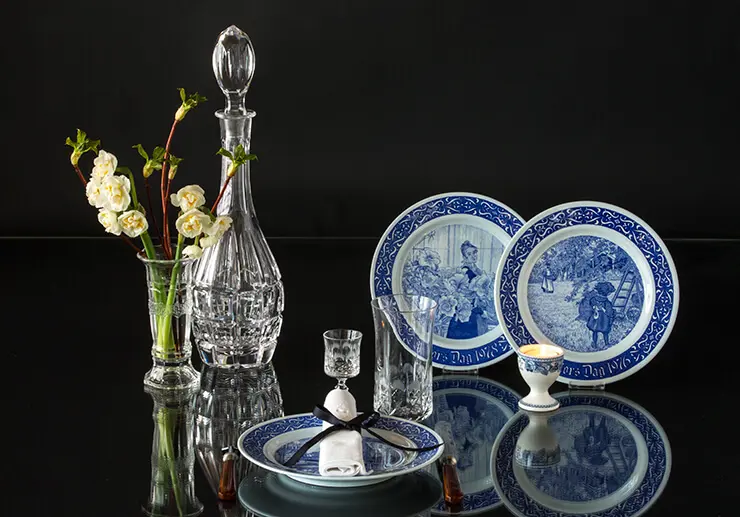 Carl Larsson was also an illustrator and it was the publication of reprints of his paintings in the form of illustrated albums that made Carl Larsson famous and the familiarity of his works so widespread. In particular, the illustrated albums achieved great success in Germany with over 40,000 copies sold in three months.