Carl Larsson is well-known far outside his home country's borders and is rightly regarded as Sweden's national painter.
Today we know that the evocative images were created by a grieving man in perpetual conflict with himself. Since his childhood in Stockholm's poor working-class neighbourhoods Carl Larsson fought to get rid of the rotten environment and find happiness.
He partially reached his goal. For his time Carl Larsson was, from the outsider's point of view, a symbol of the ideal family man who lovingly portrayed his wife and children at their home in Sundborn.
But this was a glossy image he created of himself. Although, his surroundings as an adult radiated happiness, his inner self was marked for life by a series of unfortunate events. Childhood desolation, little brother's premature death and his girlfriend's death during the birth of his first child was painful memories, which at times made him torn, depressed and touchy.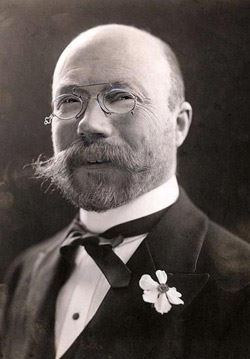 Carl Larsson gained recognition by displaying life when it is most beautiful. And not until the autobiography "Jag", which appeared 12 years after his death, he broke with the myth of his uncomplicated existence. This helped to understand the greatness and depth of his art: Only he, who knows the shady side, can see and show the sunny side so convincingly.
Carl Larsson is perhaps the one of all Scandinavian artists who enjoy the greatest reputation in the world. From all sides there are bids for his art, when one of the works occasionally comes under the hammer at one of the recognized auctions such as Sotheby's or Christie's London.
Carl Larson painted such (watercolor) pictures as:
Flower window
Lunch under the big birch (about 1894-97)
The Kitchen
Mother and child in the apple farm
Azalea
The farm and the outhouse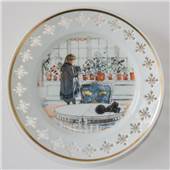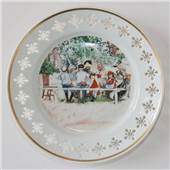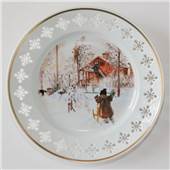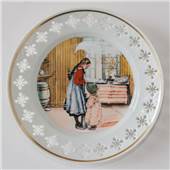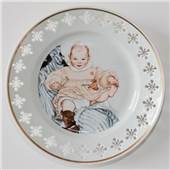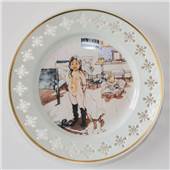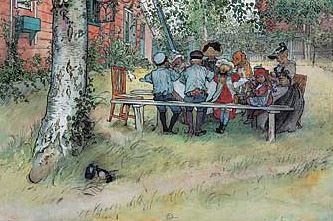 Here is one of Carl Larsson's paintings, called "lunch under the big birch".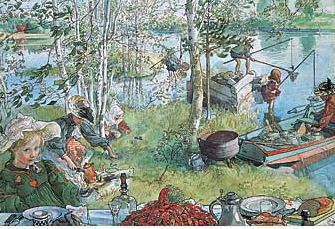 Crayfish trapping by Carl Larsson